What are the most in-demand IT jobs in the Philippines? Get to know which careers are thriving in today's tech-driven era.
Technology has played a significant role in the digital transformation of many industries. As more businesses innovate and grow, the demand for IT experts has gotten higher. It's so high that the local supply of qualified professionals can't keep up.
In order to address the current IT talent shortage, companies are tapping countries like the Philippines to outsource development teams. This, in turn, is boosting the country's IT sector, creating numerous job opportunities in the process. In this entry, we'll examine the most sought-after IT jobs in the Philippines that are shaping the local tech scene.
Most Popular IT Jobs in the Philippines
The IT industry in the Philippines is experiencing robust growth, opening opportunities to work with technologies like AI, machine learning, and cloud computing. With a thriving sector, the national government has been intentionally promoting more STEM programs for future graduates. In 2020 alone, the country has already produced over 47,000 IT graduates.
With a rich pool of IT graduates ready to work, the Philippines is indeed one of the best places to hire IT professionals. Here are the most popular career paths that IT graduates are taking:
1. Software Engineer
With businesses creating their own websites and application, it's no surprise software engineers are one of the most in-demand IT jobs in the Philippines. According to Philippine Software Industry Association (PSIA), there are over 190,000 programmers in the Philippines and counting.
IT graduates typically specialize in a specific programming language and take certifications in various technologies. Their wide skillset makes them flexible for all kinds of development projects. Filipino software developers usually start learning Programming fundamentals at university. They get more training with scholarship programs sponsored by tech companies. Private companies like Full Scale have partnered with local universities to provide training for IT students.
2. Data Scientist
Though still relatively new in the Philippines, data science has grown in popularity over time. Data scientists compile, process, clean, and prepare data for analytics. In the Philippines, several Computer Science graduates and Math majors specialize in Data Science. With the government promoting STEM programs, training in Data Science is even more accessible. 
You can hire data scientists from the Philippines by partnering with companies like Full Scale. We vet candidates who have a qualified educational background and work experience. Our recruitment process makes selecting the best candidates easy and convenient for foreign companies.
3. Cloud Architect/Engineer
With the growing popularity of cloud computing, businesses need qualified experts who can develop, deploy, and manage cloud infrastructure and services. Cloud architects and engineers are knowledgeable in cloud computing systems like Google Cloud, Microsoft Azure, and Amazon Web Services (AWS). They help organizations migrate, optimize, and secure their data and applications in the cloud.
It's now easier for IT practitioners in the Philippines to get certified by cloud providers like AWS and Azure. With cloud providers extending their training programs all over the world, it's now easier to find qualified cloud specialists. And this is gradually becoming one of the most sought-after IT roles in the Philippines.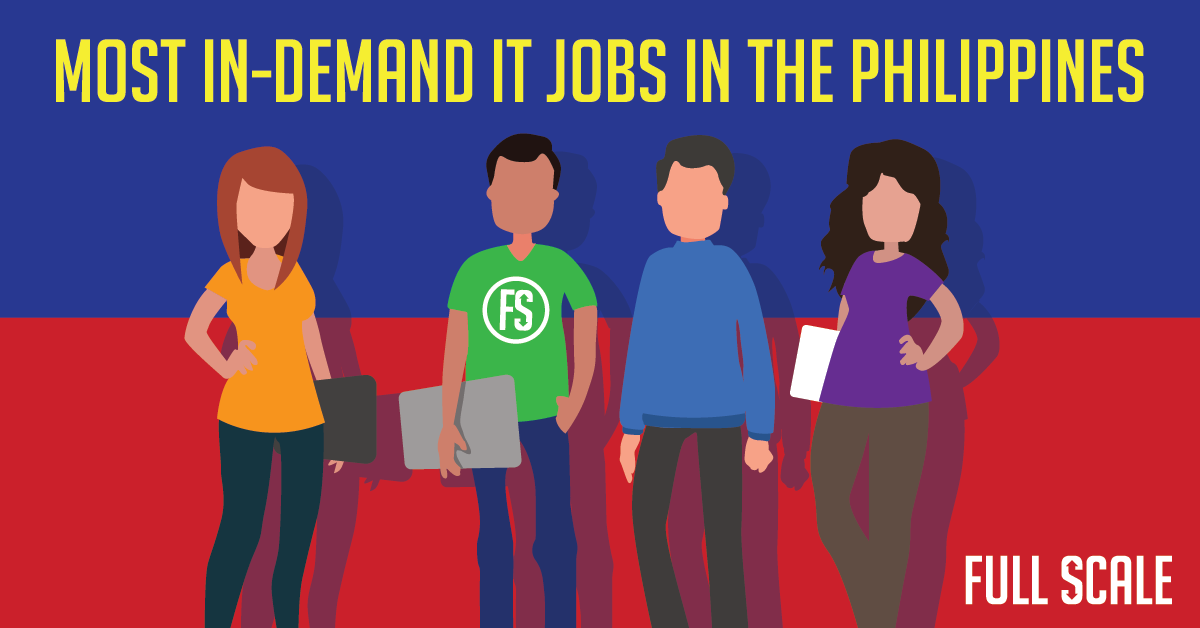 4. Project Manager
The need for qualified project managers is growing as IT projects become more complex. IT project managers are responsible for the successful planning, execution, and delivery of IT projects. They ensure all tasks are done on schedule, budget, and with the expected results. Their responsibilities include managing resources, managing teams, and guaranteeing good stakeholder collaboration and communication.
As mentioned, the influx of IT graduates entering the workforce has become a great asset in the Philippines. These IT graduates are equipped with the right knowledge and training to become future project managers. You'll easily find candidates who have an IT background and great potential to lead software development projects.
5. Business Analyst
A business systems analyst's duties include identifying and solving business problems using IT concepts. Examining various company processes offers ways to enhance and optimize solutions. They are also in charge of making the necessary adjustments and educating the workforce about these fresh approaches.
Over the past 20 years in the Philippines, business and education-related programs have consistently attracted most students in college. The country has been producing a large number of Business Administration graduates who have gone on to work in diverse fields. And as we enter the Big Data era, their careers have also shifted towards leveraging technology. You're bound to find highly qualified business majors who can turn into effective business analysts. 
The abovementioned professions are just some of the emerging IT jobs in the Philippines. With new technologies introduced every year, the IT sector is bound to develop even more. It's safe to say that the large supply of IT professionals in the Philippines is greatly helping the global talent shortage.
Grow Your Business with Full Scale
Looking to assemble or expand your software development team? Look no further! Full Scale can provide the best IT talents for your project. We help companies fill the talent gaps in their development team. With Full Scale's assistance, you can create a well-rounded team with the most promising tech talent. We find, vet, and recruit only the top performers.
At Full Scale, we take care of all the time-consuming tasks involved in recruiting, onboarding, and managing remote workers. Create a software development team straight away.