For business decisions, we should always opt for the most efficient solutions to our problems – hiring is no exception. Yes, we may have software developers here in the United States but are they cost-effective?
Add in the scarcity of developers and filling that vacancy gets even tougher. Let us help you with that by veering you towards hiring in an offshore country. This time, let's discuss how to hire Java developers in the Philippines.
Java is the foundation for virtually every type of networked application and is the global standard for developing and delivering embedded applications, games, web content, and enterprise software.
Used by more than 12 million developers worldwide, Java enables you to efficiently develop and deploy exciting applications and services. There are over 7 billion devices running on Java, including more than 70% of all smartphones sold this year.
Is There Demand for Offshore Java developers?
With over a billion smartphones running Java, there is always a high demand for developers skilled in mobile development. A majority of the leading big data frameworks (e.g. Hadoop) are written in Java and are used by Google, Amazon, IBM, Facebook, Alibaba, and many more. The demand for Java developers is higher than ever and will continue to grow.
Supply vs Demand
The demand for skilled developers far outweighs the supply in most Western countries, so companies must find new ways to cater to their ever-growing developer needs. Most business owners are faced with two options: to source locally in an extremely competitive market or to outsource/offshore their development to other countries.
More companies are starting to see offshoring as the most viable option because of the large number of developers available at lower rates than their local counterparts.
But where do I get Offshore Java developers?
Asia and Western Europe are by far the most popular locations for finding offshore development teams. Within Asia, The Philippines, India, and China make up most of the outsourcing operations.
Poland and Bulgaria lead in Western Europe, with Romania and Belarus following closely behind. So, which country is the best? The Philippines is our favorite, and you'll find out why later.
Great! Now, how do I find and hire these Java developers?
Find them yourself through platforms such as LinkedIn, Upwork, Indeed, Craigslist, Google, etc.
Enlist the help of recruitment agencies or headhunters in the country.
Use an Offshore Developer Centre (ODC) such as Full Scale (that's us, btw).
Why the Philippines?
If you are intending to offshore your Java developers, the Philippines is an excellent place to do so. There are many advantages in hiring from the Philippines which is one of the top destinations worldwide for offshoring software development, call centers, data entry, and other types of business processes.
Here are some advantages of hiring Java developers in the Philippines:
Excellent communication skills – The Philippines is one of the most English-proficient countries in the world. From as early as kindergarten all the way through university, English is the primary instruction language. In 2018, the Philippines had an EF English Proficiency Index score of 61.84 and ranked #14 among the 88 countries & regions indexed.
Western style of culture – The Philippines was a territory of the U.S. for 48 years, and its culture has deeply embedded itself into Filipino culture even until now. American culture and influence in terms of preferred clothing style, films, food, TV shows, sports, and music are prevalent in Philippine society.
A large and talented pool of developers – The Philippines' public and private higher education systems produced 82,794 engineering and technology graduates and 73,646 information technology graduates from 2016 to 2017. Many software developers are well-versed in programming languages such as .NET and Java, legacy applications, and general application development.
Affordable developer rates – The average yearly pay of a Java software developer in the Philippines is PHP 562,506 ($10,686) per year, while the average yearly pay of a Java developer in the U.S. is $71,629 per year. You get more than 80% savings in labor costs for hiring a developer in the Philippines doing the same type of work as a developer in the U.S.
If you do decide to offshore your Java development to the Philippines, make sure you choose the right offshoring partner. Unfortunately, not all offshore development centers are created equal, so make sure to choose a good one. We are pretty good at Java here at Full Scale. If you want to know why we are a great choice, keep reading!
The Full Scale Advantage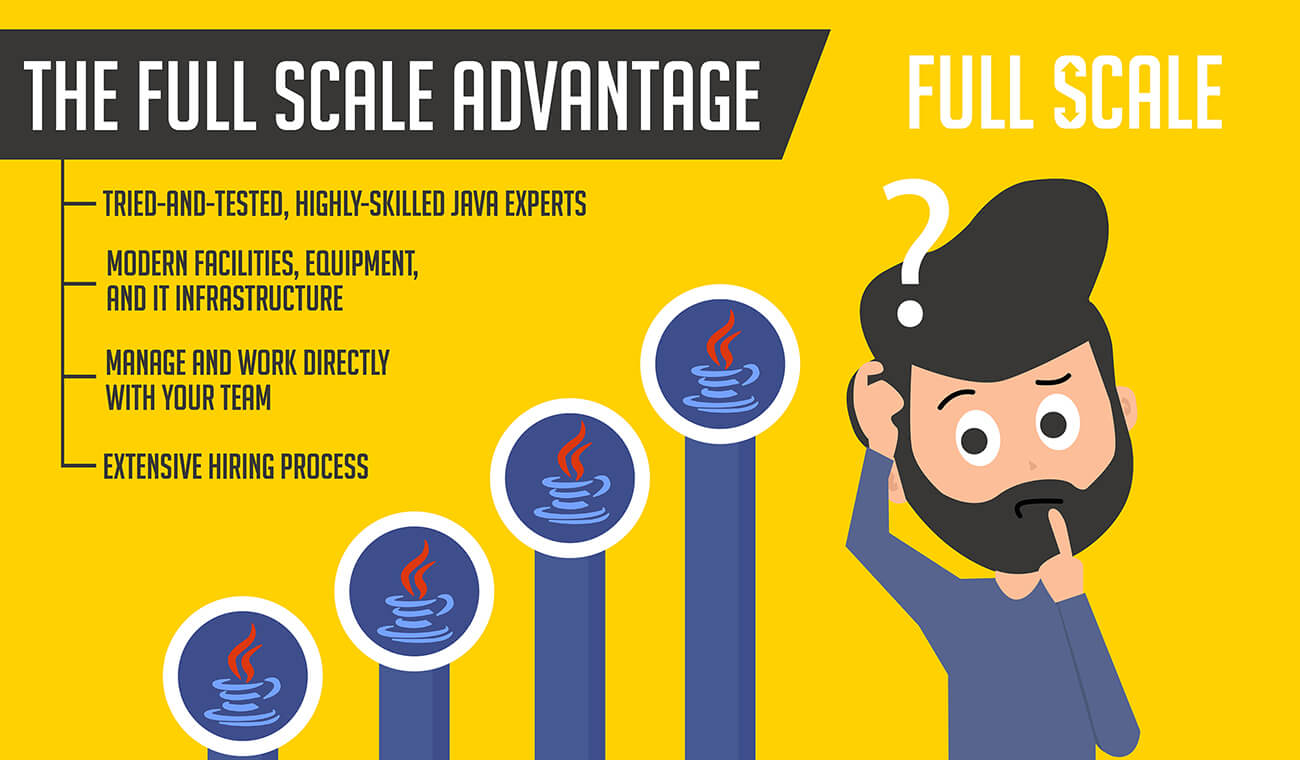 At Full Scale, we hire only the best. Our extensive hiring process includes skills assessments, multiple screenings, and certification processes. In addition to finding those with top, unique or hard-to-find talent, we also factor in their commitment to working with us long-term. We've been hiring developers from the Philippines since 2009.
We get and retain the best talent by being one of the best companies around. Our Java developers are some of the highest-paid in the country and have very attractive benefits. We provide world-class office facilities, powerful laptops, and many other office perks including free parking, meals, snacks, drinks, and massage.
We take very good care of our employees, which enables them to do their best work. We take care of these things so that you can focus solely on what's most important to you – working with your new team to create value.
The Full Scale Developer
One of the most important qualities we look for in a team member is their ability to continuously learn and improve while producing new and innovative solutions. We like people that follow the industry standards, but who also have the ability to think outside of the box. Many of our employees come from leading companies like IBM, Kyocera, Lexmark, NCR, Accenture, and other large companies.
We make sure our Java Developers possess the right skills and attitude to create quality output based on your specific requirements. All of our developers speak English. Whether it's verbal or written communication, we make sure those on your team are able to communicate with you in an effective and productive way. We take care of the day-to-day management of the people on your offshore team.
Is the Philippines the best country to hire Offshore Java Developers?
It depends. Each country has its own set of advantages and challenges; there are trade-offs with doing Java Development anywhere. Each company has its own unique business needs and requirements.
We can help you find out if the Philippines is your best option for hiring offshore Java developers. We want you to make a well-informed decision when it comes to selecting the right team for the job. Get free advice on how to offshore your business for success here at Full Scale.