Looking for a faster, cheaper, more efficient way to increase your business output and streamline and manage your operations? Look no further, an offshore development center (ODC) might just be what you need to improve your business process. Read on to learn more about what an ODC is and how it works.
An offshore development center is an extended, integrated, and dedicated offshore team supporting a company located in another country. Specifically, it is a branch or a subsidiary of a company existing in another country. The ODC is a popular business model for different kinds of companies, including startups and enterprise companies. This model has been used for various business processes and services, such as the creation and maintenance of solutions and software, project management, testing and migration, and technical or customer support.
In addition, the ODC model has been used by IT companies to offshore the design, development, and testing of their products. The demands of clients for products that can be deployed much faster and the limitations of in-house resources such as cost, development time, infrastructure, and availability of specialized skills are the main reasons for companies to have an ODC. The IT company, as the client, will partner with an offshore provider to establish an offshore team in the country of the provider.
Let's examine the key roles in an offshore development center, the advantages of an ODC, and the best practices to maintain an ODC.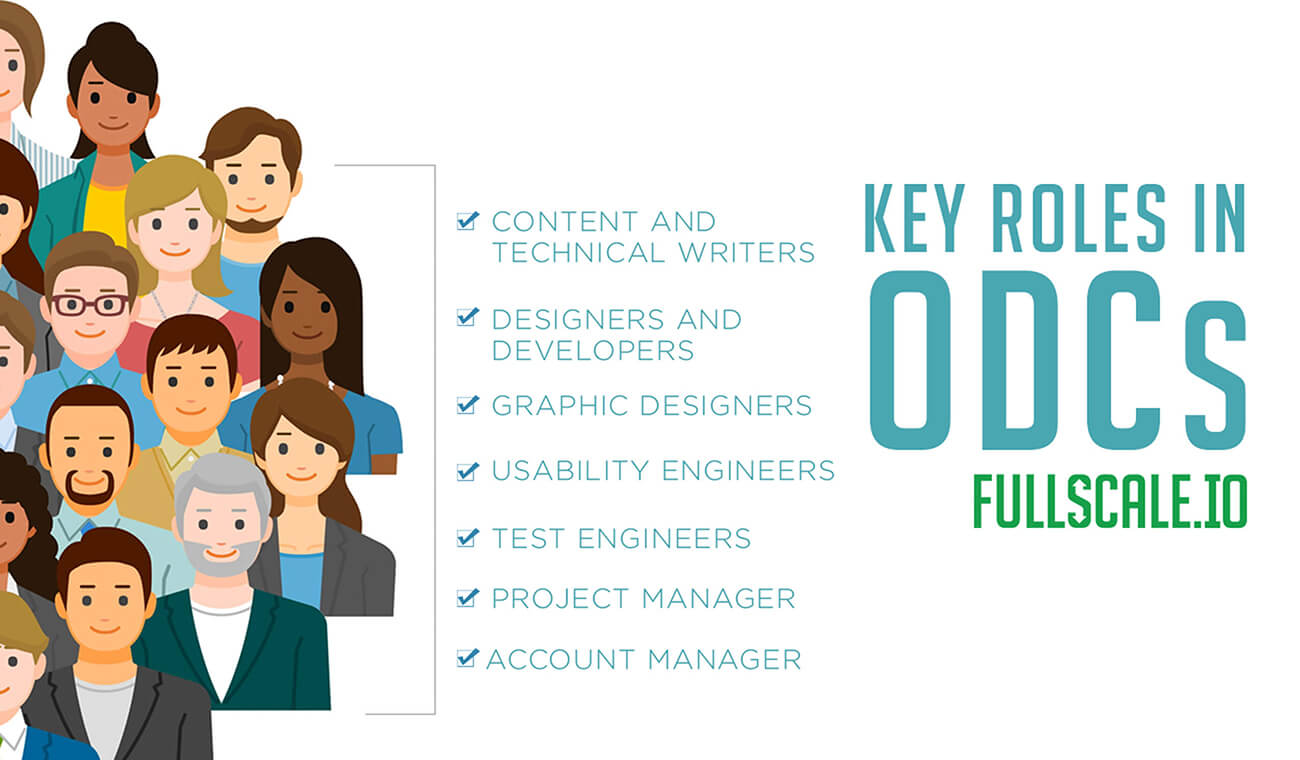 When you, as the client, are planning to work with an offshoring provider to create an ODC, you must coordinate with the provider to identify your business requirements. You'll also need a solid team to get the job done. Here are the key roles in the offshore team:
Account Manager – Directly works with you or your team to make sure that all your needs are addressed and continually reaches out to determine if you need other services or support.
Project Manager – Makes sure that all the requirements relating to budget, scope, schedule, communication, and other resources are considered in a project.
Designers and Developers – Responsible for your software's design, installation, testing, and maintenance.
Test Engineers – Check and verify the integrity, quality, and even non-functional requirements of your product.
Usability Engineers – Perform tests to evaluate the usability or user-friendliness of your product.
Graphic Designers – Create visual and graphical concepts or language to promote a product's unique persona or brand.
Content and Technical Writers – Create instructions and content integrated into the software or website.
Advantages of an Offshore Development Center
Forming a business partnership with an ODC provider yields a lot of benefits to your company. These are the advantages of having an ODC: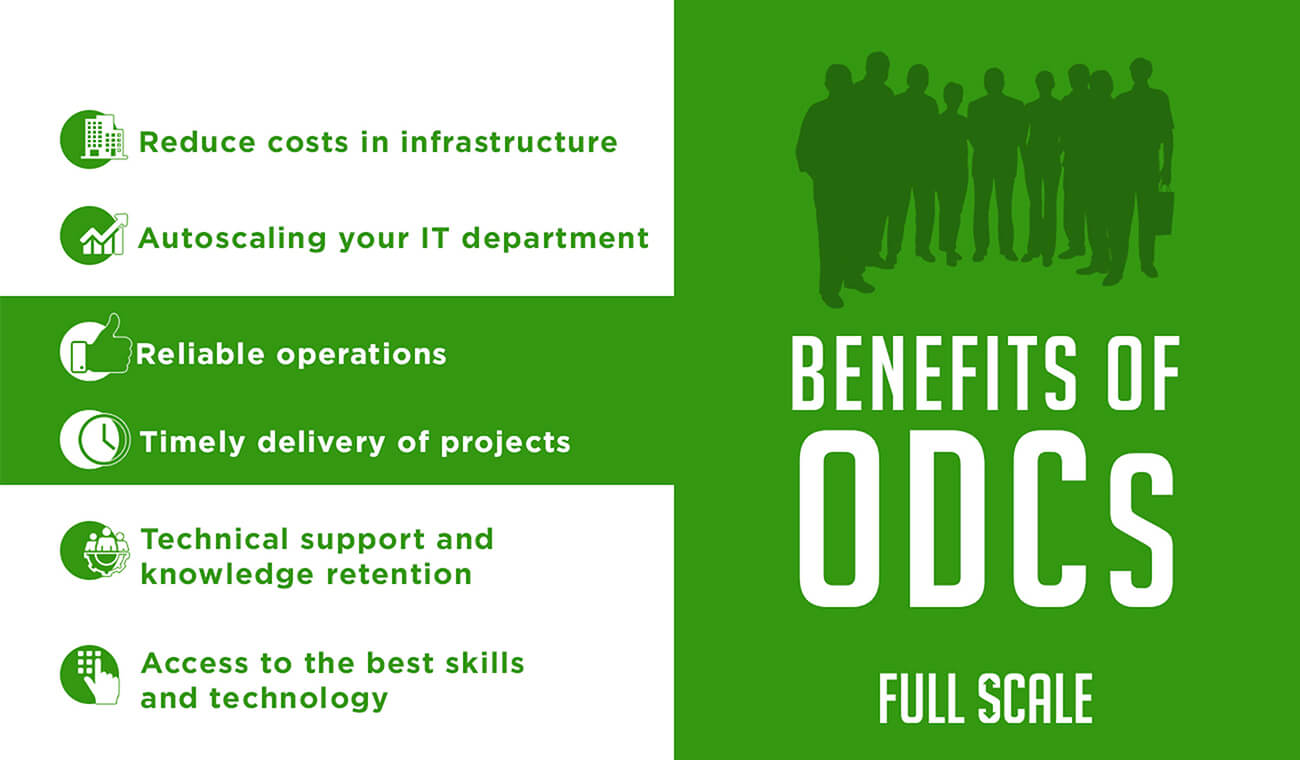 Reduce costs in infrastructure – You don't have to spend on setting up office facilities and equipment, communications and IT infrastructure, and utilities because the offshore provider has already set up the necessary infrastructure. The provider can focus on hiring the members of the offshore team so a project start-up can begin much faster compared to starting everything from scratch.
Autoscaling your IT department – Autoscaling is the process of dynamically allocating resources to match performance requirements. The number of resources that your company needs may fluctuate according to the requirements of specific projects. There are situations when projects need a large number of resources, and then there are times they require few resources. When those situations happen, you might have to switch and reduce resources or tasks in your in-house team, which may involve a complicated process of resource allocation. With an ODC, the allocation of resources will be less difficult because the offshore team can absorb the roles or tasks from the in-house team.
Reliable operations – Leading ODC companies are efficient, lean, and reliable in their operations to attract clients in a competitive market. They have efficient evaluation and reporting procedures to be accountable and transparent with their clients. You'll be able to assess and monitor the progress of the projects they're doing in real-time. If you are dissatisfied with the project's results, you can demand the ODC to redo the project with no additional costs if your contract with them stipulates this.
Timely delivery of projects – An ODC operates under optimized environments and implements streamlined procedures to ensure your projects are completed on time. They strictly follow the project timelines that you set for them from planning, design, development, testing, and deployment. The seamless collaboration between the in-house team and the offshore team makes it possible for the project lifecycle to have shorter timeframes.
Technical support and knowledge retention – ODCs offer continuous technical support during the project's entire lifecycle as part of their customer satisfaction. Their approach to knowledge retention is preserving all the knowledge gained during a project's lifecycle. The retained knowledge can be further developed and improvised so you can use it for other projects.
Access to the best skills and technology – The best ODCs employ highly qualified IT professionals with specialized skills in developing customized software for your targeted customers. Their offshore teams have exceptional expertise, multi-discipline skills, and years of experience. They invest in regular training and upgrade the skills of their employees. All of this ensures you get a good return on your investment in an ODC.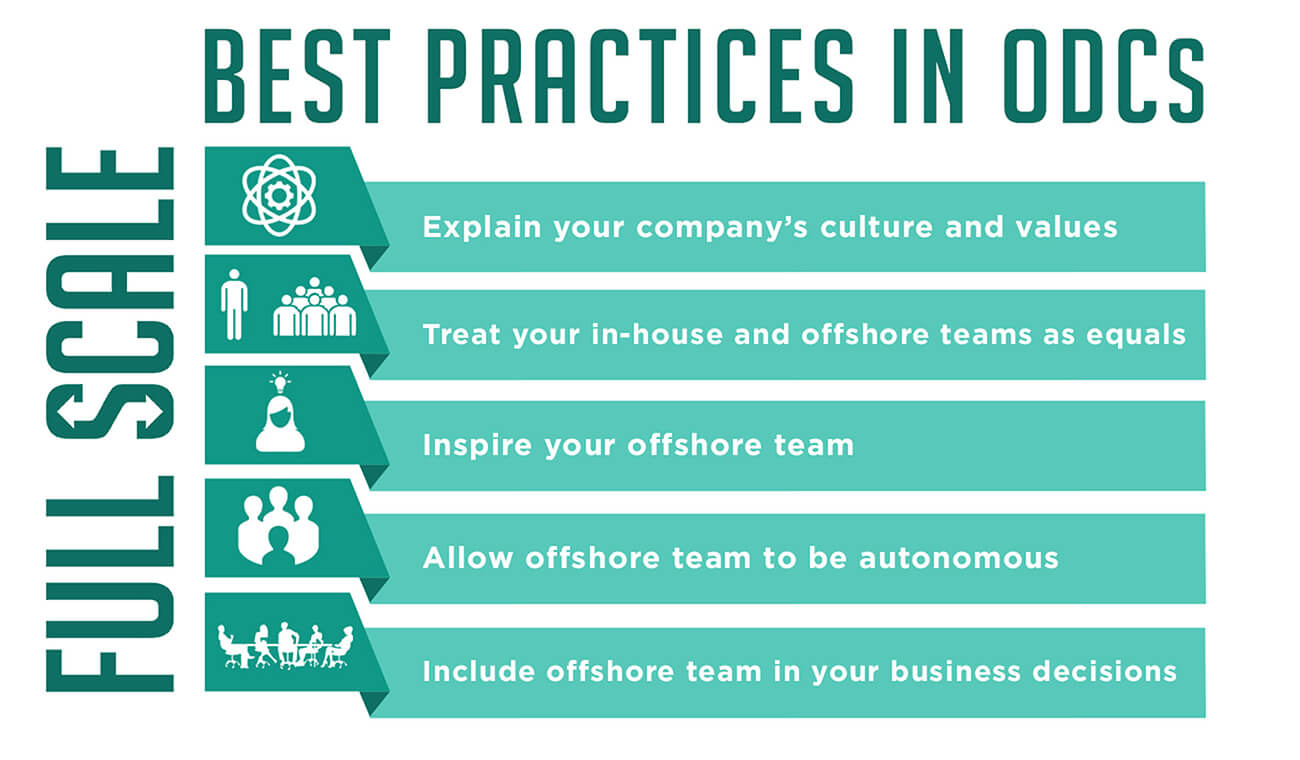 Best Practices to Maintain an Offshore Development Center
As a business owner, it's not just enough to find an offshore provider that can produce your company's products. It's also important to maintain a long-term relationship with the provider for a successful business partnership. This is possible if you implement best practices to maintain a successful offshore development center.
The following are the five best practices for maintaining an offshore development center:
Explain your company's culture and values – When all the employees of the offshore team have been hired, discuss with them your company's culture, mission, vision, and values. This ensures that you and your in-house and offshore teams are aware of your company's business practices and processes. This ensures transparency of communications between the teams, and everyone is equally responsible for the tasks in a project.
Treat your in-house and offshore teams as equals – Make sure you give equal attention and guidance to your remote team and in-house team. Include the members of both teams in simultaneous web calls and video conferences if it's possible in spite of the different time zones and work shifts. Prevent animosities between your two teams so their tasks will not be distracted by any personal issues.
Inspire your offshore team – You hired the offshore team members for their exceptional skills and expertise. Take advantage of the qualities by motivating them to rise up to the occasion. Give them critical tasks instead of just doing support tasks for the in-house team. Giving challenges to the offshore team will maintain their motivation and the momentum of the quality of their work.
Allow the offshore team to be autonomous – Show your confidence and trust in your remote team by allowing them to make independent decisions. This will prove to them that their opinions matter and you value their contributions to a project. It will also motivate them to deliver high-quality results for their work. However, make sure that they will consult you for important project-related decisions to ensure transparency between you and the team.
Include the offshore team in your business decisions – Get feedback from the offshore team when making business decisions for projects they are involved in. Doing this will boost their morale and let the offshore team feel that they're equally important as your in-house team for the success of your company
If you're interested to know more about how you can benefit from offshoring, Contact us today! We treat our clients as partners since they directly coordinate and work with the offshore teams that we provide. Our teams consist of senior developers, programmers, designers, testers, and digital marketing experts. They can communicate well in English and have exceptional skills and experience in assorted IT technologies. Full Scale has also helped offshore companies – GigaBook and Stackify – to establish offshore development centers in Cebu.