Managing a Java-based development project is not a piece of cake. There are tech stacks to ponder and people to hire. And there's a Java developer salary to figure out.
Throughout the years, programming languages have evolved. New ones also emerged in the development scene. But, Java continues to be popular even until now. How popular is Java as a programming language?
Well, several major companies use the language in their tech stack. It includes organizations, such as Spotify, Airbnb, Instagram, Google, and Netflix.
But why is Java a commonly used programming language? What is the DNA of a great Java developer? Is there an offshore option when it comes to hiring Java developers? All of these and more when we tackle the topics below.
Let's start the discussion on how to hire and manage Java developers.
Diving Into Java Development
As a programming language, Java is relatively easy to learn and use. It also has a solid security feature that can handle and process huge amounts of data. Hence, it is often used as a foundation in most program and app structures.
Thus, it is not a wonder that Java is popular among programmers. In 2021, Java takes the third spot in the Popularity of Programming Language Index's worldwide ranking. Moreover, in Statista.com's data, Java is used by 35.35% among 83,052 developers all over the world.
Java and Its Beginnings
Java was developed at Sun Microsystems by James Gosling. At the start of the project, he developed it with Mike Sheridan and Patrick Naughton in June 1991. And, it was first released in May 1995, which serves as a core component of the company's Java platform.
The programming language was called "Oak" at first. It took inspiration from the oak tree outside the creator's office. Then the name evolved into "Green" until eventually it was known as Java.
Java was initially planned for interactive television. However, the project was too advanced for the digital cable TV industry back then. Thus, it was released as a programming language that has a write-once-run-anywhere functionality.
Since then, web browsers incorporated Java applets within web pages. And now, Java powers countless software and apps on laptops, game consoles, data centers, and scientific supercomputers.
Money Talk: Average Java Developer Salary
It's time to delve into the Java developer salary. Since Java is a relatively popular programming language, does a Java developer earn a lot? There are various ways to look at the average Java developer salary. Various sources published earnings based on estimated national rate, location, career level, and educational background.
Average National Rates
According to the data released by Talent.com, an average annual Java developer salary is $113,104. That translates into an earning of $58 per hour. Moreover, an entry-level Java developer's salary is estimated to be $95,003 annually. On the other hand, the highly experienced Java developer earns $146,250 annually. This information is based on 10,000 submitted salary data to the site.
In comparative data, Indeed.com posted an average Java developer salary to be at $100,832 per year. That would place the rate at $64 per hour, or $7,139 per month. The compensation also comes with a cash bonus of up to $5,000 annually. And out of more than 3,000 salary reports, 62% of developers are satisfied with the earnings.
Another site that posted an average Java developer salary is Glassdoor.com. It estimated the annual average salary of a Java developer to be $93,118. Its lowest rate is estimated to be at $69,000. While a long-time professional earns an estimate of $125,000 annually. This data is based on 9,069 data submitted anonymously to the site.
In addition to that, Salary.com also released another set of data. It posted the average Java developer salary at $112,899 per year. Its lowest rate is estimated at $86,806 while the estimated highest salary rate is $144,169.
In another data from Payscale.com, the average salary is $69,722 annually. It ranges from $47,169 to $106,610. However, there are also sites that posted lower rates compared to the aforementioned data.
SalaryExplorer.com: $47,100 (lowest rate); $98,100 (average rate); and $154,000 (highest rate)
ZipRecruiter.com: $46,000 (lowest rate); $105,801 (average rate); and $156,000 (highest rate)
Top U.S. States With High Rates for Java Developer Salary
Now, salary rates are dependent on many factors. One of them is the geographical location of the developer. Hence, listed here are the top highest paying locations for Java developers.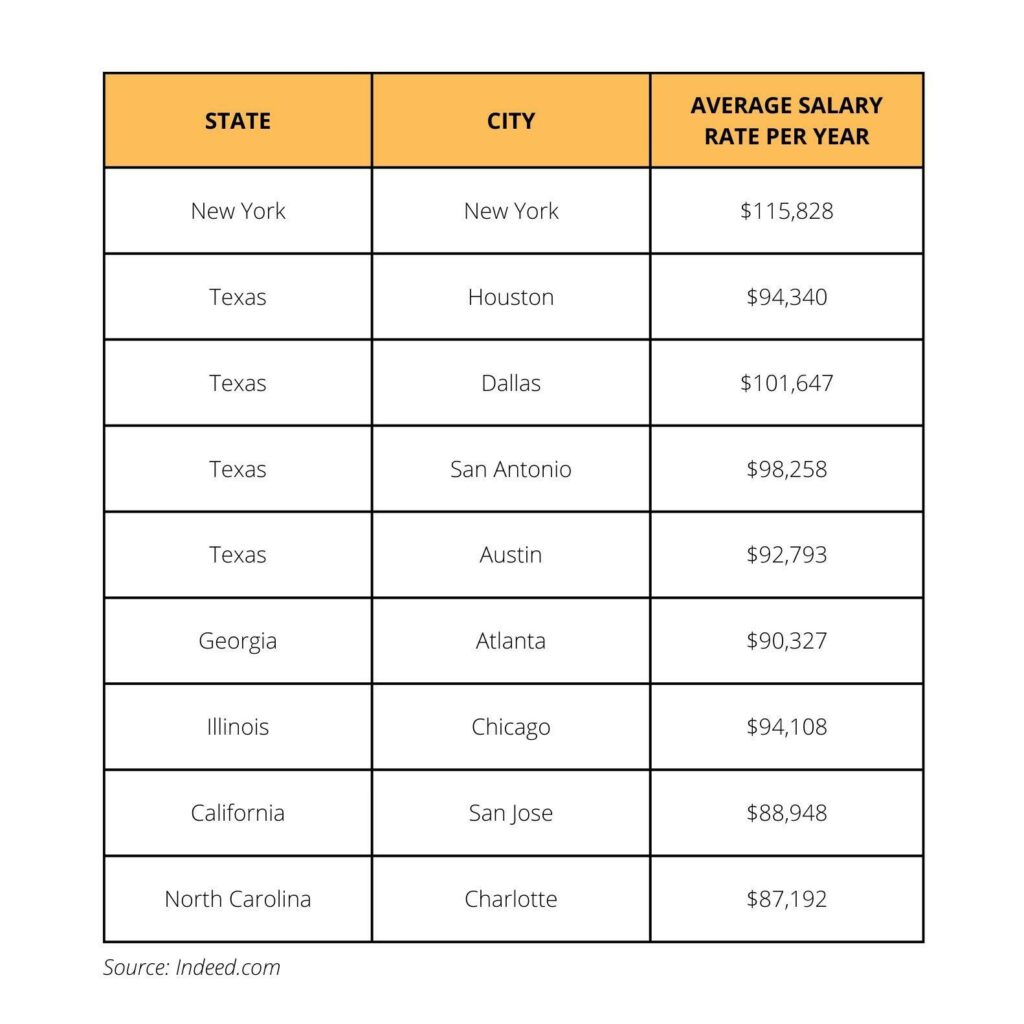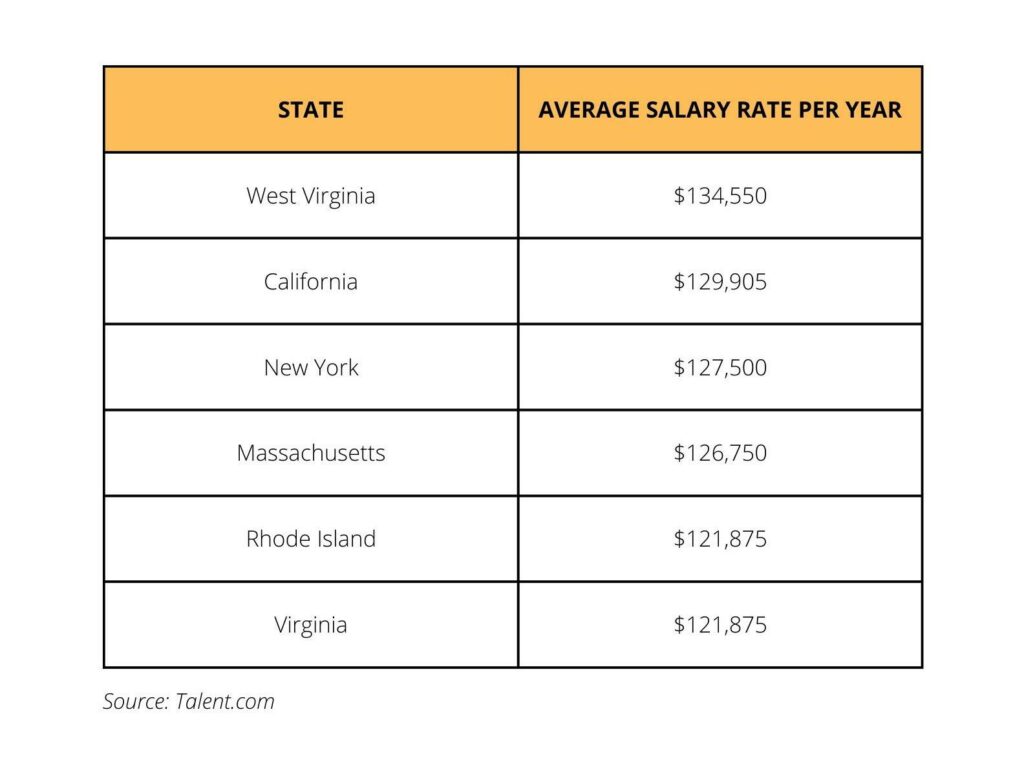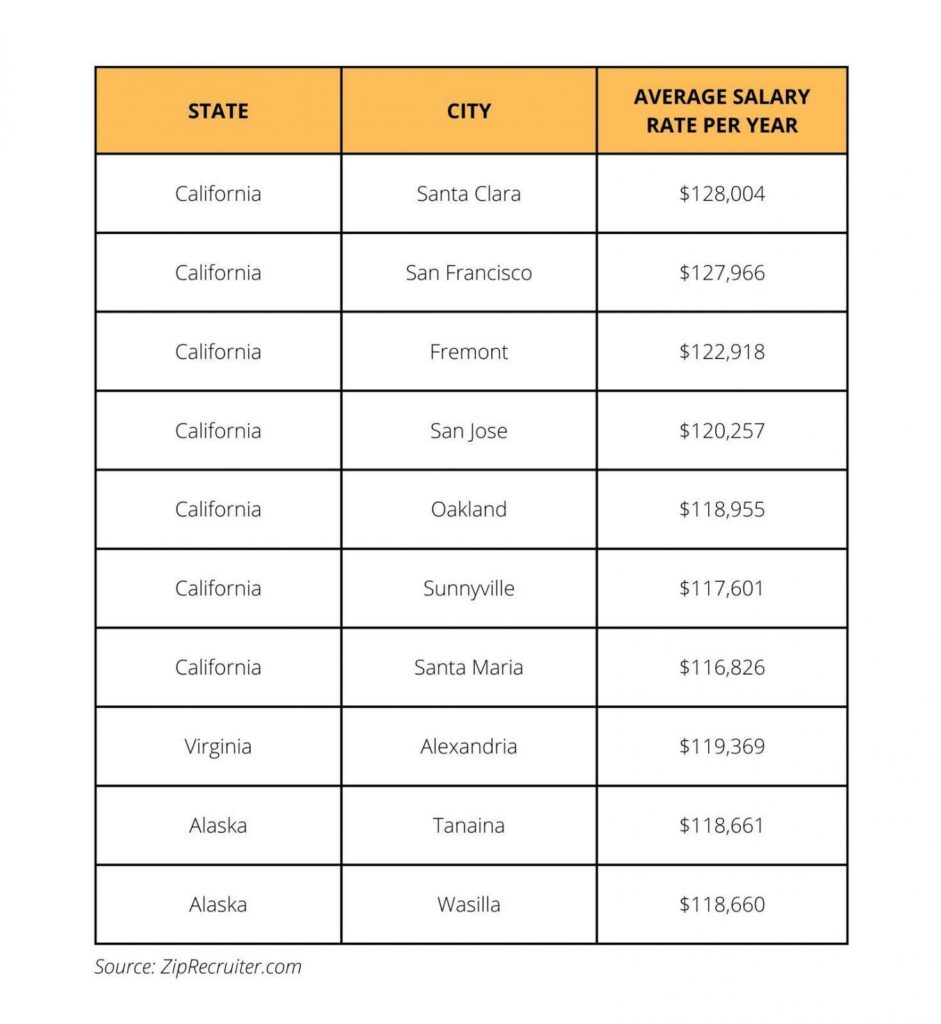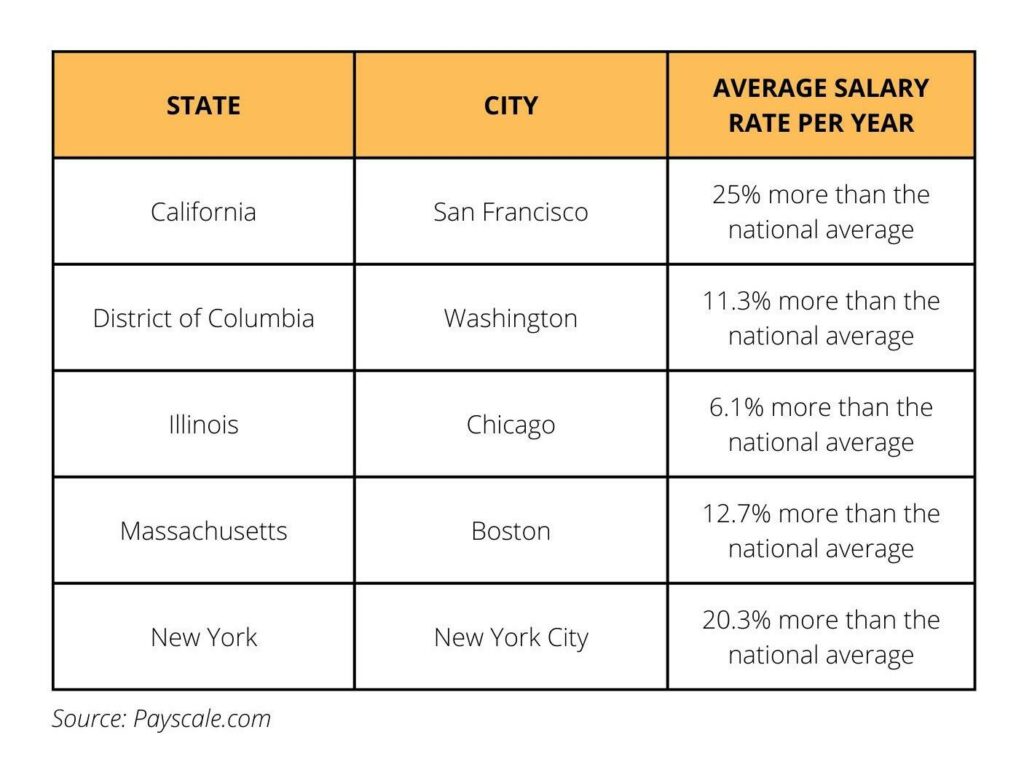 Generally, those with a higher cost of living have a considerably higher rate. The demand for developers in the area also plays a role in the rate differential.
Salary Rate Based on Career Level
In addition to geographical location, one's work experience also determines the salary rate of a Java developer. Thus, listed below are the various rates for different career levels.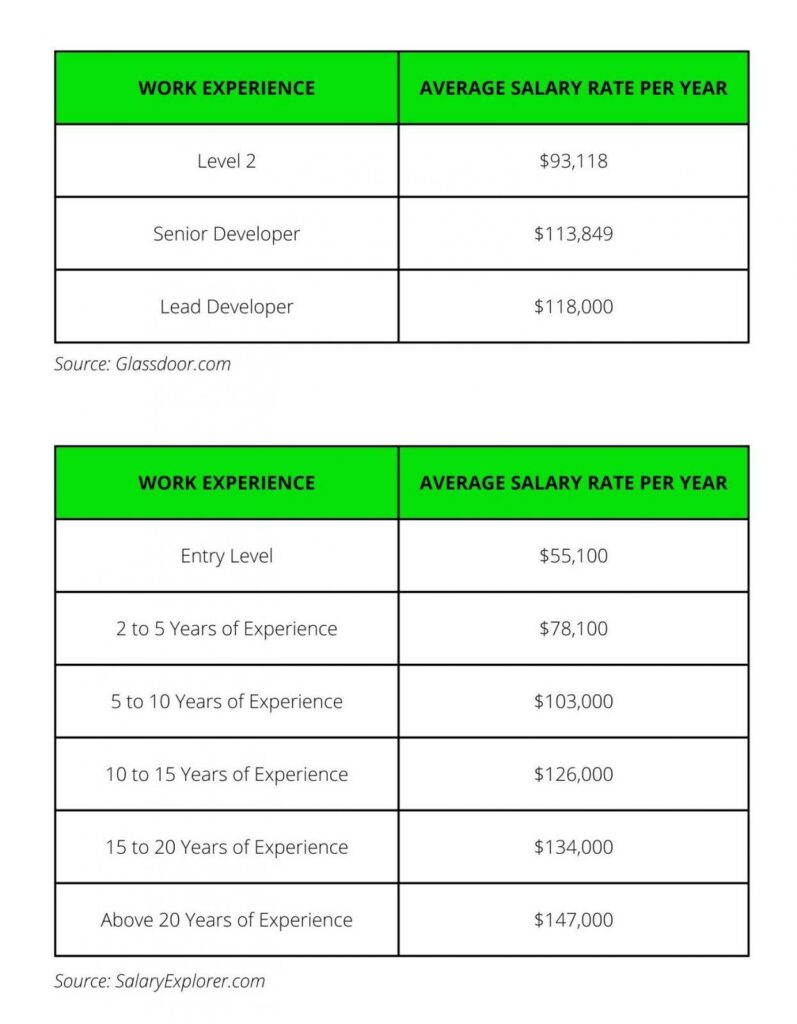 Java Developer U.S. Rate vs. Offshore Java Developer Salary
The location of the developer plays a big role in the salary rate. Onshore and nearshore developers tend to have higher rates compared to offshore ones. In fact, according to data, offshoring can lessen software development costs by up to 70%.
This is especially true for developing countries. For instance, instead of paying $50 for hourly rates, clients pay $20 to $45 to offshore developers in Asia. In addition to that, countries in Eastern Europe, Latin America, and Africa also offer lower rates for offshore development services.
And it's not just for Java professionals, but for also for developers using other programming languages. The countries that offer cost-competitive but top-notch offshore development services include the following:
Philippines
India
China
Ukraine
Brazil
Argentina
Hungary
Poland
Bulgaria
Romania
Now, here are the rates of Java developer salaries in other countries.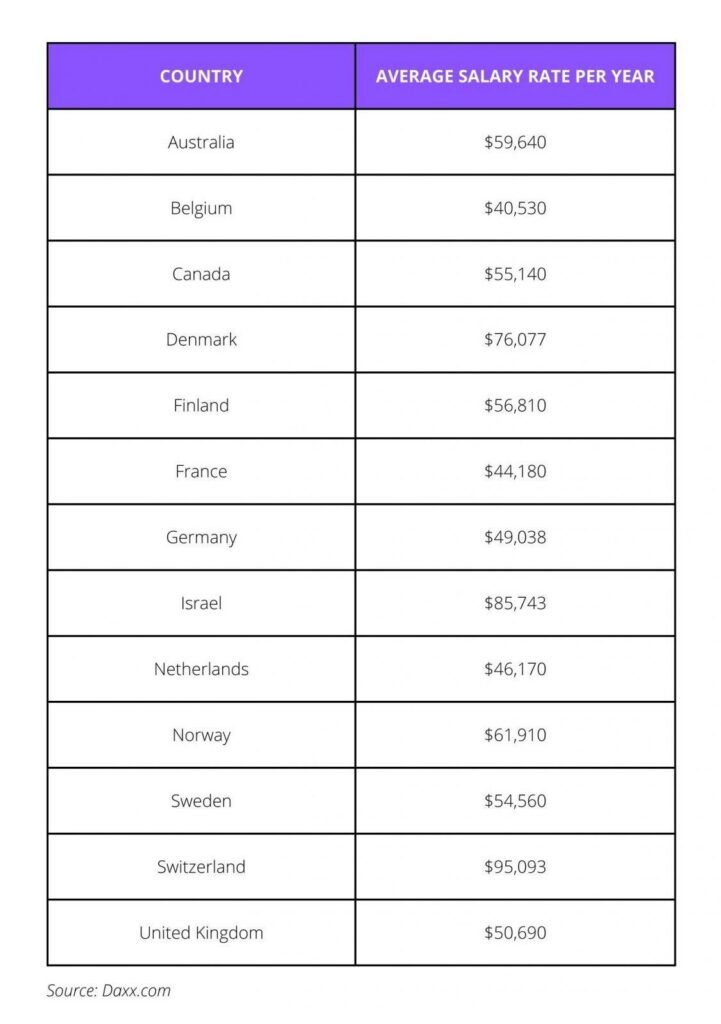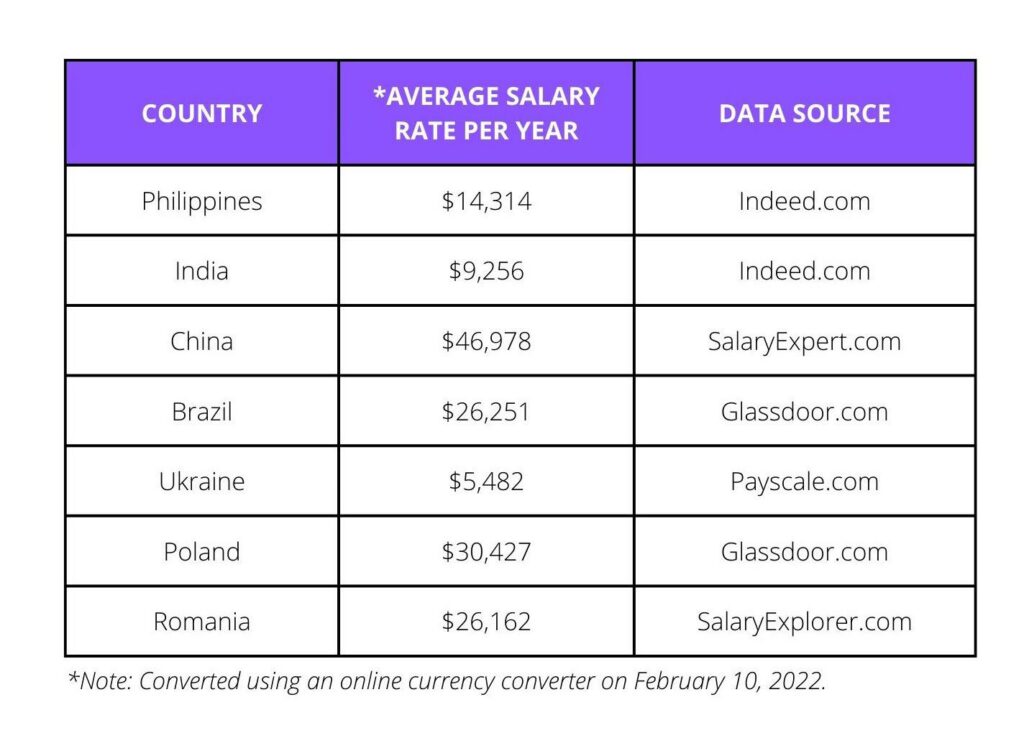 Why You Should Hire Offshore Java Developers
One of the main reasons why companies hire offshore Java developers is the low professional rate. But there are also other rationales why businesses hire offshore programmers.
Firstly, there's a deep pool of talent that one can tap. This way, organizations can hire qualified professionals instead of the ones who are available but underqualified. The hiring manager won't have to look for a candidate for a long time. In turn, it can affect the delivery period of the software positively. Or disburse a bigger recruitment budget to find the right Java developer.
Offshore development teams also offer flexibility. This is advantageous if the client needs team customization along the way without breaking the bank. So one can hire a small team first and scale it as the project grows. Or, they can organize a dedicated development team from start to finish.
Hire An Offshore Java Developer Now
Are you thinking about hiring offshore Java developers? Look no further than Full Scale.
We are an offshore development center with a headquarter in Kansas City, Missouri. But, our offshore delivery center is in Cebu City, Philippines.
Our team has Java developers from all levels. And, all of them are qualified to handle your project requirements. Even if it's a custom software development project or a standard one, our team of engineers, developers, and testers can work on it.
We only hire the top talent in their fields. Moreover, we also consider other things in our technical skills assessment. We understand that soft skills are just as important as technical qualifications for project success. In addition to that, we don't just hire developers. We also have project managers who can oversee your project and ensure the team stays efficient throughout the project.
What's more? Managing your team remotely is easier than ever. Our internal platform helps you organize a team quickly and supervise them successfully. In one dashboard, you can review a Java developer's time clock, work history, daily reports, and performance evaluations.
Most importantly, you don't have to worry about going over your project's Java developer salary. Our monthly billing has a cap and is client-friendly. So there are no unpredictable expenses in your budget. Let us help you accomplish your tech development goals. Discuss the project specs with us today!