Managing a remote team presents unique challenges that differ from managing an onsite team. To effectively manage a remote team, it is important to implement best practices and stay up-to-date with the latest remote team management trends.
Top Tips on Managing A Remote Team
Google, Microsoft, and Amazon are just a few of the large companies that have adopted remote work. With 71% of companies allowing remote work permanently, it's safe to say that the work-from-home setup is becoming the new norm.
Companies have embraced remote work as part of their business model and have been successful in maintaining their operations and employee productivity. Despite the setup, it is integral to maintain a company's work culture. And most companies work to improve their overall process.
But it's not always a smooth transition to working remotely. As such, companies must learn about the best practices and trends. Here are some best practices for remote team management trends for 2023:
#1 Establish clear communication.
Communication is essential when managing a remote team. Use tools for video conferencing, instant messaging, and email to keep in touch with team members. Make sure everyone knows how and when to communicate with each other. Leverage the full potential and convenience of communication tools specifically for remote setups.
#2 Set clear expectations.
When it comes to managing a remote team, the schedule and setup can be tricky. Unlike the office setup, you can easily lose track of time. To avoid such a scenario, clearly define the expectations of each team member, including work hours, deadlines, and project goals. Make sure that everyone knows what is expected of them and how their work contributes to the team's overall success.
#3 Provide the right tools and equipment.
Give your team the tools they need to work effectively from home. Along with the software tools, they should also have sufficient work equipment to ensure efficient results.
Other than their primary work equipment, you may want to provide them with backup devices in case of power failure or other emergencies. Ensure that they also have quick access to IT support to maintain and troubleshoot their work equipment.
#4 Encourage collaboration.
Foster collaboration among team members through team-building activities, brainstorming sessions, and other group activities. Use tools like virtual whiteboards and collaborative applications to facilitate teamwork.
#5 Prioritize mental health.
Remote work can be isolating and stressful. One of the top priorities in managing a remote team is to ensure the team's mental health. Encourage regular breaks, set boundaries around work hours, and provide access to mental health resources. It also helps to organize employee engagement activities. Full Scale, for example, has a team development program that keeps employee engagement going within a remote work setup.
#6 Emphasize results over activity.
One perk of remote work is its flexibility. As such, it's not surprising that companies are taking on a more results-driven approach. Focus on the results your team produces rather than the number of hours they work. This can help ensure that team members are motivated and productive.
#7 Stay up-to-date on technology.
Keep up with the latest technology trends and tools to help your team work more efficiently. For example, consider using artificial intelligence to automate certain work tasks and save time.
#8 Provide ongoing training and development.
Offer training and development opportunities to help your team develop new skills and stay up-to-date with industry trends. To keep it convenient, make use of platforms like Udemy so they can learn at their own pace.
Remote Team Management Trends and Tools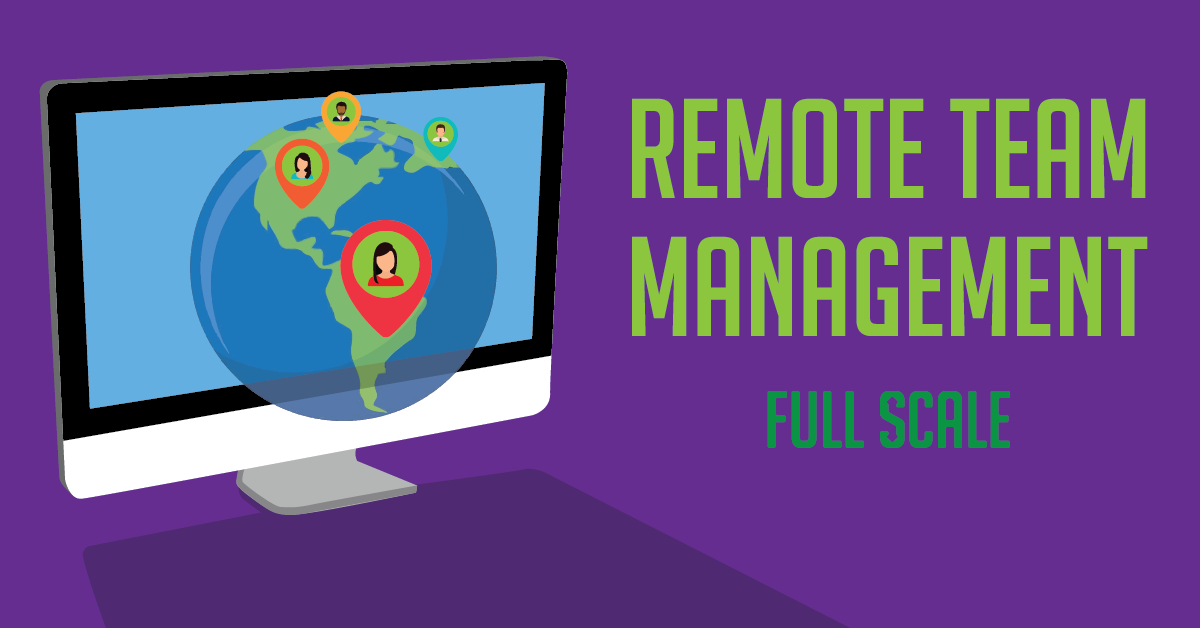 With more companies switching to the remote work setup, new management trends have come up to make it more convenient and effective. Along with that, there have also been several tools introduced in 2023. These are specifically designed to enhance communication between remote workers.
These are just a few of the newest communication tools for remote teams. As remote work continues to grow in popularity, we can expect to see even more tools emerge to help teams stay connected and collaborate effectively.
Hire Remote Developers from Full Scale
Full Scale focuses on hiring the best software developers. Our objective is to assist companies in bridging the IT talent shortage in the United States.
We have assembled a large pool of IT specialists who are prepared to take on a variety of development projects. Full Scale can assist you in putting together your team, whether you're searching for developers, project managers, QA specialists, or marketing specialists.
Give us a call if you're looking to elevate your company. Full Scale offers tech solutions for your business needs.