Are you ready to unlock the benefits of outstaffing and take your business to new heights?
In today's competitive business landscape, companies are constantly seeking ways to optimize their operations, increase efficiency, and drive growth. One strategy that has gained significant popularity is outstaffing.
This article will explore how outstaffing can revolutionize your business operations and drive growth. Get ready to discover the game-changing potential of outstaffing and how Full Scale can be your trusted partner in achieving success.
Cost Savings: Unlocking Competitive Advantage
One of the primary reasons why companies turn to outstaffing is the potential for significant cost savings.
Through outstaffing, companies can tap into a global talent pool and access skilled professionals. This usually comes at a fraction of the cost of hiring full-time employees. This cost-effective approach allows businesses to allocate their resources strategically and gain a competitive advantage in their respective industries.
One well-known company that successfully saved costs through outstaffing is Slack. Slack, a leading communication and collaboration platform, reaped the benefits of outstaffing by implementing this as part of its strategic business model. They optimized resource allocation by scaling their workforce as needed and slashed those pesky operating costs. Talk about working smarter, not harder!
With this genius strategy, Slack continued to wow its clients with innovative solutions while keeping their budgets in check.
Flexibility: Scaling Your Workforce on Demand
Outstaffing allows businesses to navigate the ever-changing demands of the market. Companies can tap into a global talent pool, assembling teams with the precise skill sets required for specific projects or tasks. This ensures optimal results and efficient project execution.
Moreover, outstaffing allows companies to scale their workforce quickly and effectively. For instance, a tech startup experiencing rapid growth can utilize outstaffing to expand its team with skilled professionals swiftly. This enables them to seize growth opportunities promptly without compromising quality.
During peak project periods, outstaffing becomes invaluable. Businesses can augment their workforce by quickly onboarding dedicated professionals. As a result, businesses ensure they have the right resources to handle increased workloads, deliver projects promptly, and maintain high customer satisfaction.
Outstaffing also enables companies to adjust resource allocation as needed. By entrusting non-core functions or specialized tasks to external professionals, businesses can strategically allocate internal resources to focus on core activities. This enhances productivity, maintains a lean organizational structure, and ensures an efficient division of labor.
Additionally, outstaffing allows companies to tap into a wide range of expertise on demand. If a project requires specialized skills not available internally, outstaffing provides access to professionals with the required expertise. This agile resource allocation optimizes project outcomes and drives overall business success.
Specialized Expertise: Powering Innovation
Innovation lies at the heart of every startup, and outstaffing plays a pivotal role in unlocking its full potential. By embracing outstaffing, startups gain access to specialized expertise that may be scarce locally, opening doors to groundbreaking ideas and solutions.
This specialized expertise can be a game-changer, helping startups develop cutting-edge products, create exceptional user experiences, and differentiate themselves in the market. By leveraging the collective talent and expertise through outstaffing, startups can unlock their true potential and propel themselves to the forefront of their industry.
Partnering with a renowned outstaffing provider such as Full Scale takes your business to the next level. Full Scale boasts a carefully curated pool of highly skilled professionals across diverse disciplines, guaranteeing that your company gains access to exceptional talent.
With our meticulous selection process and unwavering commitment to quality, Full Scale instills confidence in providing the expertise required to drive projects and businesses forward.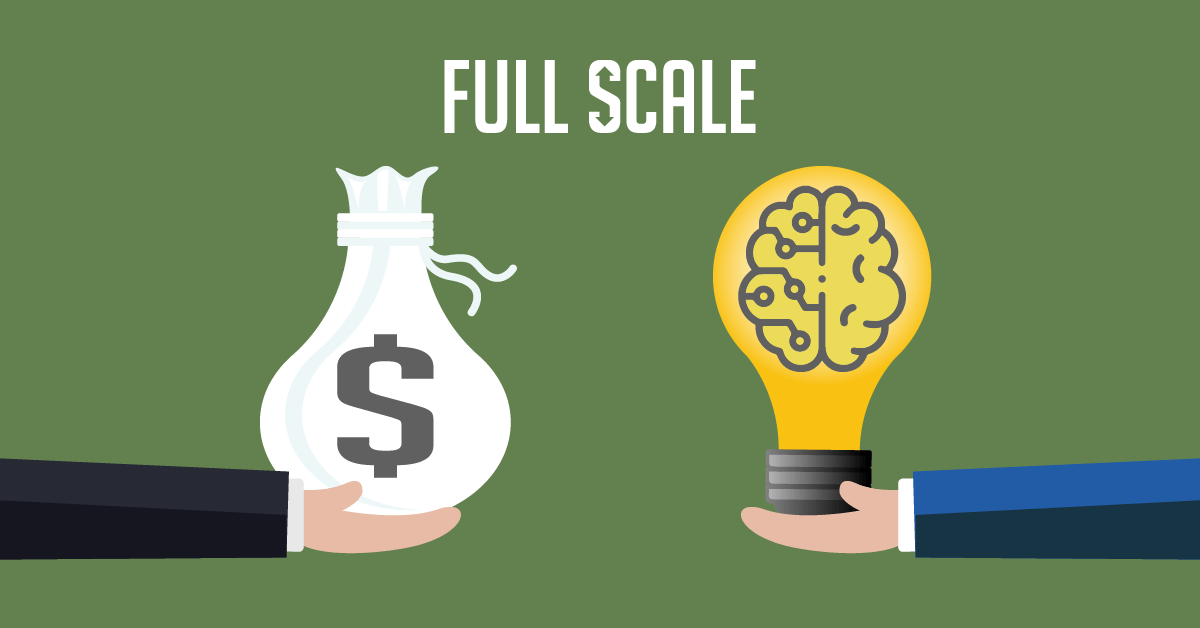 Focus on Core Competencies: Maximizing Business Potential with Outstaffing
Focusing on core competencies is essential for businesses to thrive in today's competitive landscape. Businesses can redirect their time, energy, and resources toward their core competencies by entrusting non-core functions to external teams. This strategic approach allows them to enhance their expertise, improve productivity, and deliver exceptional value to their customers.
Outstaffing empowers businesses to reallocate their internal resources to strategic initiatives that drive growth and innovation. Companies free up their talented workforce to focus on high-priority projects, research, and development, or expanding into new markets.
A concrete example of a company that successfully utilized outstaffing to focus on its core competencies is Airbnb. As Airbnb experienced rapid growth and global expansion, it needed to scale its operations. All the while, they needed to maintain a high service level while focusing on its core business model.
To address this challenge, Airbnb partnered with outstaffing providers to assemble dedicated teams with expertise in areas such as software development, data analysis, and customer support. Outstaffing allowed the company to focus on its core competencies of providing a user-friendly platform and connecting travelers with unique accommodations. By outsourcing non-core activities, they were able to streamline their internal operations and allocate their resources more effectively.
Risk Mitigation: Safeguarding Business Stability through Outstaffing
Mitigating risks is crucial to maintaining business stability and continuity. By partnering with outstaffing providers, businesses can minimize risks related to talent acquisition, employee management, and compliance. This strategic approach allows companies to focus on their core operations while relying on the expertise of outstaffing providers to handle specific risk factors.
Outstaffing can greatly reduce risks related to labor regulations and employee turnover. For instance, navigating complex labor laws and regulations can take time and effort when operating in unfamiliar regions or countries. Outstaffing providers possess in-depth knowledge of local labor regulations and can ensure compliance on behalf of the client company. 
Moreover, outstaffing minimizes the impact of employee turnover as the provider handles staff recruitment, onboarding, and staff retention. This characteristic ensures a stable workforce for the client company. Outstaffing providers handle payroll, benefits administration, tax obligations, and other legal aspects, relieving businesses of the associated administrative burden and mitigating legal risks.
Streamlined Operations: Full Scale's Role in Workforce Scalability
When it comes to outstaffing, Full Scale shines as a trusted partner, dedicated to assisting startups in scaling their workforce on demand. With a profound understanding of startups' unique culture and requirements, Full Scale offers comprehensive support, encompassing every step from recruitment and onboarding to ongoing team management.
Full Scale's commitment to delivering exceptional results reflects our meticulous recruitment and onboarding approach. We meticulously select individuals who possess the requisite skills and expertise and align with the startup's culture and values. This ensures a harmonious and productive collaboration from the outset.
Full Scale is responsible for ongoing team management during onboarding, allowing our clients to focus on strategic initiatives and key business activities. The transparency and control provided by our management processes enable startups to stay informed and actively participate in the progress of their extended team.
With Full Scale as your trusted ally, you can accelerate growth, optimize productivity, and embark on the path to long-term success.