Hiring a new software developer? Here's a software developer onboarding guide to help you set your new team player for success.
Onboarding software developers can be a drag with the number of training, tools, and devices you need to set up.
This is why it's crucial for companies to develop a detailed onboarding process for technical roles such as software developers. We've created a software developer onboarding guide to help your new recruit get up to speed with the company, team, and project.
Developer Onboarding: Why It's Important to Get It Right
Why is it important to have a well-placed onboarding process? Firstly, the software developer position is not an easy role to hire.
In fact, it's quite challenging, given there's an ongoing IT talent shortage. So, if you've successfully hired one for your project, keeping them in should be a top priority. And this effort should start even before their first day.
First impressions can heavily affect and influence an employee's view of the company. During onboarding, they will grasp the company's policy, work dynamics, and culture.
This alone could determine if it is a setup they can work in for the long run. In short, onboarding sets the tone of the employee's relationship with the company. And that is why it's important to have the right procedures in place to ensure a successful onboarding experience.
Software Developer Onboarding Process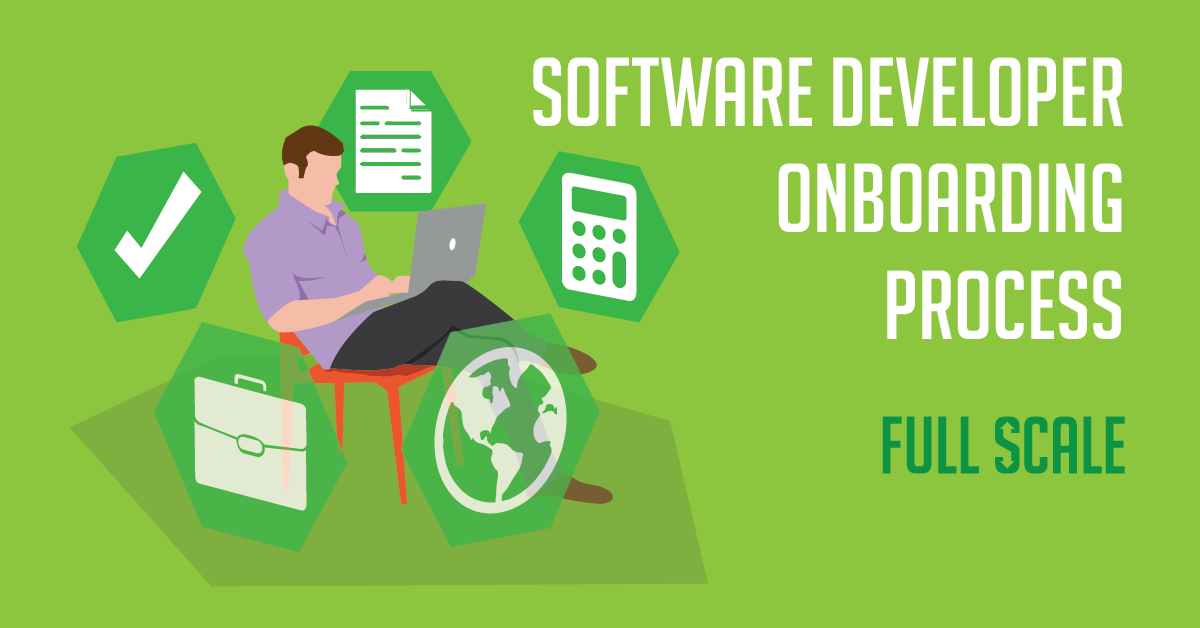 Now, we've established why it's important to have a reliable onboarding process. Let's now discuss how to develop it.  
The first thing we must understand about software developer onboarding is that it involves different kinds of processes. Multiple types of onboarding processes require various approaches and timelines.
Most businesses would usually divide the onboarding into three stages, namely practical, skill, and cultural. Let's get to know these processes and learn how to execute them more efficiently.
Practical Onboarding
Practical onboarding is the process of setting up the employee's benefits and company accounts. This process covers the employee's training and orientation to the company's culture, materials, products, and services. It involves informing the employee about all the essential details of their employment, such as benefits, perks, bonuses, etc.
Other discussions include the company handbook, HR rules, and special events.
Depending on the complexity of the company's bureaucracy and operations, practical onboarding typically lasts up to a week. This timeline takes into account the employee's completion of personal documents and forwarding them to the higher-ups.
Skill Onboarding
After the initial introduction to the company, newly hired developers can start familiarizing themselves with the technical aspects of the job. This refers to items like the code base, systems, and processes for the project they're assigned to. At this stage, they must have full access to the software and platforms they'll be using.
The best approach for training new software developers is to pair them with the senior or lead developer for the project. One great method is pair programming, wherein two developers collaborate and work on tasks together. This usually involves working on a shared command line or code editor.
This hands-on approach will help the new developer catch up on the coding process faster. It's also a great opportunity to work with the team members.
Another way of training is to have the new developers push out code early on so they can explore the system. Having them write and push out code will help them familiarize the codebase and workflow of the project.
Skill onboarding could last up to 6 months based on the scale of the project and how complicated the system is. It also depends on how quickly the developer can pick up the pace.
Cultural Onboarding
Lastly, there's cultural onboarding which takes a significant amount of time. This is because it revolves around the concept of relationship building. It is the process of introducing the new member to the company's work culture.
This involves getting to know the people, the regular routines, the special events, and generally, how the company runs. It is also when the developer learns about the company's values, goals, and future plans.
Cultural onboarding can be quite challenging for remote teams. This is why it's important for companies to organize team-building activities that are both remote and in-person.
Full Scale, for example, created a team development program that encourages teams to meet up and get to know each other personally. Our remote teams can choose which activities to do, such as having a nice meal or playing a sport together.
Incorporating Preboarding Methods
Now that we've tackled the different kinds of onboarding processes, it's time to think about how you can make them more efficient. You may consider applying some of these preboarding tips to enhance and expedite your processes.
Preboarding candidates cuts down a lot of time in handling tedious paperwork. It involves sending the required materials and documents before the employee's first day. Here are some processes you can prepare in advance:
HR Materials
New employees are bound to have lots of questions, especially about company policy. Having a Frequently Asked Questions document can make things more convenient. At Full Scale, our employees can go to a depository called Employee Resources to read announcements and details about company policies.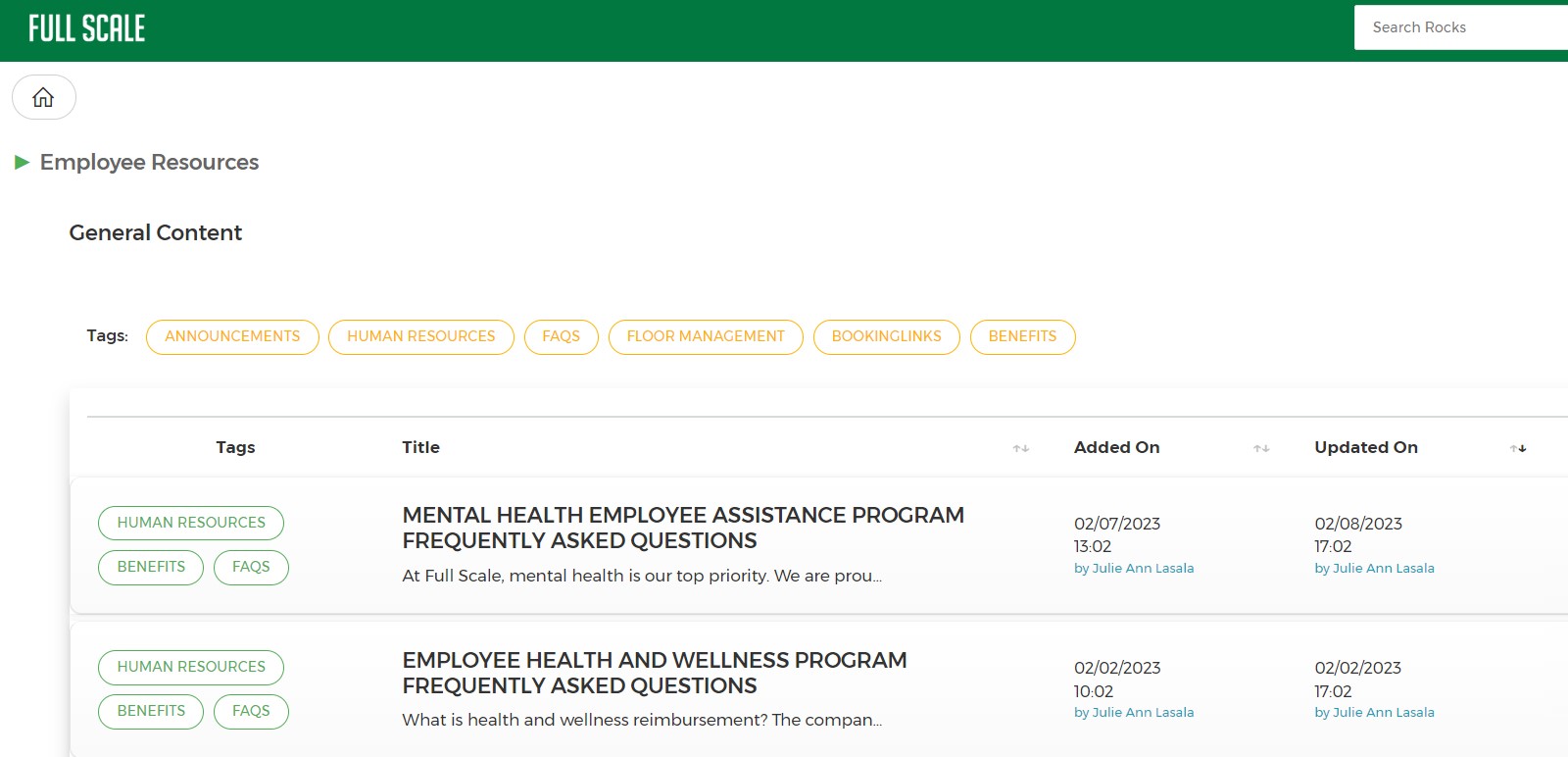 Paperwork
New hires will undoubtedly have a boatload of forms to sign, as well as accounts to set up. Giving them time to process and set everything up before their first day makes for a smoother transition. Having e-signature forms will make the process more convenient turnaround of paperwork.
Tutorial Guides
One way to make it easier for the new hire to start is to give them clear instructions before their first day. Creating detailed graphic or video tutorials for account setups and software installation is a great way to save time.
You can simply send over these tutorials, and the employee will have ample time to review and apply them. Tutorial guides should cover everything from tools, internal messaging apps, development tools, HR tools, etc.
Ensuring A Successful Onboarding
The best way to ensure a great onboarding experience is to go the extra mile in welcoming the new employee. Foster a culture that makes employees feel valued, seen, and heard. Full Scale has worked with developers for over four years, and we've shared our tips on how to keep software engineers happy.
Hire Software Developers with Full Scale
Looking for software developers? Full Scale can help you find and hire developers for your project. We'll help you assemble your software development team and manage them efficiently. We have the best platform to help you find the best candidates for the job.    
Full Scale has a lot to offer if you're seeking a trustworthy partner for software development. We can aid in project management and team building for your development team. And we want to make sure you can quickly and affordably recruit first-class developers.