A new breed of successful startups has attained a stunning valuation of over $1 billion―a rare milestone that sparked great interest in the world of venture capital. We refer to these companies as unicorn startups. As of January 2019, more than 300 startup unicorns have flourished around the world.
What do Canva, Asana, and 23andMe have in common? In the ever-evolving world of tech, these companies are known as "unicorns". The first thing that comes to our mind when we hear the word unicorn is a mythical creature depicted by a horse with a long, straight horn on its forehead.
While unicorn startups don't gallop around the proverbial universe in the same mythical fashion, this term describes the rarity of their value as a company.

What is a Unicorn Startup?
Unicorns are private companies with a market value of over $1 billion. Aileen Lee, founder at Cowboy Ventures, first coined this word in 2013. According to a CBInsights' list of unicorn startups, there is 391 total number of unicorns all over the world with over $1 billion in valuations. Other forms of unicorns are decacorn (companies with a value of more than $10 billion) and hectacorn (companies with more than $100 billion value).
Back then, valuations such as this were so rare that it deserves its own name. But today, the startup landscape has transformed; there is a generous outpour of capital for some startups with high-growth outlook. In recent years, unicorns have increased their tribe with an estimated overall value of $1.1 trillion.
As of 2019, the top 10 unicorns are (by rank):
Toutiao (ByteDance) – China, $75 B
Didi Chuxing – China, $56
JUUL Labs – United States, $38 B
WeWork – United States, $47 B
AirBnb – United States, $29 B
Stripe – United States, $23 B
SpaceX – United States, $19 B
Epic Games – United States, $15 B
Grab – Singapore, $14 B
DoorDash – United States, $12.6 B
ByteDance, a Beijing-based company, is the world's most valued unicorn today. They own Toutiao (a.k.a Jinri Toutio), popular news and social content platform that harnesses machine learning to generate content tailored for each user.
The second-largest unicorn is Didi Chuxing, another company based in Beijing, China that provides app-based transportation services hosting over 550 million users on its platform.

Features of a Startup Unicorn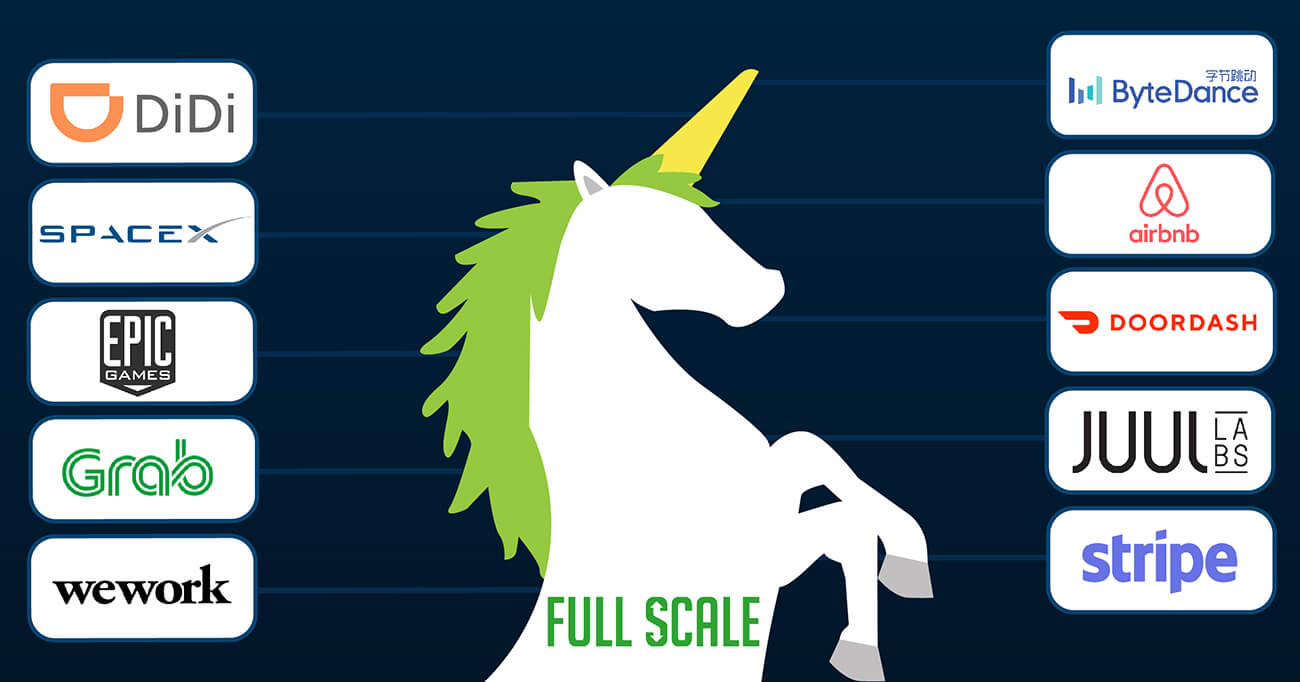 What is the likelihood to becoming a unicorn startup? What makes a unicorn startup different from the rest? Here are their key features:
Consumer-centric
About 62% of the active unicorns are B2C (business-to-consumer). Their business model centers on creating products and services that are affordable and convenient for consumers. Squarespace makes it easy for anyone to build and host their websites using pre-built templates, drag-and-drop themes for web pages. WeWork offers affordable workspace and office leases for startups, small businesses, freelancers, and large enterprises.
Disruptive Innovation
Most of the unicorns are at the forefront of technology that 'disrupts' or changes the way the current market operates. Bitmain Technologies is the world's largest designer of ASIC (application-specific integrated circuit) chips for bitcoin mining. Elon Musk's SpaceX revolutionizes the aerospace industry by making affordable space exploration a reality.
Private Companies

Most of these unicorn startups are private companies that earn their valuations when bigger firms invest (as in private equity and venture capital) or acquire them. Private companies don't need to undergo an IPO to secure capital or increase their valuations.
They can always go back to investors to gain more capital. Going for an IPO may put a private company at risk of devaluation when the market values it less than the investors.
Technology-Driven
From US digital currency exchange startup Coinbase to Indonesia-based transportation network startup Go-Jek, tapping on digital technology is the common denominator among successful unicorn startups. Most of these unicorns are tech startups operating on sharing, eCommerce, on-demand, peer-to-peer and other business models.
How are unicorn startups valued?
The value of unicorn startups is based on investors' assessment of their growth opportunities and expected long-term development in the market. Investors take into account long term forecasting to make informed estimates and predictions for future trends.
Valuations for unicorns also stem from rounds of funding from large VC firms investing in them. Another factor to consider is when a larger company buys out a small startup company, instantly increasing a startup's valuation. A great example of this when Facebook bought Instagram on September 12, 2012—cementing its $1 billion acquisition.
So, a unicorn's valuation is not dependent on its financial performance. It becomes more tricky when unicorns don't have competitors or they are pioneers in that industry. Here, they don't have business models for which to compare.
For high-growth startups who are looking to increase their chances for high valuations, it boils down to opportunities available and their potential. VC firms need to believe in the whole vision set by the startup owner and the company. Startups should be able to convince VC firms that they have the capability to grow their business and make it profitable.
What Lies Ahead for Unicorn Startups
It's easy to imagine for some startup companies to get blindsided by the prestige associated when they reach that highly coveted unicorn status. After all, there's only a few of them cherry-picked among hundreds of thousands of other startups. If you're a VC investor, it's important for you to conduct due diligence and choose your bets wisely. Not all unicorns who went public years later were successful in their endeavor, as what happened to Uber on their first month of IPO.
If you need someone to guide you on how to scale up your startup, it's best to go with the experts. Matt DeCoursey and Matt Watson are the dynamic duo behind Full Scale, a Kansas City-based offshore software development company. They host a weekly podcast on Startup Hustle where they shed light on the murky waters of the startup culture.
No need to reinvent the wheel. Here at Full Scale, we can help you grow your startup from ground zero to a successful, high-growth company. If you're ready to make your startup ideas a reality, get your FREE consultation today.