Starting a business can be a costly endeavor, but there are a number of business funding options available in the United States.
In this post, we'll look at some of the most common sources of startup funding and what you need to know about each option. So, whether you're just starting out or you're looking for new ways to grow your business, read on for all the info you need!
Government Grants and Loans
Government grants and loans are a great way to secure business funding in the US. Many different types of grants and loans are available, each with its eligibility requirements. However, business loans are generally more difficult to qualify for than grants.
Grants are also typically easier to obtain than business loans. Therefore, starting a business in the US is worth looking into government grants and loans as a funding source. You may be surprised at how much money you can get!
There are a few things you can do to earn government grants or loans for your business. First, you should research the different types of grants and loans available. You can do this by visiting the website of the Small Business Administration (SBA) or contacting your state's small business development center.
Choose which types of grants and loans are available and begin your application. The process can be complicated, so you must gather all the necessary information before starting. Additionally, you'll need to meet the eligibility requirements for each grant or loan program.
After submitting your application, expect a long process. In the meantime, it's important to keep track of all the progress you're making with your business. This will help you when it is time to submit your final application package. You could soon receive government funding to help your business grow if everything goes smoothly.
Venture Capitalists
It might be difficult for some startups to apply for a loan from a bank. It becomes more complicated if you don't have collateral or a good credit score.
Another business funding option is to seek venture capital. Venture capitalists are individuals or firms that invest in high-risk, high-growth businesses. They give business owners the capital to get their businesses off the ground (pre-seed) and also to scale (Series A, B, C). In exchange for their investment, they typically receive business equity. This means they will share in the business's profits (or losses).
Venture capitalists typically invest in businesses that they believe have the potential to snowball and generate significant returns. If you are considering seeking venture capital, you need to remember that these investors are taking a risk on your business. As such, you need to have a well-crafted business plan that will sell them your business idea. Ensure your pitch is on point!
Angel Investors
Regarding new business funding, angel investors are a popular choice in the US. An angel investor is an individual who provides financial backing for a new business venture. In return, the angel investor typically receives a minority stake in the company.
Angel investors are often successful entrepreneurs or business professionals with the financial resources and industry experience to help new businesses succeed. Many angel investors are also motivated by the opportunity to support innovation and help new businesses grow. As a result, they can be a key source of new business funding.
You can do a few things if you're looking for angel investors to fund your business. First, research the angel investors most likely to be interested in your business. Read through industry publications or by attending industry events. Once you know the potential investors, you can start reaching out to them.
Be sure to remember that not all angel investors are created equal. Some may be more interested in a certain type of business, while others may have more experience in a certain industry. You'll need to tailor your pitch to each investor and ensure they see your business's potential.
Another crucial thing to remember is that most angel investors are looking for a return on their investment. They're not just giving money away, so you'll need to convince them that your business is worth investing in.
To do this, you'll need to have a clear and concise business plan and present a realistic forecast of how much money your business can make. If you can show that you have a solid strategy and that your business has growth potential, you'll be well on your way to securing funding from angel investors!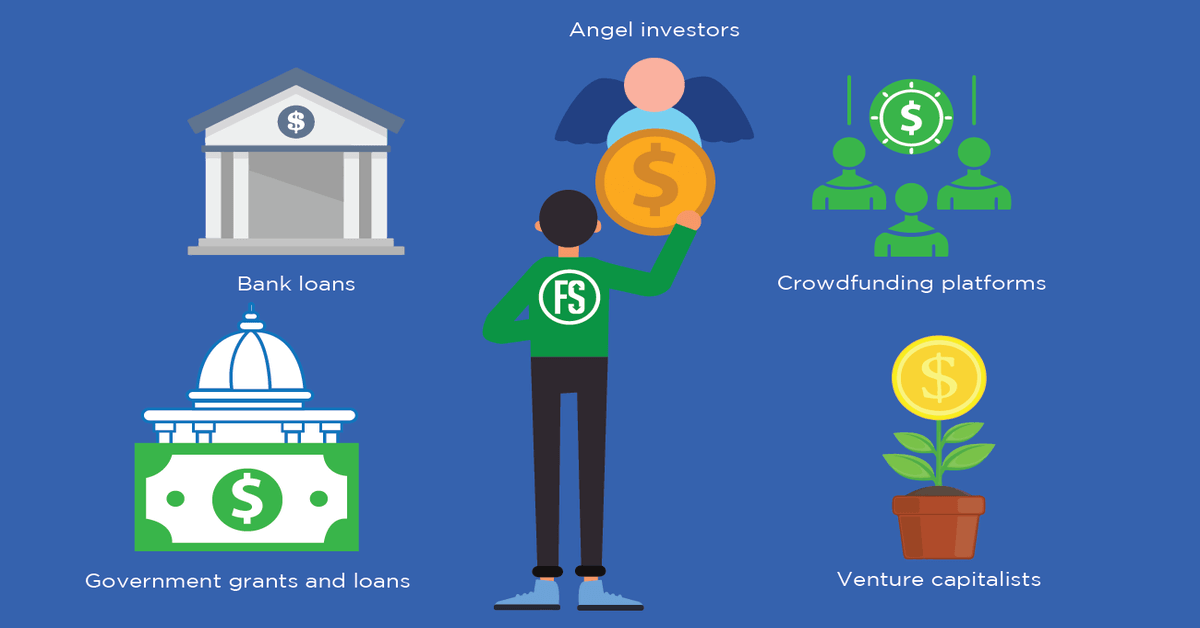 Bank Loans
Bank loans can provide the business with the capital it needs to expand, purchase new equipment, or cover operating costs. The loan terms will vary depending on the lender. But the business typically needs to put up collateral to secure the loan.
Repayment terms can also vary. But the business generally needs to make regular payments over several years. This option is great for businesses that need access to capital. So it's essential to understand the terms and conditions before signing on the dotted line.
Crowdfunding Platforms
In the past, startup companies often turned to venture capitalists for funding. However, this model has several disadvantages.
First, VCs tend to invest large sums of money, which can give them much control over the startup. Second, the startup may have to give up a large portion of the equity to secure VC funding. Finally, the startup may need more time to achieve unrealistic growth targets to generate a return on investment for the VCs.
Crowdfunding platforms offer an alternative way of raising startup funding. On a crowdfunding platform, startup companies can connect with many small investors. This allows the startup to raise smaller sums of money from a larger number of people.
In addition, the startup can keep its equity to raise funding. As a result, crowdfunding platforms provide startups with a more flexible and democratic way of securing funding.
Closing Thoughts on Business Funding Options
There you have it – a comprehensive overview of the five most common types of startup business funding avenues in the United States. It's important to research and understands which option is best for your unique company and situation. And remember, no matter what type of funding you choose, always consult an accountant or financial advisor to ensure that you make the best decision for your business.
Once you've attained the funding you need, the next step is to ensure that you have the right people in your company to reach your goals. This is especially true if you are starting a tech startup.
A tech company values its tech team. You need to employ the best people to deliver outstanding results. However, budget constraints can hinder your startup. Full Scale offers our partners a dedicated tech team and quality work that does not go beyond the budget.
Full Scale caters to exactly what your company needs to excel. All you need to do is tell us the specifics of your business needs.