When it comes to application frameworks, .NET is widely used by developers today. With this demand, .NET developer salary is seeing an increasing trend.
According to Zippia.com, in 2020, the industry has seen a 2.1% increase in the national average salary. Then, in 2021, there was a 2.3% increase in the average .NET developer salary. Currently, in 2022, an increase of 3.3% has also been observed.
But why is the programming framework valuable to many developers? What is the average .NET developer salary in the current market? What are viable options for small businesses and startups that need a .NET developer?
This article aims to answer all these questions. We will also provide comparisons on the average salary of a .NET developer in terms of the following:
Let us help you navigate the global .NET development industry. Let's start with an overview of what .NET development is about.
Overview of .NET Development
To clarify, .NET is not a programming language. It is a platform used by developers as a basic conceptual structure to resolve complex issues during development. In general, it comes as a set of tools, materials, or components.
.NET is an open-source ecosystem created by Microsoft to enable cross-platform app engineering. Because of its reusable and object-oriented code, teams work efficiently to shorten the development life cycle. In turn, many organizations can save time and reduce project costs.
Right now, according to Microsoft, there are more than 100,000 OSS contributions in its community. There are also 3,200 and more OSS company contributors. This means there is an active community of developers that builds and maintains the framework's libraries.
Furthermore, programmers use .NET to develop various kinds of applications. The following are done using the framework, multiple languages, and libraries:
Web apps
Mobile apps
Desktop apps
Cloud services
Game development
There are three major programming languages in the .NET framework. These are the Visual Basic, C#, and F#, which saw improvements when the .NET 6 version was officially released.
However, the framework can also support other languages as long as it is CLI-compliant (common language infrastructure). As of writing, there are 28 active CLI-compliant languages, which include C++/CLI, IronPython, and Swift.
Average .NET Developer Salary in Review
There are many factors affecting the average .NET developer salary. Work experience, certifications, and geographic location can influence the rate. Here are the data from various available sources on the salary rate of .NET developers divided into different categories.
Average Rates in Comparison
According to Indeed.com, the average annual salary of the developer is $94,599. It means a professional can make up to $52.69 per hour. Additional benefits come in the form of stock options, which are satisfactory to 72% of reported ratings. The data is based on 3,400 salary reports on the site.
Furthermore, closely related data from ZipRecruiter.com is also available. It published that the average developer's salary is $93,076 per year. If calculated on an hourly basis, it comes at $44.75 in earnings. The site also published the salary range with an entry-level .NET developer salary at $43,000. Comparatively, more experienced developers earn $164,000 annually.
Moreover, according to Zippia.com, the average salary for .NET developers is $92,000 per year. That is $44.62 if the earning is computed per hour. It also published that the entry-level .NET developer salary is $70,000 per year. And, the highest pay for the position is $122,000 annually.
The data provided by Glassdoor.com is lower compared to the previously mentioned sources. According to the recruitment website, a .NET developer's salary ranges from $62,000 to $127,000 annually. But, the average .NET developer salary from data reports is $88,947 per year. This information comes from 2,453 data submitted to the site.
On the other hand, data from Talent.com gives a comparatively higher average .NET developer salary. It placed the annual national rate at $105,000 per year. That means a developer can make up to $53.85 per hour. The entry-level rate is $87,766 while the highest salary rate is $131,999 per year.
Developers From These Locations Earn More
There are cities and states in the U.S. that pay higher salaries compared to other locations. What are the possible reasons for these differences?
For one, the area's cost of living is included in the calculation. Another reason is the level of demand for the developer's skillset in the location. Nevertheless, the list below contains the diverse rates of highest-paying locations for .NET developers.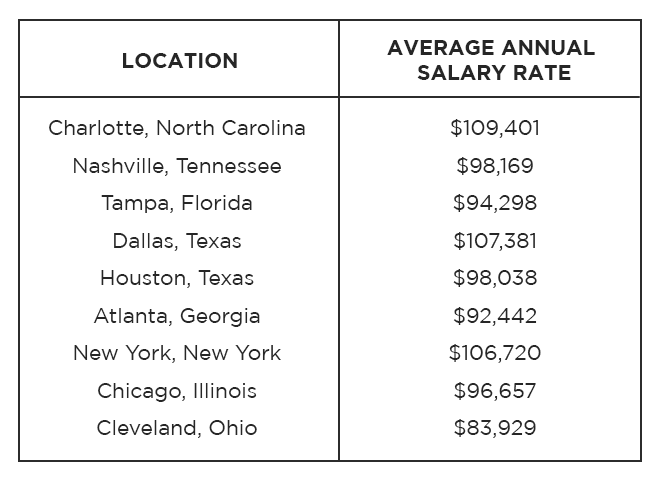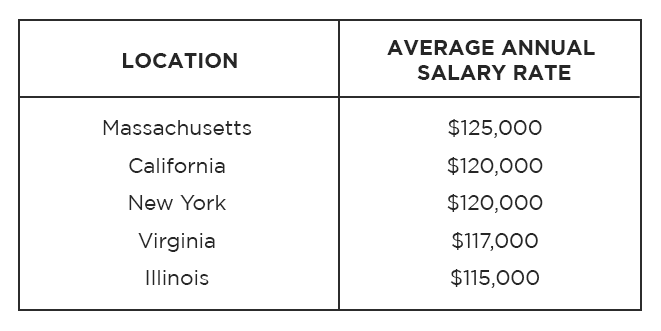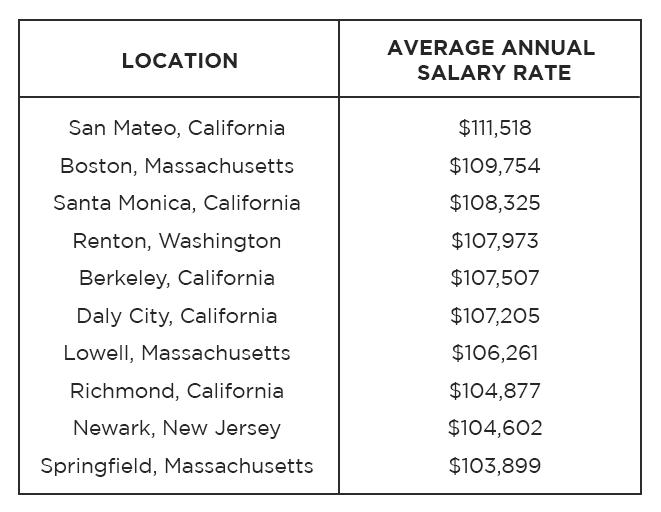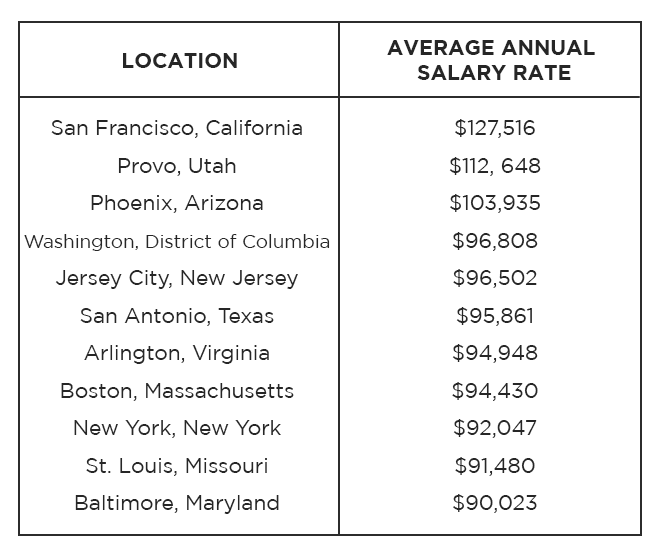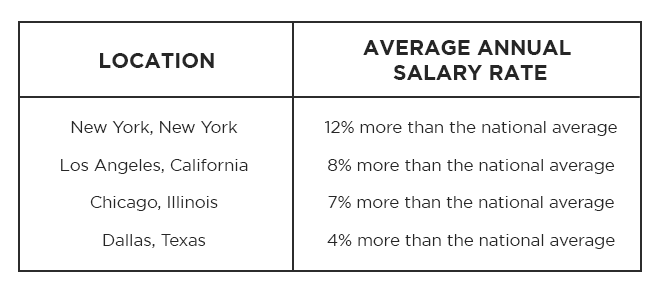 Rate Differential Based on Career Level
Work history and .NET experience is also vital factor in terms of salary. Hence, here are the various salary grades based on the career level of the developer.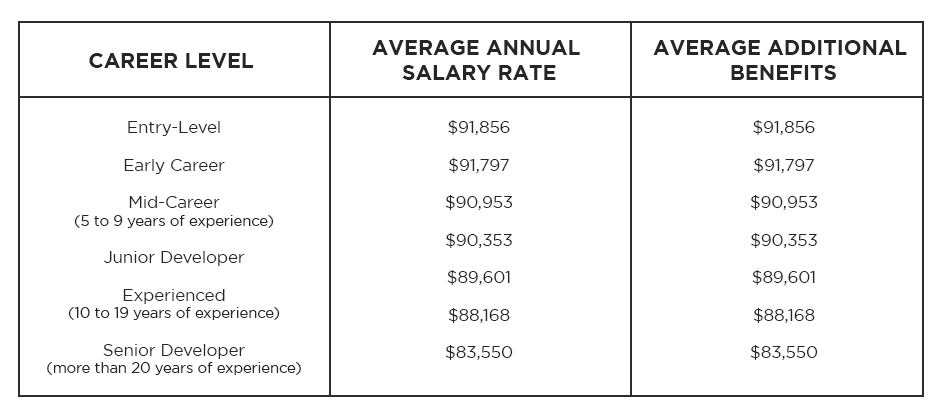 Moreover, according to Glassdoor.com, a senior developer makes $106,825 on average per year. The site has not released information about the salary range for other career levels though.
Other Factors for Rate Differential
According to the data from ZipRecruiter.com, these are the rates for related jobs for the professional.
$157,266 – Senior ASP.NET developer:
$135,058 – .NET architect:
$128,107 – .NET technical lead
Now, do .NET developers working in different industries also earn differently? Here's a list of how much is the average .NET developer salary based on its market.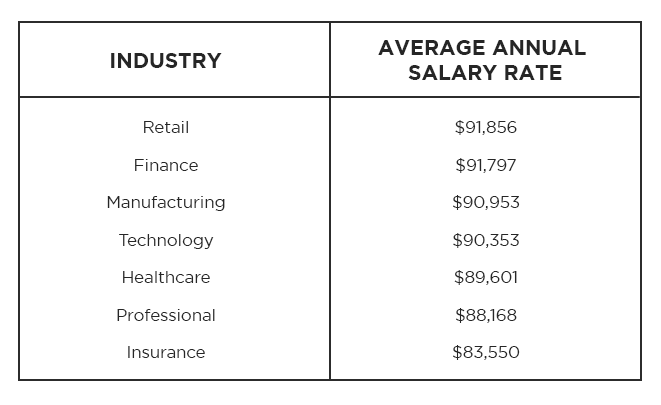 Data from Zippia.com also defines the average salary for developers with various educational backgrounds. For those with a college/associate's degree, the estimated salary is $89,401.
On the other hand, those with a bachelor's degree can earn up to $98,401. And, those with a master's degree can earn up to $102,000.
Offshoring .NET Developers (Advantages and Salary Rates)
The pandemic has changed business operations in more ways than one. Many companies turned to automation to cater to the market demands. Moreover, organizations shifted to virtual work arrangements to adapt to physical work disruptions.
In the data released by Upwork.com, 41.8% of U.S.-based developers now prefer to work remotely. And, it is projected that about 36.2 million developers in the country will continue remote work by 2025.
With this arrangement, companies worldwide are prepared to pay above the market rate. This helps ensure that the best talent remain in their organizations. As a result, it increases project costs for businesses.
Is there a workaround for this? If you're a small business owner, then you can review offshoring options for .NET developers.
Benefits of Hiring Offshore .NET Developers
There are many benefits when you hire an offshore .NET developer. For one, you can have access to a deep talent pool, which may not be available in the country. This opens a lot of opportunities for you in terms of .NET developer hiring and staffing. 
Since there are many viable candidates in the market, you can shorten the hiring process. It saves you both time and money, so you can focus more on the development phase.
Consequently, with more developers in the scene, you can surely find the most qualified ones that fit your project. Even when you're looking for a specific skill set, it is possible to find it offshore.
Most importantly, it is a fact that hiring offshore developers can substantially reduce your project costs.
Hire An Offshore .NET Developer Today
Are you thinking of trying the offshoring route when hiring .NET developers? Full Scale has the right services for you. Whether you need a project-based team or a retainer, our team structure can accommodate your specific needs.
We also have customizable development resources. And we will take care of the recruitment process. This way, you can build your team quickly without the high cost. Take advantage of our qualified team of .NET developers now. Let's discuss your requirements today.