How do you apply personalization in marketing campaigns? Here are some tips on creating a powerful, personal, and purposeful marketing message.
In marketing, personalization is the process of adapting marketing messages, content, and experiences to the unique requirements, interests, and traits of your target audiences. It leverages data and tools to produce tailored communications to connect with people at a deeper level.
Personalization seeks to improve the overall customer experience. And recently, businesses have seen a positive effect of personalization on their marketing strategies.
Rather than merely calling customers by their name, you offer them exclusive deals catering to their individual interests, habits, past purchases, demographics, and other important pieces of information.
How to Personalize A Marketing Campaign
Personalization is applicable across different marketing channels, including email marketing, website experiences, mobile apps, social media, advertising, and more.
By delivering personalized content, you can dramatically increase customer engagement, loyalty, and conversion rates. Customers often respond more positively to marketing messages that resonate with their individual needs, leading to improved customer satisfaction and brand loyalty.
Emails
Creating personalized emails is one of the most effective ways to get responses from customers. By using customer data, you can create a more meaningful message tailored specifically to that person.
This gives the impression that you are making an effort to understand their needs fully.
Additionally, you can make use of customer data to develop special offers for your products, such as discounts and promos. By studying your customers' past purchases, you can create personalized deals on their favorite items.
Targeted Ads
Design your ads to focus on the customer's unique characteristics, like their interests or demographics. This allows you to narrow down the target market.
You can avoid wasting money drawing in the wrong audiences. Understanding which platforms and devices your target customers use is key to creating personalized content. You can also create better ads when you know the tone and style of the social platforms.  
Engaging Content
Another way you can apply personalization in marketing is by creating content tailored to your audience's interests. Gather content ideas from user feedback, polls, quizzes, surveys, and questions. 
Study the popular opinions and analyze the latest trends in their areas of interest. You have to figure out what resonates with your target readers. Conducting extensive market research will help you understand their preferences and what they find valuable.
Automated Messages
The concept of automation may sound counterintuitive to personalization in marketing. But it's actually an effective way to get personalized opportunities. Companies typically leverage automation tech to deliver personalized messages at opportune times.
When done right, this strategy can turn one-time buyers into regular customers. Of course, this process involves researching and analyzing customer behavior, staying one step ahead of their every move.
By automating responses to their immediate needs, you create a smooth process for customers to explore your services further.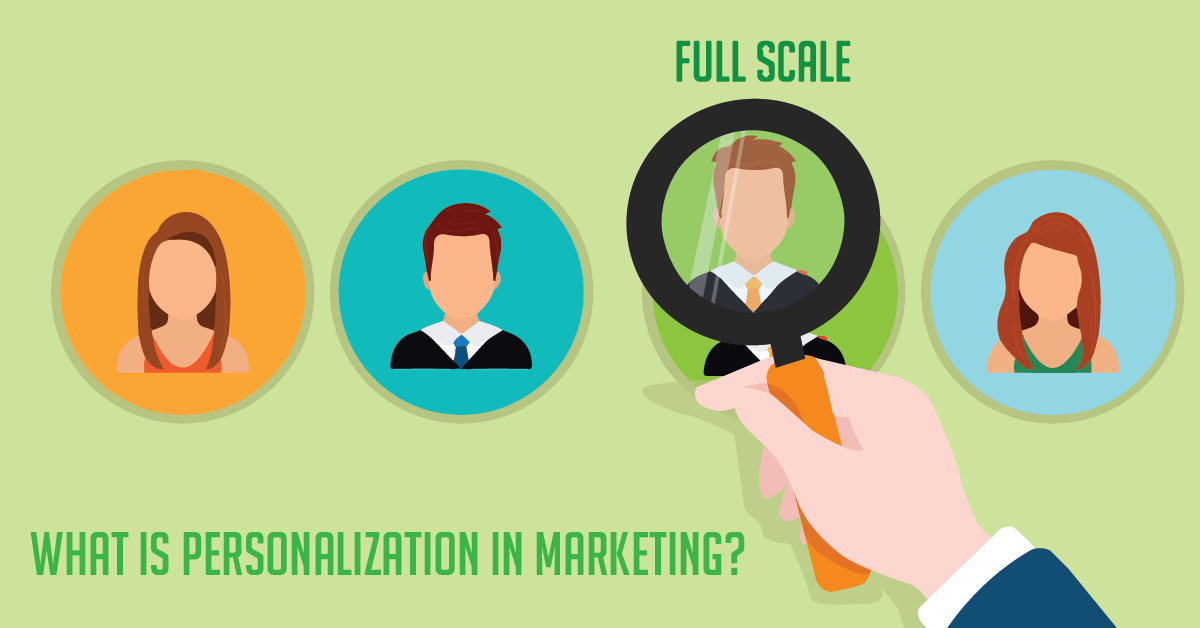 Personalized Marketing Tips
Personalization in marketing involves knowing your target audience on a deeper level and leveraging that knowledge in creating your marketing materials. Here are some actionable tips for personalizing your marketing campaign:
Define your target audience.
Clearly define and identify the specific segment or groups of customers that you want to reach. You can determine these through demographics, actions, interests, or other pertinent factors. It will be simpler to customize your marketing efforts if you are more specific.
Collect and analyze customer data.
Utilize a variety of sources to collect important client information. You can extract useful data from website analytics, customer surveys, interactions on social media, and purchase history. You can learn more about the choices, actions, and interests of your customers.
Segment your audience.
Using shared traits or similarities, divide your target audience into smaller segments. You will be able to tailor your messages to each section better as a result. Age, location, buying patterns, tastes, or any other pertinent data points can be bases to create segments.
Personalize your content.
Produce material that appeals to each audience segment. This includes customized website experiences, landing pages, emails, product suggestions, or product recommendations. Deliver timely and appropriate material to each segment by utilizing the customer data you have gathered.
Provide dynamic content.
Include dynamic content components that alter based on a user's unique features. This can involve making personalized offers, messages, or product recommendations. You can modify your campaign in real-time based on the characteristics and actions of each customer thanks to dynamic content.
Test and optimize.
Once you roll out your campaign, keep track of its effectiveness. Keep track of important data like customer satisfaction, click-through rates, conversion rates, and engagement rates. Utilize this information to refine and improve your campaign for better outcomes.
Respect customer privacy.
Ensure you follow privacy laws and get the right permission before collecting and using customer data. Be open and honest about how you handle consumer information, and give them the option to change their choices or opt out if they so choose.
Keep in mind that personalization should go beyond superficial aspects. The goal is to deliver relevant content, recommendations, and experiences to customers.
Build Your Brand with Full Scale
Developing your brand means building up your online presence. Increase your visibility to a wider market by creating a website or a mobile app. Full Scale can help you assemble a dedicated software development team to create your online platforms. We specialize in vetting the top IT experts in the industry. 
We have helped clients from a range of industries successfully scale their operations. We offer flexible options that give clients total control over how their project is carried out. From software developers to project managers to QA professionals and marketing specialists, Full Scale can help.