Finding and hiring remote developers is difficult. You will always face a lot of challenges when trying to expedite growth in this aspect of your startup business.
But when you really need to hire frontend developers who are skilled enough to address your business needs at a very affordable cost, you should be able to address the challenges at hand.
Location is a very important factor in hiring because this determines the resources that you will need. This is tightly hardwired to the other challenge, which is cost.
These two factors go hand in hand since it is always different cost and budget allocation per location. Western territories have relatively higher developer pay rates compared to Eastern European and Asian territories. These factors are huge considerations as they may be detrimental when decided wrong.
Aside from these, the hiring process may also be very tedious for your part because not all locations have the same degree of expertise in the field of frontend development. You might hire developers for a favorable cost but at the expense of the quality of the output. This poses a threat, instead of a promise, to your software product.
Despite these challenges, you shouldn't be afraid to try and look for remote frontend developers available around the world because you can always do it right by finding the perfect fit.
Here are 2 good reasons for you to consider:
It cuts the costs greatly!
Companies experience greater cost cuts when hiring remote frontend developers from developing countries. This is explained by the lower input cost for labor and production that is mostly present in other territories. With that, offshoring frontend developers may be very helpful for your company.
You have the power to choose which territory you want to hire and offshore. The rates vary per location, so this is very critical. In Eastern Europe, the developer rates are lower compared to the United States. You can hire a developer for only $35 per hour. However, most territories there are experiencing a shortage of talent right now.
Considering Asia, the hourly rates there are relatively lower compared to that of the Western countries. This is also why Asia has the fastest-growing IT and BPO industries. The Philippines even has a starting hourly rate of only $18.
How about the infrastructure costs? It's another advantage when hiring remote frontend developers from offshore companies. These companies already have spaces for production that have enough resources such as internet connection, human resources, and talent ready for jobs.
You can operate 24/7!
Different locations mean different time zones. But don't you worry! You can turn this into an advantage. The amount of IT graduates that flock to the IT industry in Asia is overflowing, which means that this number can fill a lot of job seats. That said, differing shifts are made available to these IT professionals. Ultimately, it will lead up to their availability when you need them.
The 24/7 operation of offshore companies gives your company maximum benefits because maintenance and support are always available.
What to look for in a frontend developer
Another standing challenge is hiring remote frontend developers. What about it? The challenge here is finding developers with enough skillsets for the required tasks at hand. One thing is knowing the skills and responsibilities of your frontend applicants so that you can determine if they are strong enough to work on your project.
Here are some required skills for frontend developers:
HTML/CSS
JavaScript/jQuery
CSS Frameworks (Bootstrap)
JavaScript Frameworks (AngularJS, Backbone, Ember, ReactJS, etc.)
CSS Preprocessing
Version control/Git
Responsive design
Cross-browser development
Content management
Testing and debugging
Problem-solving skills
Here are the responsibilities of frontend developers:
Create user-friendly web pages
Maintain and improve websites
Optimize the web applications for maximum speed
Work with back-end developers and web designers for feature and functionality coordination
Design mobile-friendly features
Create functional requirements and guides
Ensure high-quality coding standards in the implementation
Keep up with the latest and emerging frontend technologies
Having explained the tedious process of recruiting remote frontend developers on your own, you can free yourself from this activity by offshoring a team from abroad.
As aforementioned, Eastern Europe and Asian territories have the most cost-efficient resources to offshore your business. But with a much lower pay rate, Asia has a slight edge over the others. The Philippines is the top Asian country that companies and investors choose when it comes to offshoring services.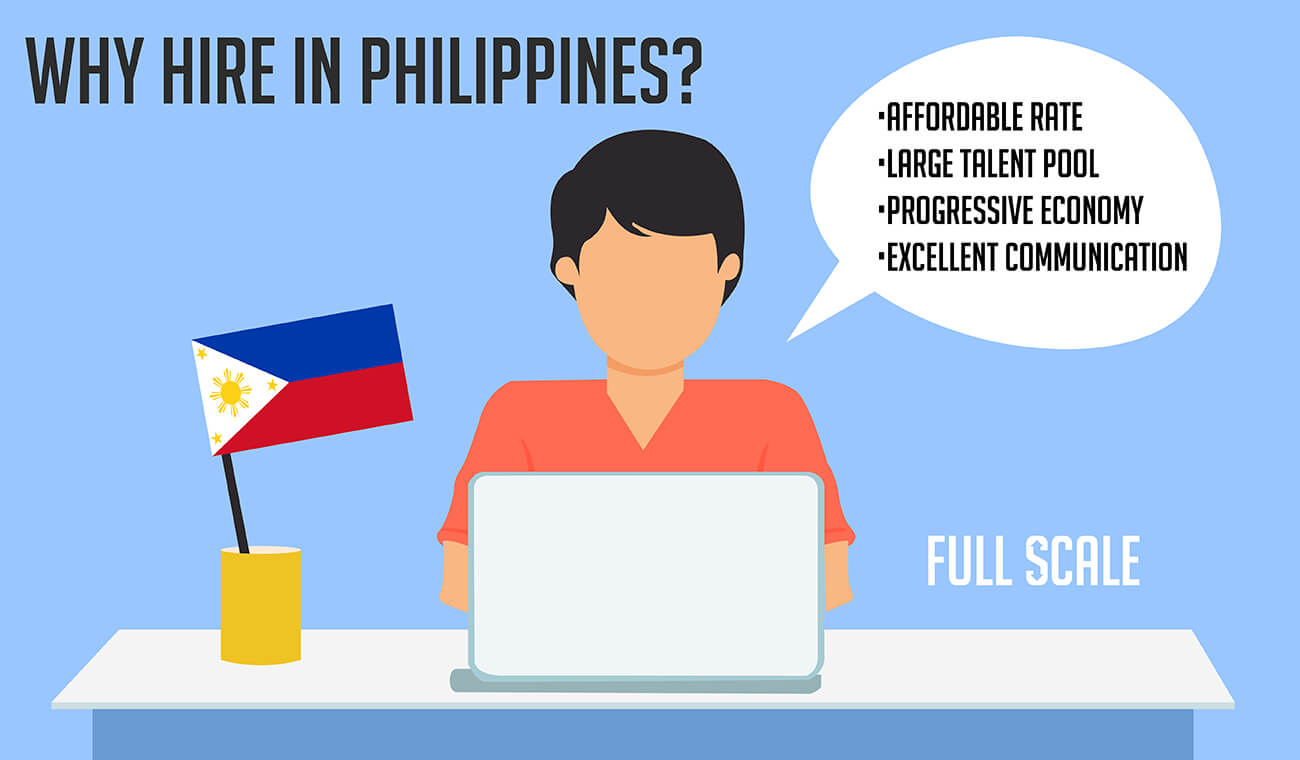 Here are the reasons why you should hire frontend developers in the Philippines:
Large pool of IT talent – The Philippines has more than 2000 universities that supply IT graduates to the IT talent pool in the country yearly. In 2016-2017 alone, more than 150,000 graduates were produced from engineering and IT courses. This number continues to grow every year.
Affordable pay rates – The pay rate is very affordable in the country. The average yearly salary of a developer in the Philippines is approximately PHP 444,000 ($8,470), which is only roughly 7% of the yearly salary of U.S. developers, which amounts to as much as $122,839.
Economically growing country – Business-wise, the Philippines is hailed as the fastest-growing economy in Southeast Asia. The recently recorded data saw an average of 6.76 percent growth in GDP. The fast growth of the economy is impacted by the continuous rise of the IT industry in different parts of the country.
Excellent English communication skills – The English language is very prevalent in the Philippines. Ranking #2 among the top English-speaking countries in Asia, the country promises an understanding and proficiency in the language.
If you hire developers from the Philippines, you don't have to worry about having to communicate with them, especially for conference calls, issues escalations, and project updates and reports.
These reasons make the Philippines one of, if not the best offshoring destination for companies who want to hire IT professionals, especially frontend developers remotely.
How can you find and hire frontend developers in the Philippines? Full Scale is here for you!
At Full Scale, we hire top-tier developers who are skilled and experienced in frontend development. They are skilled in multiple frontend tools and processes such as HTML/CSS, JavaScript, frontend frameworks, version controls, testing, and a lot more!
Through our Guided Development process, we will let you have an overview and control of the development. At the same time, we take care of recruiting, assessing, and employing the top developers that we can find to work on your project. You don't have to worry about the tedious process of hiring developers on your own.
Get to know more about us by sending us a message!