Running a project may seem like a walk in the park. That is until you lose track of time, or you got disconnected from people you're working with, or even more so, you can't keep maps of the direction that you're heading. What to do now? Hire a project manager!
Why do we need Project Managers?
First, let's define what a project manager is. Project managers are the people with the authority to manage the processes of a project, and whose main goal is to answer the when and how of these processes. Project managers act as the glue that binds all the processes to achieve the goals and objectives of a project.
The Value of a Project Manager
You may ask, "How can a project manager improve the quality of the project?" The answer lies in what their role is. As mentioned, project managers are 100% in charge of all the processes in development. Your project can reach its optimum productivity when you have project managers who can:
Manage project constraints. The project manager can look at the project constraints such as scope, schedule, and budget. Along the project development process, the project manager validates each of these constraints from time to time and manages these entities to deliver a quality product.
Control the quality. In managing the constraints, the project manager also controls the quality of the project by balancing the changes and activities of the project constraints.
Elevate communication. The project manager keeps constant communication among all the project stakeholders. Because of project managers, relaying information can be more efficient and transparent.
Increase efficiency. Each project is unique and has its own set of interconnected activities. Project managers provide relevant and intelligent processes that complete the project faster and more efficiently.
Project Manager Key Qualities
Great project managers are skilled with excellent service and an entrepreneurial mindset. Aside from their defined roles and job description, they possess exemplary skills that make them effective in whichever industry assigned. To quote Steve Wozniak in his talk during a tech conference in LA earlier this year, "The best managers don't have to be subject matter experts; they can manage anything or anyone in any field at any time anywhere."
That said, it is important that we identify the qualities we should look for in project managers so they can execute their roles and responsibilities effectively and productively.
Project Manager Responsibilities
Maintains the direction and focus on the business goals of the project
Coordinates the communication channel between the development team and the customers/clients
Monitors the progress of the project relative to the schedule
Leads focus and responsibility in the delivery of the project
Manages the constraints of the projects such as quality, scope, time, and cost
Motivates and maximizes the capabilities of team members
Establishes a medium for key information and transparency of the project, its metrics, and documentation
Granulates project objectives to provide clear specifications of tasks
Manages risks, changes, conflicts, and delivery
Manages reports and necessary documentation
It is essential that your project manager is well-rounded, equipped with the proper dynamics of managing a project. Aside from the technical knowledge of the processes, it also takes personality to perform a project manager's role and responsibilities as mentioned above. We divide these skills into hard and soft skills.
Project Manager Hard Skills
Contract management – the knowledge in the activities required to procure and maintain contracts and legal accountability
Entrepreneurial mindset – the ability to see the project from the client, customer, and marketing side and use it to uplift the value of the project
Process orientation – the knowledge in following processes and managing the applicable steps per task or scenario
Technical – the skill to use project management tools and knowledge about the industry
Budgeting – the ability to manage the funds and its constraints to meet the project expectations
Scheduling – in connection with budget, this is the ability to control the project in the view of time
Planning – the aptness in creating manageable plans and establishing a PDD (Project Definition Document)
Risk management – the ability to manage risks from its identification, analysis, prioritization, action, and elimination
Project Manager Soft Skills
Leadership – Technical and leadership skills are of high priority for project management professionals. This skill is associated with being a good leader and seeing the value and characteristics of working with a good team.
Communication – the capacity to champion the communication among the stakeholders of a project
Conflict management – the temperament to manage the conflicts, not just in agreement on project definitions, but also relational conflicts among the team
Decision-making – the independence to make judgments on situations and apply necessary measure based on calculated or tested solutions
Organization – an integral skill enabling a manager to organize the direction for multiple moving parts. They can handle multiple tasks while keeping checkboxes ticked.
People skills – the ability to listen, communicate, and relate to other people in the group on a mundane but professional level
Customer service – the attitude of thinking what's best for the client/customer in order for them to gain the most out of their business
Integrity – this is related to honesty towards anyone in the group and accountability for the tasks done. This builds trust among team members.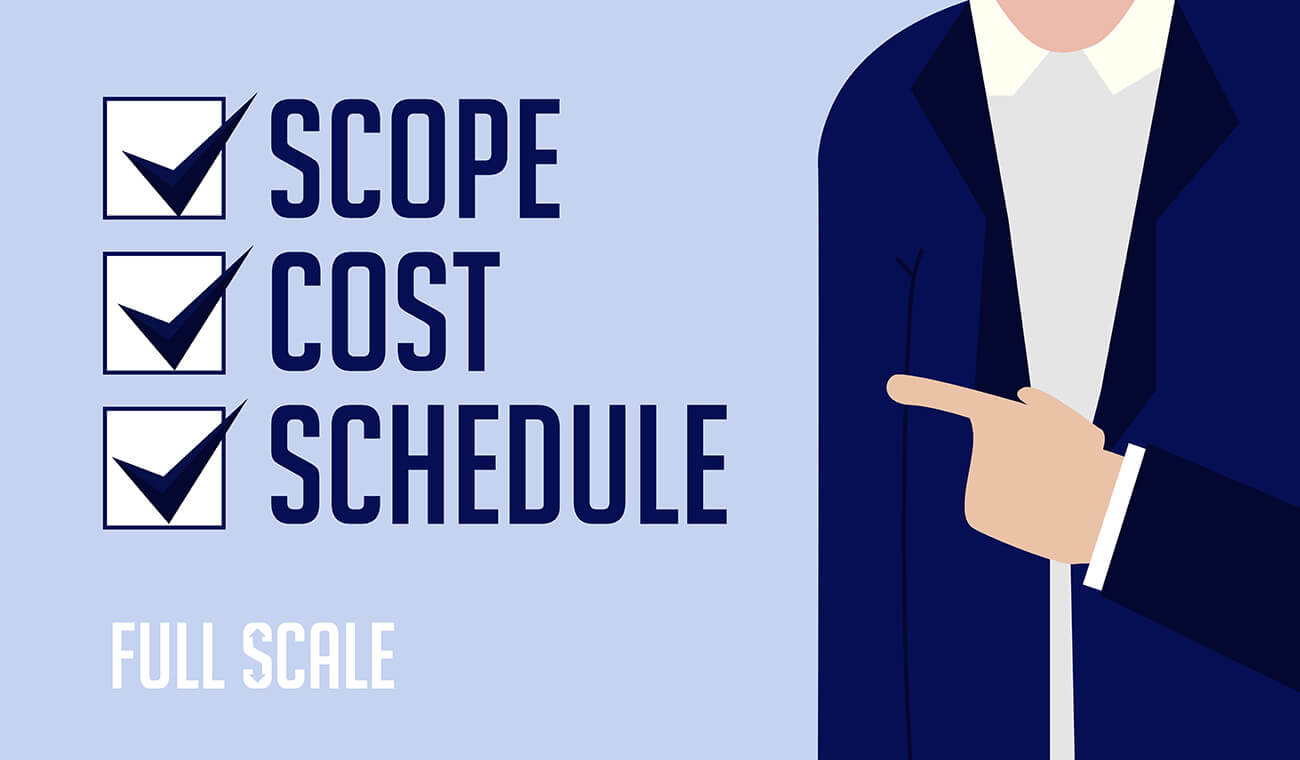 How to Hire Project Managers?
Hiring can be a tough job. Evaluating your candidates alone can be very tricky, added with the pressure of the process being a crucial decision. However, the law of attraction says you get what you put out to the world. In hiring project managers, you need to act with best hiring practices so you can get the best candidates.
Here are some guidelines to get a great project manager:
Don't broadcast generic job descriptions. Instead of advertising job postings with general information, describe exactly what type of industry you are in and what project you're working on. It could be a high-level description as long as it is not general.
Be exact with what you really need. In line with the previous item, you should be specific with what you need. If you need a software project manager, state it as it is. It helps eliminate applicants that may not be experts in the dynamics of software development.
Decide on specifics that need to be used. Specifying the technologies, tools, and processes that your company is using can also be helpful to filter out the candidate that will best fit your project needs.
Be straightforward. During interviews, avoid the essay type questions. Ask the things that matter and relevant to the project, their experience, and what they can offer to make your processes reach the optimum level.
Where can you find project managers?
Preparing to hire project managers is as easy as typing "hire a project manager" on your search engine and pressing Enter. You can always opt for the traditional way of hiring through job postings in your city or seek recommendations. In the digital age, you can project that activity online.
There are several websites where you can find qualified people. However, looking for a candidate for this job is not solely dependent on the documented experience but also, as mentioned, personality and attitude. Checking on LinkedIn for connections or browsing the site for project managers is one of the better online options.
Have you heard of offshoring?
Offshoring differs from outsourcing. Unlike the latter which is hiring a third-party organization to handle your business processes, offshoring offers you service from another territory while still operating under your businesses. Offshore employees are basically foreign counterparts of your team.
Listen to Episode 26 of the Startup Hustle Podcast – How I Ended Up in Cebu City
You can also offshore some processes of your project along with project management. If we go back to the words of Steve Wozniak, great project managers can manage anything and anyone anywhere at any time. This means that when you hire a great project manager, you will be able to work and deliver wherever they may be.
But why offshore? Distance aside, offshoring is a great option if you are looking into cutting costs. Note that lower cost does not mean lower quality. The economic difference impacts the comparison since offshore companies are hosted in developing countries. For your startup company, following this path can cut you off some cost without compromising the rest of the project constraints.
Full Scale is here!
Full Scale is one company that offers project development services from our headquarters in Cebu, Philippines. Our roster of project managers follows best project management practices and principles in the continuous project delivery to our growing clientele. If you are looking to hire a project manager and developers, all you have to do is contact us through our website. Offshoring companies, such as Full Scale, take care of the entire hiring process—from recruitment to evaluation—to form a team that can help you achieve the project of your dreams. Contact us today!