Full Scale secures its place in the Inc. Magazine's annual list of fastest-growing companies, continuing its streak for the second consecutive year.
Back-to-Back Success On The Inc. 5000 List
Keeping its winning momentum, Full Scale ranks #3984 among 5000 private companies in America. The company first broke through the rankings in 2022, competing against an elite group of businesses from various industries. And it continues to hold its title in being a highly profitable multi-national business.
The Inc. 5000 list ranks companies based on their percentage sales growth from 2019 to 2022. To be eligible, a business must be generating revenue by March 31, 2019. They also have to be privately owned, U.S.-based, for-profit, and independent—not subsidiaries or divisions of other businesses—as of December 31, 2022.
Full Scale ranks as one of the top staffing companies in the Human Resource industry. It has significantly grown its operations since its founding year in 2018.
Five Years in Business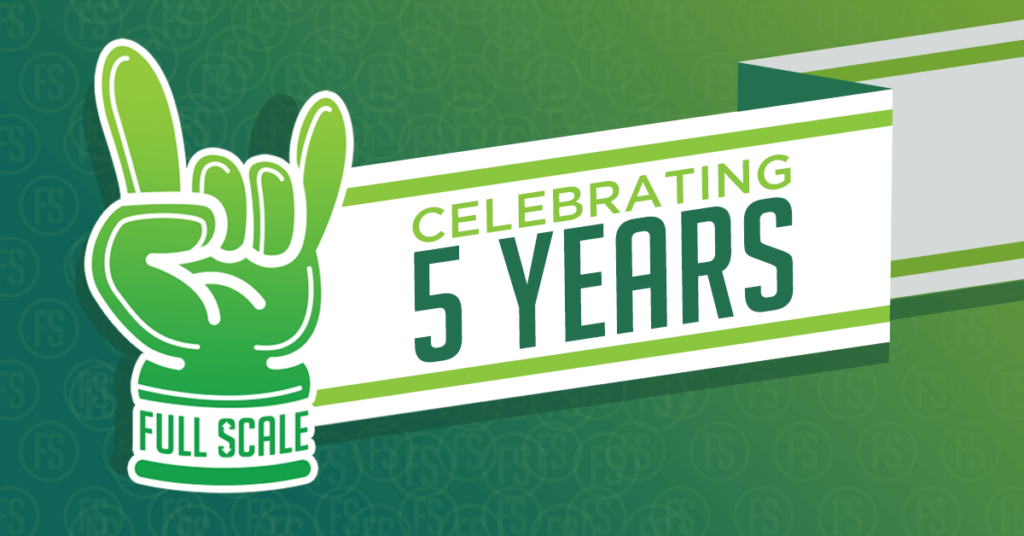 Last June 28, Full Scale celebrated its fifth year in the industry. In a short span of time, the company has significantly scaled its own operations; now employing more than 300 developers and counting. Full Scale has grown from its humble startup beginnings to becoming a recognizable name in the tech and human resource industry.
Full Scale CEO Matt DeCoursey credits his talented team for their consistent hard work to deliver great service.
"It's all of you that made and continue to make this stuff happen for the company. I'm so proud of all of the work, dedication, and effort that each and every one of you put forward," said DeCoursey.
Full Scale's Mission: Finding More IT Talents
Full Scale was created to address a need that every tech company has experienced: finding and retaining software developers.
The shortage of software developers has gotten worse in recent years. In the United States alone, there are presently more than 300,000 empty IT positions. And even with the Big Tech layoffs, it continues to be a problem for startups and medium-sized businesses.
Companies in mid-market towns are losing talent to the coasts and are unable to compete with the big tech corporations. Many businesses also struggle to attract and keep top professionals. This is why Full Scale developed a platform for business owners to recruit and manage a team of experts efficiently.
Five years ago, Full Scale founders Matt DeCoursey and Matt Watson, discussed the difficulties of scaling their development. This prompted them to make their first journey to Cebu, Philippines, where they set up shop and hired programmers for their respective businesses. After hearing about their success in Cebu, other business owners enlisted Full Scale's assistance in hiring developers.
How Full Scale Works
With our continued expansion, Full Scale has changed from a purely service-based business to a platform for managing teams. We've created an entire system for clients that allows them to find developers, arrange interviews, add and reduce team members, get daily reports, evaluate performance, and more.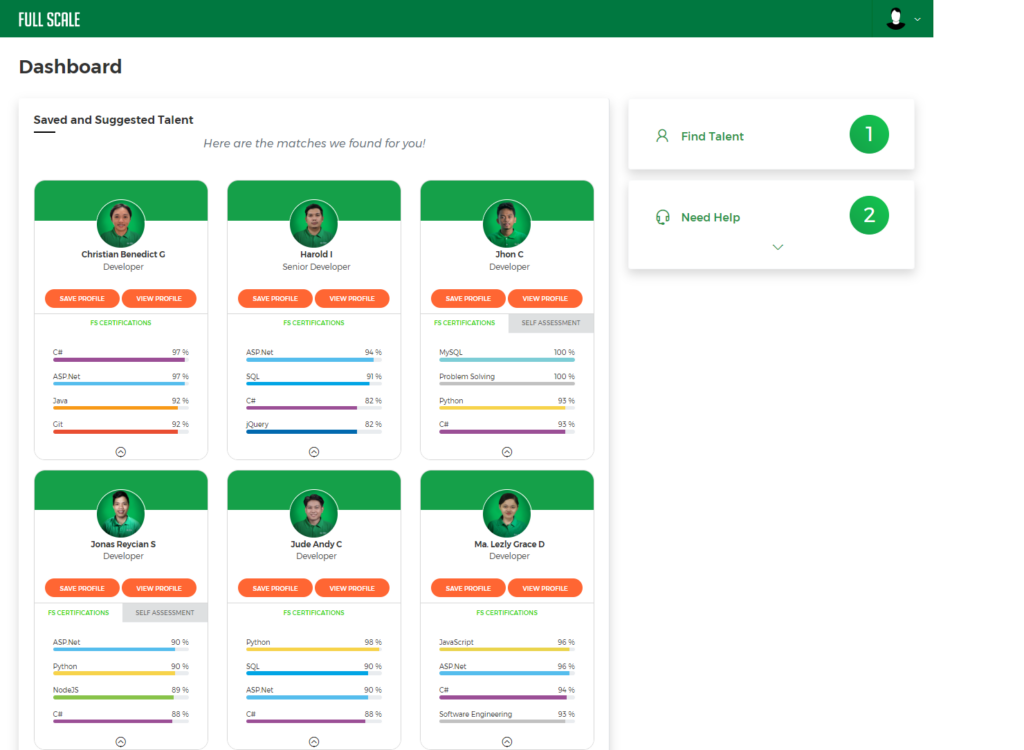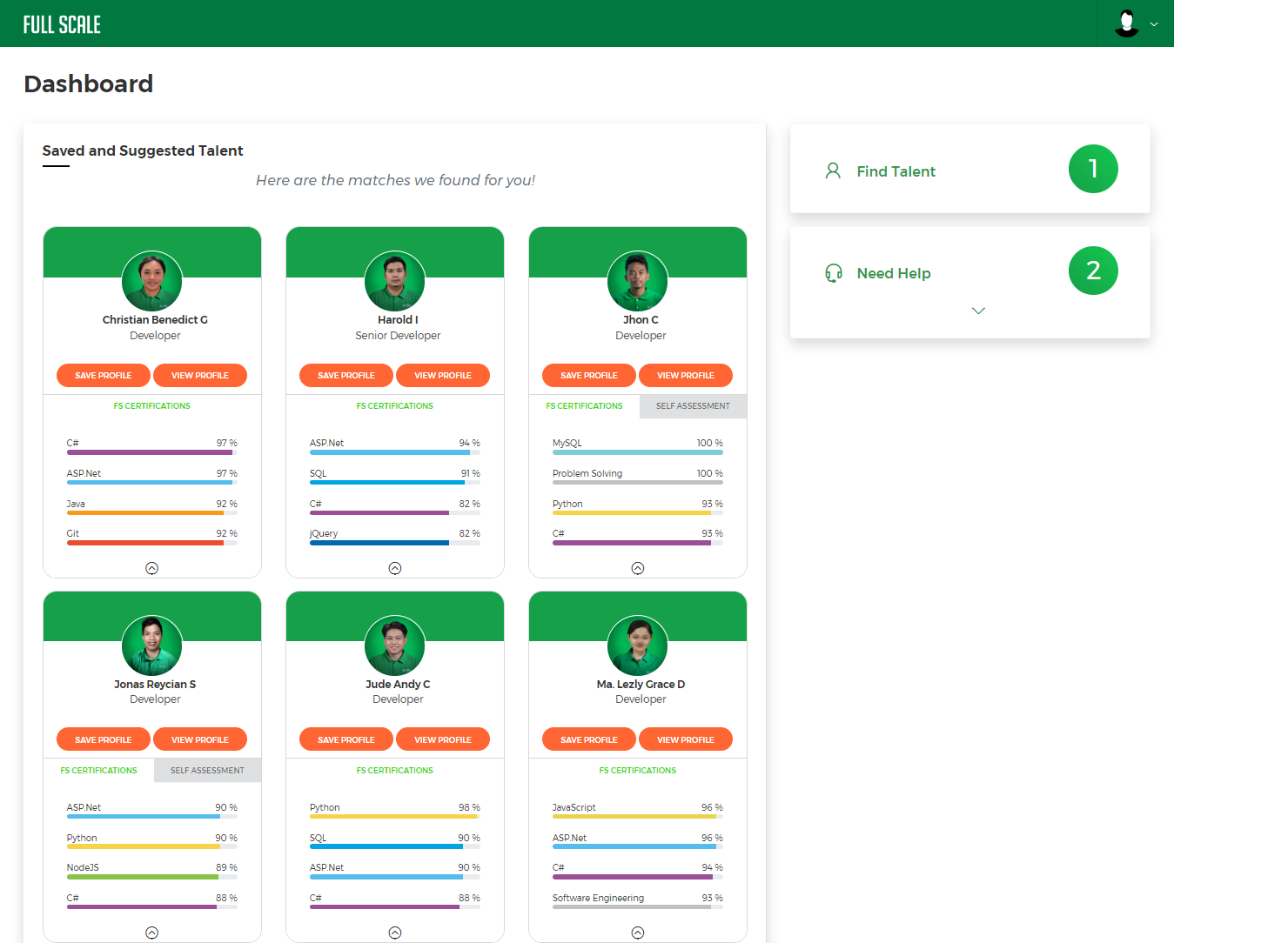 We process more than 1,000 applications each month through our management portal and only hire the top 3% who pass our rigorous vetting process. Through this practice, we've scaled our own team to 300 experts in a short period of time. And our vision is to scale up to 1,000+ employees in the upcoming years.
Our Business Model
In contrast to hiring freelancers, our team members are very devoted and loyal to our clients over the long run. Our developers work exclusively for a single client but are still Full Scale team members. We give them all the tools and resources to become productive in every project. In short, we make an awesome place for them to work. 
Employees at Full Scale receive top-of-the-line equipment, above-market compensation, and great perks. We also value a great work-life balance to ensure their overall well-being.
Build Your Software Development Team with Full Scale
Having seen tremendous growth through the years, we guarantee success for our clients. We can match you with experienced developers for your project. Just give us your requirements, and we'll take care of all the necessary paperwork.
To start building the software of your dreams, just head to our website. Our client dashboard can help you find the right kind of software development resource you desire. So, what are you waiting for? Start your software development journey!