Thinking of offshore IT services? Don't know where to start? Offshoring may seem tedious and time-consuming, however, its benefits far outweigh the challenges. If you're not sure if offshoring is for you, read to learn about how offshoring works and how it can help propel your growth!
Offshoring is the relocation of a business process to another country. The offshoring operation can be performed by a subsidiary of the same company, or by a separate company. Offshoring can either be production offshoring or services offshoring. Production offshoring is the relocation of physical manufacturing processes to another country. Services offshoring is the relocation of a company's administrative and technical services such as accounting and finance, human resources, sales services, and IT infrastructure.
Today, many companies offshore their business processes because of the benefits they get from it. Services offshoring has been enabled by affordable and reliable IT and communications infrastructure in the countries where offshoring is located. This has made it possible for both IT services and the pool of IT professionals to be efficiently offshored. Now, let's identify the specific benefits for companies in offshoring their IT services and professionals.
Benefits of Offshore IT Services
The IT services that are usually being offshored are IT infrastructure, application development, helpdesk services and solutions, and knowledge services that include analytics, engineering support, product design, and research and development. Several IT services can be tedious and time-consuming to perform for small and medium-scale companies especially if they have an IT department that has limited personnel and resources.
Maximizing the efficiency of operations and boosting operational productivity are the main reasons why you should offshore your IT services to an IT center in another country. When you offshore your services to a reliable offshore solutions provider, there is already a system in place to automate your IT services and solve service-related issues much faster.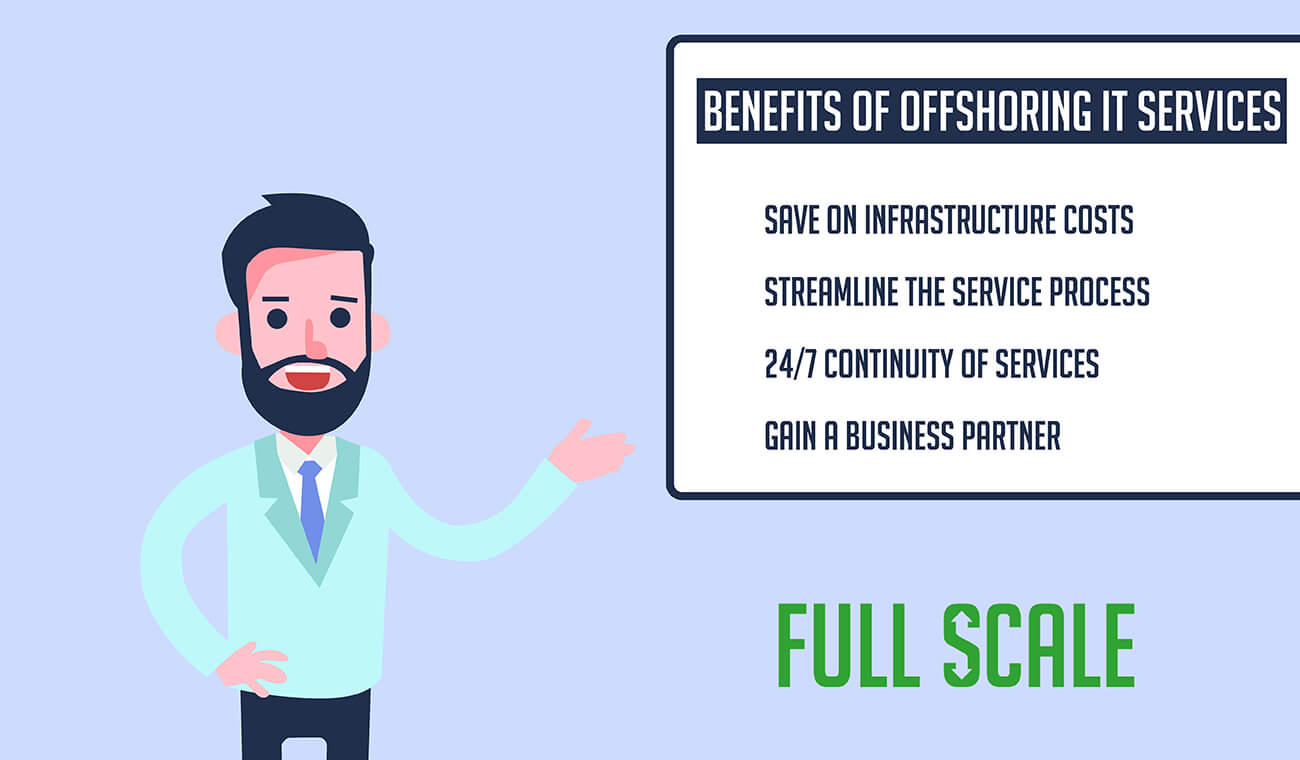 The following are the main advantages of offshoring IT services:
Savings on infrastructure costs – You don't have to spend a lot to set up your own IT development center. This means you can start your projects faster. You don't need to add new infrastructure since the offshore IT services providers are equipped with all the basic functioning infrastructure such as office facilities, equipment, utilities, and other necessary physical infrastructure.
Streamline the service process – You can streamline the process of your IT services and make a smooth transition of tasks because the offshore team can continue the work left unfinished by your in-house team and vice-versa. The different time zones and work shifts in the countries where the two teams are located means there is a smooth turnover of work and greater availability of skilled talent.
24/7 continuity of services – Many offshore solutions providers employ teams that work in shifts so they can provide you with continuity of IT services on a 24/7 basis. The continuity of IT services and support improves your business processes, increase the work efficiency of the offshore and in-house teams, and boost the cost-effectiveness of the service lifecycle.
Gain a business partner – An offshore services provider is a valuable business partner and ally that will provide you with reliable and efficient IT services. You and the offshore provider will share the common goal of keeping your company to operate at its maximum potential and optimize the efficiency of business operations. The services provider will bring more available and better resources that can be equitably distributed for your company's various projects.
Benefits of Offshoring IT Professionals
The IT professionals usually being offshored are IT helpdesk personnel, infrastructure engineers and technicians, graphics designers, web developers, software developers, and programmers. Optimizing your company's cost-effectiveness in operations and long-term business growth are the main reasons to hire IT professionals from an offshore provider. Additionally, you don't have to worry about the hiring process because the provider has its own HR department who will screen and recruit the IT staff you need.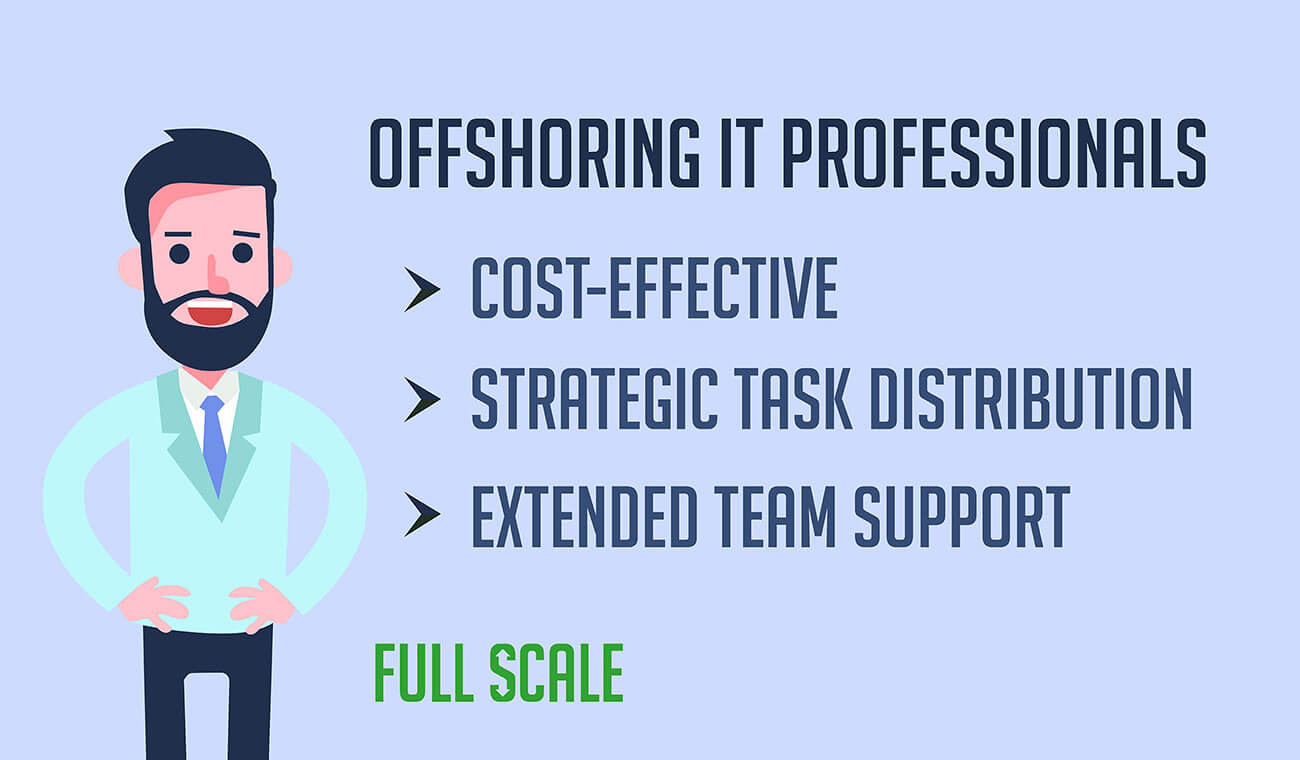 Below are the major advantages of offshoring IT professionals:
Cost-effectiveness – Savings in the costs of paying offshored IT staff compared to staff in the U.S. is one of the major benefits you'll get. It's estimated that offshored IT professionals will save you up to 60% in annual salary costs compared to hiring a local IT staff. For example, a software engineer in the U.S. has an average salary of $83,054 per year while a software engineer in the Philippines doing the same type of work has an average salary of PHP 414,469 ($7,656) per year. This is already more than 60% savings just for one offshore employee. Besides cost savings in salaries, an offshore IT team has the same or better level of experience and skills as an in-house team. An example is our company, Full Scale an offshoring provider located in Cebu City, Philippines. We offer offshore IT teams who can effectively write and speak in English, and have adequate experience and skills in various IT technologies. With the help of Full Scale, other offshore companies like GigaBook and Stackify have IT teams operating in Cebu.
In-house team can focus on client-facing tasks – Your in-house team can focus on local tasks that require face-to-face or personal interaction with clients, while the offshore team focuses on the tasks that are done behind the scenes. An example of this is the development of the messaging app, WhatsApp in 2009. WhatsApp Inc., offshored software developers from Russia so it could finish developing its product. After WhatsApp was launched in 2009, the company's in-house team focused on client-facing tasks such as customer support and operations, while the offshore team handled the continued development of the messaging app.
Offshore and local teams help each other – The offshore team becomes an extension of your in-house team due to the different time zones and working shifts. The offshore team can continue working on the project transitioned to them by the local team when their work shift is over, and vice-versa. Efficient communication tools and IT infrastructure enable seamless collaboration between the two teams to get your project developed, tested and deployed in less time.
Listen to Episode 47 of the Startup Hustle Podcast – Offshoring, 10 Tips
Now that you've learned about the benefits of offshoring IT services and professionals, how do you feel about it? If you want to try offshoring or get more info, we can help you with that. Full Scale offers affordable access to highly-skilled and experienced offshore professionals such as programmers, developers, designers, testers and digital marketing personnel. Contact us to learn more about how we can help your business grow.