AR has gained a lot of momentum in recent years. We'll delve deeper into the latest augmented reality development trends that can influence the direction of your business.
The digital world is experiencing a huge transformation thanks to Augmented Reality (AR). From retail to the healthcare sector, several industries are leveraging the benefits of this technology. By 2024, there will be over 1.7 billion mobile augmented reality (AR) user devices globally.
So, what does this mean for businesses?
Simple, the more a company adapts to this rapidly growing tech, the more it can get ahead of its competitors. AR software will be the largest market in 2023, and companies are racing to keep up with Augmented Reality development.
On a larger scale, though, AR is still a fairly new technology. Compared to other fields, it still has a lot of potential to uncover and leverage. Hence, before any company uses AR, it'll have to learn its current state of development. Businesses have to identify how to maximize it with the nature of their industry.
With that said, let's gain a better understanding of what AR is all about.
What Is Augmented Reality (AR)?
Through the use of digital visual elements, sound, or other sensory stimuli delivered via technology, augmented reality (AR) creates an enhanced version of the real physical world. Businesses in mobile computing and applications are noticing a growing trend in this direction.
The integration of digital information with the user's environment is known as augmented reality. And it utilizes computer-generated display, sound, and text to improve the user's experience of the physical world.
We've discussed AR and how it works in depth in another blog entry.
Most Popular Augmented Reality Development Trends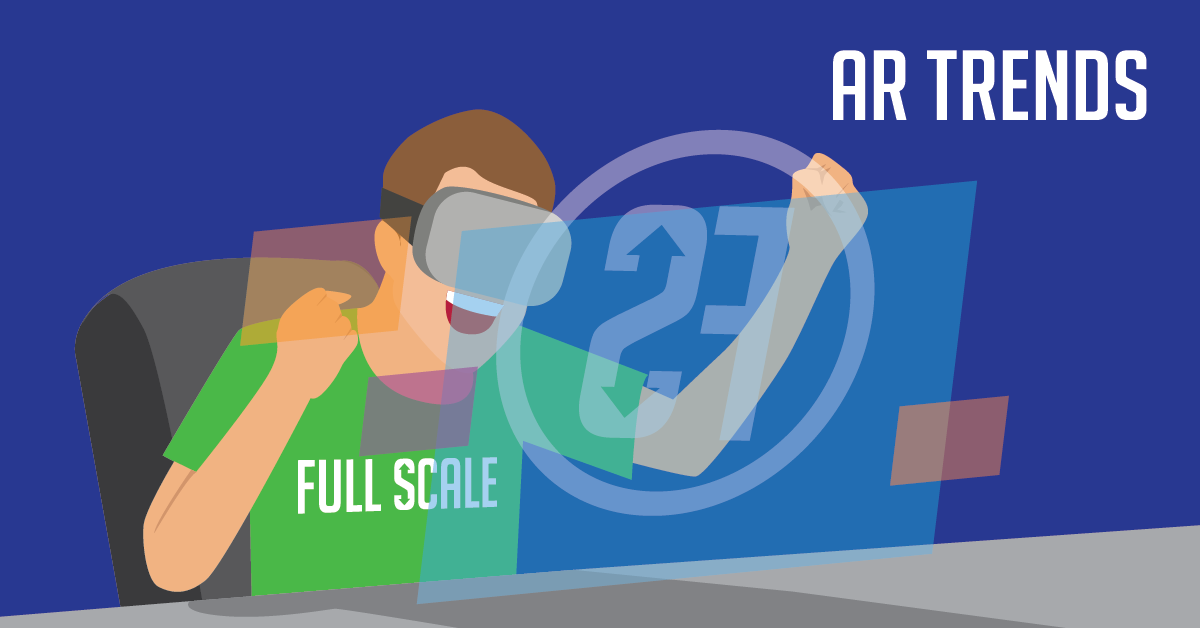 Let's discuss how to fully maximize this technology by learning the latest Augmented Reality development trends.
#1 NFTs and the Metaverse
The metaverse and non-fungible tokens (NFTs) will be crucial to the development of augmented reality.
NFTs are used to improve the AR experience as augmented reality technology advances. An NFT might, for instance, represent a virtual item or an AR filter that is exclusive to and owned by a user. This gives the AR experience an extra layer of uniqueness and develops a new market for valuable and distinctive digital items.
The term "Metaverse," on the other hand, designates a shared virtual environment where several users can seamlessly interact with each other and with digital items. Since the Metaverse involves superimposing virtual objects in the real world, it is closely related to AR. NFTs can significantly contribute to the creation of distinctive and priceless virtual goods in a Metaverse and improve the ownership experience for users.
NFTs and Metaverse can produce immersive and compelling experiences in the setting of AR. An NFT that a person owns might, for instance, depict a virtual item like a piece of furniture or apparel. Then they could engage with that virtual object in a Metaverse by placing it in the actual world using their AR-capable gadget. As a result, users experience a higher degree of engagement and personalization, and a new market is opened up for NFTs that stand in for priceless virtual things.
#2 Live stream shopping
By enabling customers to view how things might appear in their own environment prior to buying, augmented reality (AR) technology can improve the shopping experience. For example, a person may install virtual furniture in their living room to see how it would appear using their smartphone to try on virtual clothing.
Livestream shopping and augmented reality make for an exciting shopping experience when combined. Influencers or companies can use livestream shopping to exhibit goods when streaming. Simultaneously, they can employ augmented reality to let viewers experience the goods in their actual surroundings. Customers may ask questions in real time and see how the product would look in their own area. This feature creates a personalized and immersive purchasing experience.
#3 Using 3D platforms
AR and 3D platforms working together can give consumers powerful and interesting experiences. For instance, a user may examine a 3D model of a product on their smartphone and use augmented reality (AR) to overlay the object onto the real world. Then, they can see how the product would appear in their own setting before making a purchase.
These technologies can be used to produce realistic and interactive visualizations of products and designs in a variety of industries, including architecture, interior design, and fashion.
The Future of AR
Immersive computing will skyrocket in 2023's Augmented Reality development trends. Brands will be able to offer their clients an entirely new experience thanks to advancements in the use of augmented reality in several industries.
The technology improves process effectiveness and addresses current commercial problems. We can get a glimpse of the full potential of products and services thanks to augmented reality.
Build Your Software Development Team
Building a software development team for your project? Look no further! Full Scale specializes in selecting the top IT talent in the industry. Our goal is to help businesses fill the gap of the ongoing talent shortage in tech.
We have a large talent pool of IT professionals who are eager to work on various development projects. Full Scale can assist you in putting together your team, whether you're searching for software engineers, project managers, QA specialists, or marketing specialists.
Give us a call if you wish to grow your company. Full Scale offers the best and most cost-efficient solutions to all your business needs.