Why do companies outsource software development? Let's learn the full benefits of outsourcing your software development needs.
Software development is a time-consuming and resource-intensive process. However, it is a worthy investment in today's tech-driven market. Businesses are leveraging emerging technologies like AI, IoT, and robotics to outperform their competition.
This has, in turn, made software development an essential aspect of businesses. It helps you keep up with the market demands and also modernizes operations to improve overall productivity. Companies that can successfully transform their operations through tech will gain a competitive edge in their industry.
Nonetheless, software development is not an easy venture. It takes a lot of effort to gather resources for the project and find a reliable team to handle it. And this is where outsourcing comes into play.
Outsourcing Software Development
In its simplest form, the idea of outsourcing software development is to assign software-related and programming responsibilities to a third-party provider. Non-technical leaders can gain access to the most cutting-edge technologies and tech experts by tapping a software outsourcing company.
This practice is becoming more popular, where software is a crucial component of any successful company. This is especially true for companies who lack the necessary knowledge or capabilities or the means to implement it.
The pressure for businesses to react quickly and provide excellent solutions is even more pronounced in the tech sector. In 2023, the IT outsourcing industry is anticipated to generate US$460.1 billion in revenue. Companies are outsourcing their IT-related operations to access more resources. Let's further discuss the benefits of outsourcing and why companies do it.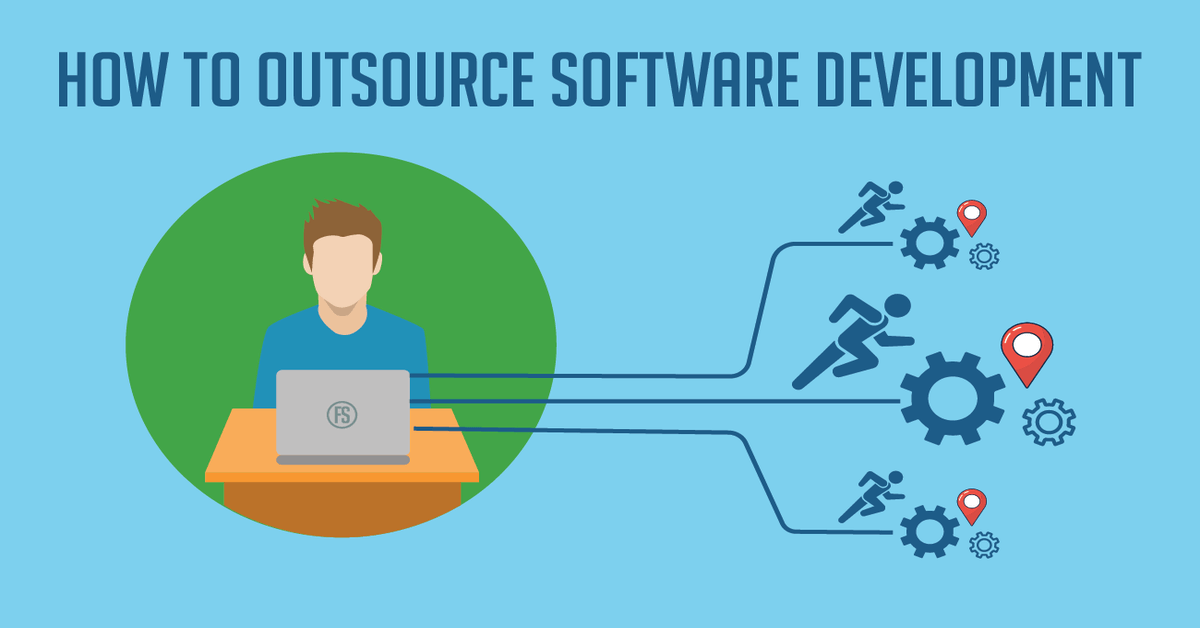 Benefits of Outsourcing Software Development
So, why do companies outsource software development? There are many reasons. From cutting down costs to expanding operations, businesses have several motives to opt for this arrangement. Here are some of the biggest benefits of outsourcing.
1. Fill the talent gap
Despite the volatile economy and recent layoffs, there's an ongoing IT talent shortage in the US. Companies are still likely to recruit talent outside the country. The cost of software development is already high; combining it with a developer's salary makes it even more expensive. With such a short supply of IT talents, it would be incredibly challenging to find and afford professionals locally.
For startups, enlisting the help of seasoned experts will boost their chances of succeeding in their first development project. So, having a bigger resource pool to choose from is more advantageous for smaller companies. Likewise, bigger enterprises also fill the gap in their workforce by outsourcing talents and diversifying their existing workforce.
2. Cut down software development cost
Building software can easily become expensive. Depending on its scale and complexity, a software development project can rack up an amount of $150,000 or more. Not to mention, reworks and maintenance can be as costly even after deployment. This is why outsourcing software development is a more cost-effective option.
3. Reduce management cost
Whether you employ an in-house or third-party software development team, managing them is quite costly. You pay their salary and also their vacation time and other benefits. In fact, the trust cost of a new in-house developer for a business may be twice the base wage when all benefits, taxes, meetings, etc., are taken into account.
On the other hand, if you outsource your software development team, you can leave the management side to the outsourcing company. Despite the fact that outsourcing is not cheap, it is still cheaper than renting an office space, buying equipment, and hiring workers on your own. An outsourcing vendor determines the project's overall cost and divides it into monthly invoices.
4. Increase efficiency
You need a big enough workforce to deliver tasks efficiently, especially when handling real products. Staggering processes can be risky as it can lead to losses in revenue. Failing to deliver your goods and services can negatively impact your customer's patronage. Being able to focus on your core business will undoubtedly allow you to get a better result with nothing to distract or hinder your goals.
Having outsourced teams focusing on specific projects will remove the unnecessary burden from your main operations. This allows you to boost the efficiency of your core processes, making the business more profitable.
5. Improve output quality
Fresh perspectives can encourage innovation, which will lead to a better project in general. It encourages a more productive collaboration among internal and outsourced teams, learning from each other's technological expertise.
A competent software development team will strive when they hire a workforce with a diverse set of talents when hiring new employees. They won't want to recruit the same person twice because a new team member is likely to bring something novel and intriguing to the table in some capacity. And by bringing this team in, you can maximize this opportunity.
Outsource Software Development in the Philippines
At Full Scale, we've experienced success working with developers across the globe. There are many excellent coders, but it takes a lot more effort to form a successful team out of them. And some of the best developers can be found in the Philippines—FACT.
Our experience has shown that software developers in the Philippines have wonderful attitudes and are highly devoted. We have clients with a team made of up to 10 individuals and had 0% turnover throughout their first few years. It's no easy feat to retain experts in such a lucrative industry. The Philippines is a terrific location to start if you seek bright, hard-working developers who speak outstanding English.
Scale Your Software Development Team with Full Scale
If you want to expand your development team, Full Scale can assist you in doing so quickly and affordably. Our software developers log over 2 million code hours to complete projects for clients. We'll help you scale your team and expand your services. The Full Scale team itself is rapidly growing, with over 300 full-time developers working directly with clients.
Begin your software development journey with Full Scale! Finding qualified talent in tech is challenging, especially with the ongoing IT talent shortage. Our goal is to match you with the right experts for your technology.
We handle the recruitment and management of software engineers, testers, project managers, and marketing professionals. No need to go through the tedious process of finding and vetting candidates for you! Just give us your requirements, and we'll handle all the necessary paperwork!
So, what are you waiting for? Let's turn your vision into reality!