There's no better time to start a business than today. The only question is, how do you go about doing it? Bootstrapping has become a popular option for new business owners. Here are some tips on startup bootstrapping to help you get ahead in 2021!
Every business empire that stands today had its humble beginnings. If you look back on the chronology of popular brands such as Apple, it went through its own roller-coaster ride of success and failures before becoming a household name. Steve Jobs pretty much labored through the entire journey of convincing consumers and investors alike to look at their product.
More than just succeeding in revenue, Apple won the heart of millions and now holds its place as a dominant figure in the tech world. It just goes to show that dreams don't have to stay dreams when you put enough work into them.
Unfortunately, not all who go through the same roller-coaster journey gets a happy ending. In fact, it even seems farfetched when a business owner decides to bootstrap a business.
How many truly succeed in business when all they're doing is spending instead of earning? Well, your success isn't determined by funding alone, there are several factors involved. With the right strategies, and of course the right attitude, you might still end up on the better end.
So, without further ado, let's explore the dynamics of bootstrapping. Find out if it is the right choice for you.
What is Startup Bootstrapping?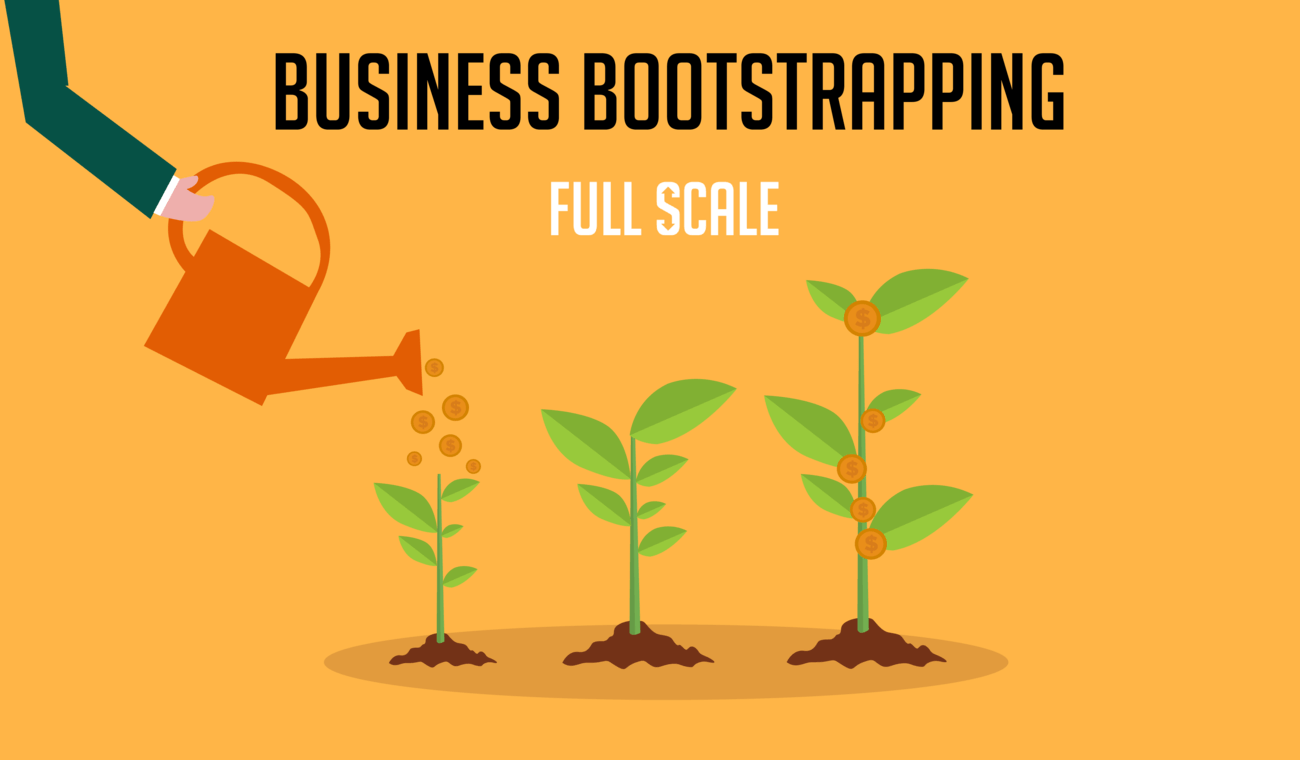 We'll kick things off by understanding what bootstrapping is and how it works.
Startup bootstrapping is the act of funding a business from your own pockets. But it doesn't necessarily mean taking on the entire bulk of the funding, most entrepreneurs only need to do it in the early stage until investors start offering. Bootstrapping, in a way, helps reel in potential investors who can further the business' growth.
However, there are some cases where a business owner bootstraps a business to the end. Depending on what your vision is for your company, this might be a good option if you want full ownership.
Startup Bootstrapping: Should you do it?
If you're not yet sure whether bootstrapping is the way to go about your business goals, then you can weigh in the pros and cons of it first.
Full Ownership vs Full Accountability
The main advantage of bootstrapping is you get to reap all the benefits of being a sole proprietor. Not only will you gain the full revenue, but you also have full control of all the major decisions in the company. This allows you to steer the business in the direction you want it to go. You no longer have to consult a board or go through proposal stages.
However, with great power also comes great responsibility. Just as much as you're entitled to all the good things, you also have to take responsibility for all the fallout. This includes dealing with inevitable complications that happen in operations, staff, legalities, and third-party problems.
All in all, there's no one-size-fits-all formula for business success. A lot of business owners take different routes when it comes to meeting their goals. If you have the drive to carry the business by yourself then by all means take the chance. But if you think you'll need help then there are plenty of startup funding options.
Startup Bootstrapping Tips
If you decide to go ahead and bootstrap your startup, here are some helpful tips to get started.
1. Automate
Take advantage of the ever-evolving tech advancements. You can make use of automation to streamline your processes. This is especially helpful if you have limited manpower and resources. You won't have to worry about mundane tasks and can just focus on your essential processes.
2. Collaborate with outsiders
You can connect with a large community of developers to create or improve your product. The great thing about sharing your project with outsiders is getting feedback and ideas from different perspectives. It encourages more creativity within your development team, as well as establish your brand in the market.
Take Etsy's strategy as an example. They collaborated with Mashery, a third-party software development company, to create their API. The project was completed in a few weeks and they've cut down drastically on developer cost.
Likewise, you can also enlist the help of an offshore software development company for your business processes.
3. Swap equity for expertise
One of the more recent strategies developed in bootstrapping is the swapping of equity for services. For example, an investor can trade their marketing services in exchange for equity from your company. You may just benefit from their offer if you don't have an in-house marketing team.
4. Test your MVP
Micro testing is becoming a popular strategy for new startups to gauge a product's marketability. By building and putting out a Minimum Viable Product (MVP), you won't have to risk losing a large amount of money. An MVP is a mock-up of the real product with its potential features. It can come in the form of a website or a beta version of a mobile app. By releasing an MVP, you can monitor how well it appeals to your target market and know their feedback beforehand. Then, you can develop your product further based on what customers want.
These are some of the features of an MVP:
Core Features – Essential features that function properly.
Usability – Instruction manuals and troubleshooting guides.
Design – Initial look and feel of the product.
Quality – Tested performance and quality of the features.
5. Conduct Market Research regularly
Like they say, keep your friends close and your enemies closer. It's a great idea to keep an eye out on what your competitors are up to. Bootstrapping entails doing your market research; hence you have to be resourceful in scooping out news about other brands. These days, there are several tools available to help you monitor your competition, from SEO analytics to other lead mining plug-ins.
Grow your Business with Full Scale
Bootstrapping is no walk in the park. Keep in mind that you bear the bulk of the responsibilities. You have to ensure that you're not only able to launch your operations but you can also sustain it, at least until you can raise sufficient funds. So, if you're planning to bootstrap your business, it's best to enlist the help and guidance of veteran entrepreneurs.
Full Scale specializes in helping business owners build their products from scratch and assist them in their operations. We have seasoned developers, managers, creatives, and QA specialists all ready to assist you. If you want to bootstrap your business, we can help you achieve your goals faster.
Interested? Get your FREE Consultation today!