Hiring remote software developers? It can be quite difficult when you're not familiar with how the remote setup works. Here are the do's and don'ts when it comes to hiring remote Tech experts.
A Guide to Hiring Remote Software Developers
The world of software development is constantly evolving, and with it comes the rise of remote work. As companies seek to expand their global reach, they are increasingly turning to remote software developers to help them achieve their goals.
However, hiring remote developers has its unique set of challenges, especially if you're new to the process. In this article, we will share some top tips on hiring remote software developers to help you navigate this process successfully.
1. Start with a clear job description
The first step in hiring software developers, whether remote or in-house, is to create a clear job description. A job description should include all of the necessary skills and qualifications for the role, as well as any specific requirements related to remote work. This will help you attract the right candidates and set clear expectations from the outset.
2. Use a reliable hiring platform
Numerous online platforms can help you find remote software developers, but thread through them carefully. When choosing a platform, make sure it has a reputation for reliability and a large pool of quality candidates. You can also consider tapping offshore development companies that offer software services.
3. Vet candidates carefully
When hiring remote software developers, it's essential to vet candidates carefully to ensure they have the skills and experience required for the role. You should also look for evidence of their ability to work remotely, such as previous remote work experience, good communication skills, and a track record of meeting deadlines. Consider conducting a skills test or a trial project to assess a candidate's technical abilities.
4. Perform a thorough background check
Background checks for remote employees must be done in the same manner and standard as on-site. Employee screening should be consistent, and remote workers are no exception. In remote hiring, information verification may differ in terms of communication methods. However, the general standards of information accuracy should be followed.
5. Establish measures to secure your company
Employ the best data privacy practices to ensure that all sensitive company data are not accessible to applicants. Your remote hiring process must be strategically planned out so candidates will only be given the necessary information.
A lot of companies tap third-party providers to conduct technical exams and other forms of assessment. Or you could leave the entire vetting process to an offshore vendor like Full Scale, which takes care of the entire recruitment process.
6. Assess cultural fit
In remote hiring, you also have to check the applicant's cultural fit, along with their technical qualifications. A remote setup can only work if the employees are honest and have a high degree of self-discipline.
Working remotely doesn't follow the predictable structure and schedule of onsite work. As such, you would need candidates who are willing to not only follow but adhere to the company's core values.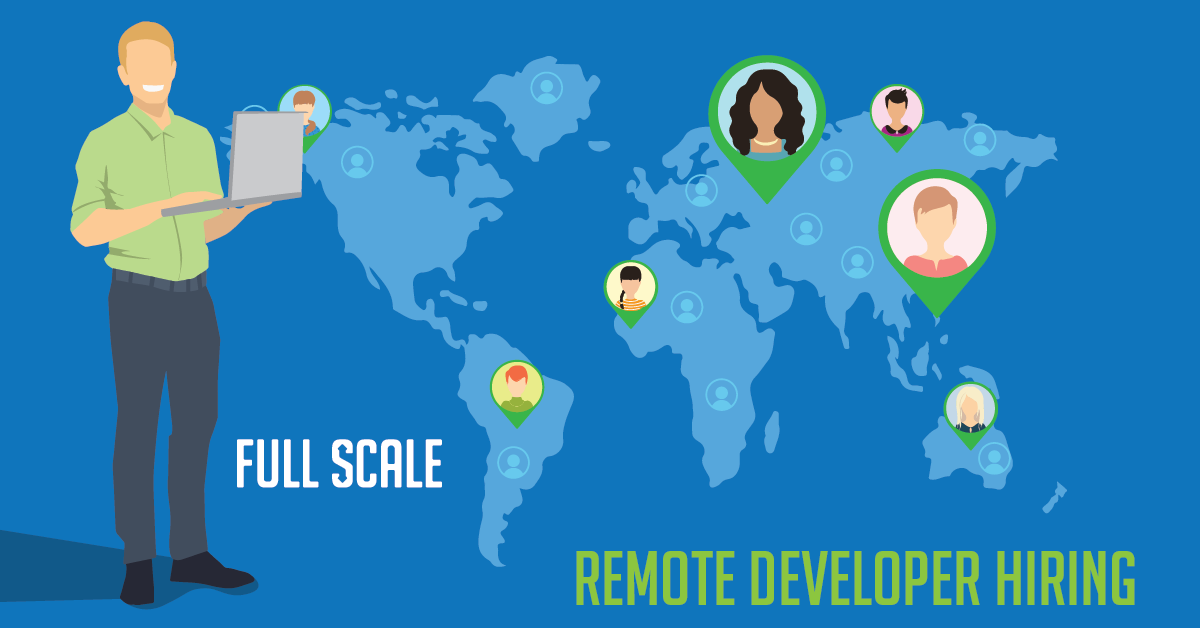 Where to Source Talents Remotely?
Hiring remote software developers can be a great way to expand your team and access top talent from around the world. By following these top tips, you can ensure a successful remote hiring process and build a strong and effective team.
There are several platforms you can use to recruit developers remotely. Here are some popular options:
1. Social Media
Social media has gone beyond just personal networking. You'll find a lot of IT talent through it. LinkedIn and Indeed are particularly ideal platforms for professionals. They allow candidates to post their professional bios for employers to evaluate.
Through these sites, you can post job listings, search for candidates based on their skills and experience, and even message potential candidates directly. Just make sure to do your due diligence and run thorough background checks on your applicants. These platforms are not responsible if you experience mishaps in your recruitment process.
2. Recruitment Websites
In recent years, there have been several remote recruitment websites that have come up. Remote.co is a job board that specifically lists remote jobs. It can be a good place to find candidates who are already interested in remote work. Upwork is another freelance platform where you can hire remote workers for a variety of tasks. You'll find all kinds of jobseekers, from software development to marketing to customer service.
We Work Remotely is also a job board that lists remote jobs in a variety of industries, from design to programming to customer support.
3. Outsourcing Companies
Although there are several options for recruiting talent remotely, there's a high level of risk involved in selecting qualified and trustworthy candidates. Your best bet is to leave it to the experts. You can hire developers through companies like Full Scale, which specializes in recruiting tech experts and deploying them to different projects. This way, you won't have to go through the tedious process of vetting applicants.
With Full Scale, you can simply go on the company's client platform and choose the most suitable expert for your project.
The abovementioned options provide a way to find qualified candidates for remote positions. Be sure to tailor your job listings to attract remote workers and be clear about the expectations of the job, such as communication and work hours.
Hire Remote Developers from Full Scale
Full Scale focuses on selecting the best software development talent. Our goal is to support businesses by filling their talent shortage. We have a large pool of IT experts that are eager to tackle various development tasks. Whether you're looking for software engineers, project managers, QA professionals, or marketing specialists, Full Scale can help you assemble your team.
If you're seeking a business partner, give us a call. Full Scale provides a variety of business solutions. We'll help you turn your vision into reality!