Developing iOS applications is far more intricate compared to other platforms. Regardless of its user-friendliness and ease of access, the entire development process from design to deployment is not that easy. Which is why there are some elements and best practices that need to be observed in iOS application development process. If you're building an iOS app, here are some key points you need to learn about the process.
The rise of the digital age produced the massive growth of smartphones and mobile applications today. Along with it is the abundance of many developers filling mobile application development jobs. Apple, being one of the biggest mobile companies in the world, has established a platform for developers to acquire the means and skills in iOS mobile application development fit for their technology. Their platform alone has more than 1.5 million existing apps.
This gives the developers and businesses an avenue to put out their projects and make them available for the world to see and use. Whether the app is for business, integrated systems, social media, or games, it is definitely a wide market and an opportunity to earn and grow.
Conceptualization and Wireframing
1. Get a good team
The key to a good product is to get a good team of experts behind it. The size of this team can be determined by the scope of work of the application. Regardless, it is important that each member of the development team is skilled and resourceful enough to complete their required modules on the delivery date.
For companies, this can be done by thoroughly examining and assessing their developers working on the development process. It is also important that there are enough resources and developers to manage each of the design, development, testing, and deployment stages. If you don't know where to find these experts, then let us help you with that.
2. Research
There are many things to consider when developing an application. We will discuss the development throughout this article so let's focus on the other considerations. These include purpose, budget, marketing strategy, and Apple App Store guidelines.
In creating the app, make sure that it has a definite purpose after deployment. As a part of your marketing strategy, which will be covered later, you should study your target audience and the application's viability for the users. With that in mind, you should consider how much you are willing to invest not just on the production but as well as the marketing of your product. You should be able to come up with a budget plan and a roadmap.
Another consideration is being familiar with the Apple App Store guidelines. To do this, you should establish the design, safety, business, and legal formalities in relation to the basic information about your application development. Once these are established, you can direct your focus towards the design, development, testing, and deployment stages of your app because you already had these App Store prerequisites addressed.
3. Design and wireframe
Designing your application is a crucial part of the development. This process includes user requirements, user stories, and wireframing. The document that contains the set of functionality and feature requirements is known as the user requirements, or also similar to the user acceptance criteria. This helps to identify the accuracy of the functionalities during testing. The user stories contain the description of the features of each page in the software and are related to the wireframes.
If user stories contain the description, wireframes are the illustrations for each page. These are a set of images that contain the functionalities of an app along with its screens used for planning the mobile app structure. This can help you develop your application's workflow which is the breakdown of the steps and interactions of your app's pages to further improve its UX and UI.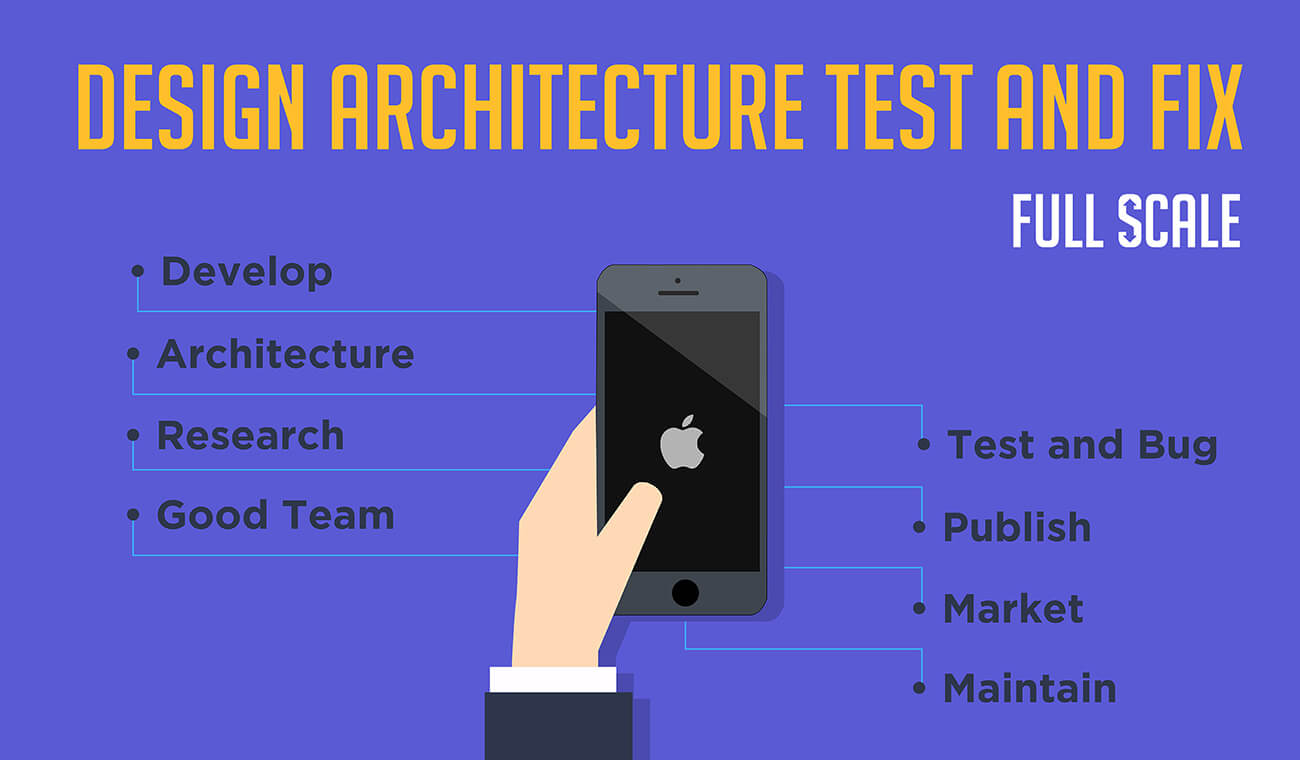 Development
4. Plan a good architecture
Getting into the nitty-gritty of the development is very crucial in planning the system architecture. This involves the collaboration of frontend and backend developers to agree on standards, structures, and technologies to ensure the scalability and stability of the application before the development process.
The model principle of the iOS app development is the model view controller (MVC framework), which is broken down into three components: (1) user interfaces, (2) data, and (3) the software. These components should be taken into account while designing the architecture of the mobile application.
5. Develop frontend and backend
Building the iOS mobile application is a collaborative and coordinated effort between frontend and backend developers. Coding forms the basis of each development side, but each of the two has focus areas that need to be aligned with the rest.
Frontend is concerned with the caching and synchronization of the database, UI design and development, wireframes, mockups, testing, and deployment. These modules should be religiously built to deliver a smooth working application with the right orientation and user experience. The backend focuses on the server-side development of the iOS application, such as user account management and authentication, application integrations, UX customization, server-side function maintenance, and notification services. Basically, the states and the background operations of your mobile application are handled by back-end developers.
6. Test your app
Testing is just as important, if not more, as the other stages of developing an iOS mobile application. Through this, you will be able to determine if you have passed the requirements and acceptance criteria indicated in your preliminary designs and documents of the project. You have to make sure that all requirements are delivered and improvements have been made.
Aside from the smoothness of the application, it should also undergo bug testing and be optimized to save device memory and battery life. Through this, you would be able to determine the security, performance, usability, compatibility, integrity, reliability, and scalability of the app.
Deployment
7. Publish your app on the App Store
After meeting the requirements of your iOS app and setting its correct configurations, it is now ready to be published to the Apple App Store. You have to follow some steps and provide information on your application, such as the app identifier, iOS provisioning profile, target's build settings in Xcode, App Store listing, release build, and version information before submission. You have to be sure that everything that you have provided is exact and authentic because the store reserves the right to reject apps that are insecure.
8. Maintain
Once published, your iOS application would need regular maintenance from your developers, testers, and engineers. This is effective in order to continue to upgrade the functionalities and features of your application. Version updates may also be required to cater to more devices. This ensures that your application will be supported by any device.
Use the user feedback and reviews to come up with points of improvement. The more that you're able to supplement the needs of your users within the app, the more they will continue to use it.
9. Market and promote it!
In the digital age, no product, no matter how great or revolutionary, would explode in reach without good marketing. So you have to make sure that your target audience, the ones that you have identified in your research, know that your mobile application is out there and that they need it. Use social media, advertisements, or search engine optimization. Invest in creating and deploying effective marketing strategies because this is integral in making or breaking your product.
Coming up with a great product requires hiring the right people. Which is why at Full Scale, we do exactly just that.
Listen to Episode 92 of the Startup Hustle Podcast – Investment Announcement: Mixtape the Game
Full Scale has a pool of talented individuals dedicated to producing quality outputs through our range of development services. Hiring a team may be very challenging but at Full Scale, we are a one-stop company that can provide for the iOS mobile application of your dreams! With a pool of software development teams experienced in mobile application development, our company helps business owners grow in the technological world. Not only that; we also have digital content marketers and SEO specialists to further boost your product!
Our Guided Development process lets you have an overview and control over the development process of your mobile application. At Full Scale, we will take care of recruiting, assessing, then employing the top developers that we can find. After that, our team becomes members of your team. It is that simple!
For inquiries, you may contact us here or visit our website.