Managing a team of developers is not a walk in the park. How much more managing a team from the other side of the world, right? But don't worry. In this article, we will be laying out some best practices that an entrepreneur should implement when managing offshore resources.
With the current demand for resource and faster development cycles, offshoring is a strategic requirement. Offshoring has proven to be equally challenging and rewarding. Like Stackify and GigaBook, WhatsApp, CitiGroup, Klout, TransferWise, and StudyTube have been successful in having extended development teams at different locations for their critical business processes. These companies have been successful because the offshore resources have been managed efficiently.
7 Best Practices for Managing Offshore Resources
We've listed 7 best practices on how we've managed our resources in Cebu City, Philippines.
To better and successfully manage offshore resources, we focused on a lot of key areas but the essentials are in Communication, Commitment, Teamwork, Onshore-Offshore Team Balance, Requirements, Prerequisites, and Metrics.
Communication
"To effectively communicate, we must realize that we are all different in the way we perceive the world and use this understanding as a guide to our communication with others. – Anthony Robbins"
Communication can be a potential issue but when managed effectively, can improve the efficiency and build a relationship within the team. It is a must to establish a sound communication framework. The first thing is to identify and use the available communication methods and channels:
Use great project management software such as JIRA, Wrike, Asana to document critical details. These tools can lessen any gray areas, especially in active projects.
Chat if you need immediate clarification, updates, or answers. You can use Zoom, Skype, Hangout, or Slack and get a quicker response.
Although less frequent than project tracking and chats, send emails to communicate schedules, commitments, and any project-related documents.
Leverage the team's level of understanding and proficiency in the English language.
Once the communication framework has been set, the team must have an agreement on the channel that would work best for them. Everyone on the team must adhere to the schedule as consistently as possible. Make the team document all key items in a timely manner. One of the effective methods we've been practicing is having communication at the beginning and end of each day. Another factor is to make sure that everyone has the same level of understanding and this can be done by establishing a feedback method that would work for the team.
Organization Commitment
"Individual commitment to a group effort — that is what makes a team work, a company work, a society work, a civilization work." – Vince Lombardi
How committed is your organization and the individual contributors to support and manage offshore development? How do you measure the commitment of the employees or team members? Organizational commitment relates to the level of association or involvement of an employee to the company and vice versa across the business. In an offshore development team, these need to be considered:
Commit to your offshore team. Extend critical protocols, documentation, requirements, and project management to your offshore team. This makes sure that there are alignment and integration across the organization. Make sure that the offshore team more than just adheres to these development practices.
Ask your offshore team to commit to supporting organizational needs such as the willingness to handle tasks beyond regular working hours
Establish risk mitigation in terms of issues related to network, connectivity, and database. Create contingency plans for critical skills or projects.
Set an acceptable level of involvement, engagement, ownership, and a sense of responsibility from your offshore team.
Hire experts such as Full Scale to support your specific needs and to set a team running.
Teamwork
In working with offshore development, the recipe is to create a high-performing, integrated, and winning team. This means the team must have a common goal and with that goal, everyone is committed and held accountable.
A team must be composed of members with complementary skill sets and with these differences, they accept, understand, and leverage their strengths for the team to reach its objectives. These guidelines fostered the teamwork within our organization:
Know your team.
Build a relationship with the team and the offshore leaders.
Make sure the entire team works as one. No division.
Find opportunities for seamless integration and coordination.
Listen to Episode 47 of the Startup Hustle Podcast – Offshoring, 10 Tips
Balance
Achieve balance by structuring the team correctly. But how do we know if we've achieved the right combination of onsite and offshore team members? It goes back to how the offshoring strategies have been created.
Organizational structure and operational risk need to be taken into great consideration. The higher the risk, the more vulnerable the business is. Specifically, make sure that the onsite operation and functions can support the needs of the offshore team. If there is a need to increase the functions or support of the offshore team, then there is also a need to evaluate the capacity of the onsite team and set the correct balance.
Requirements
When communicating, business requirements and objectives must be clearly defined. Establish a validation method to gauge if the team has the same level of understanding. Avoid any confusion as possible.
To have clear objectives, we make sure to work closely with our partners in communicating objectives and requirements with agreed timelines. We establish a review and approval process of the requirements with our team and partners. Here at Full Scale, we also hire account managers, project managers, and team members with strong communication, project management, and leadership skills.
Given to have everything clearly defined, requirements and procedures are being standardized with gates to validate that all requirements are covered.
Prerequisites
Projects without a structured, strategic plan have been known to fail. Most projects establish all the requirements before kick-off and most prerequisites are also available before the development. Although integrated with the requirements, we've created a separate section to emphasize the need for test cases. Test cases improve the level of understanding of the project, expose or identify possible flaws or errors, and covers preparation needed to test and develop the product.
In a software development team, especially in an Agile framework, software testing is integrated. Thus, test requirements should be laid out beforehand.
Metrics
Every business is different and defining your needs establishes the criteria for success and how you can manage your resources. With this clear definition, the team then aligns to support and achieve your goals. Depending on the needs and priorities, you may focus on measuring or tracking these different factors: alignment to goals, your offshoring team's competitive advantage, revenues, costs (operating expenses and Total Cost of Ownership), business partners and customer satisfaction, quality of service, value-added services, efficiency, shorter development turnaround time, relationship, and growth. Track everything in a timely fashion and use the data strategically to manage your resource and succeed in your business.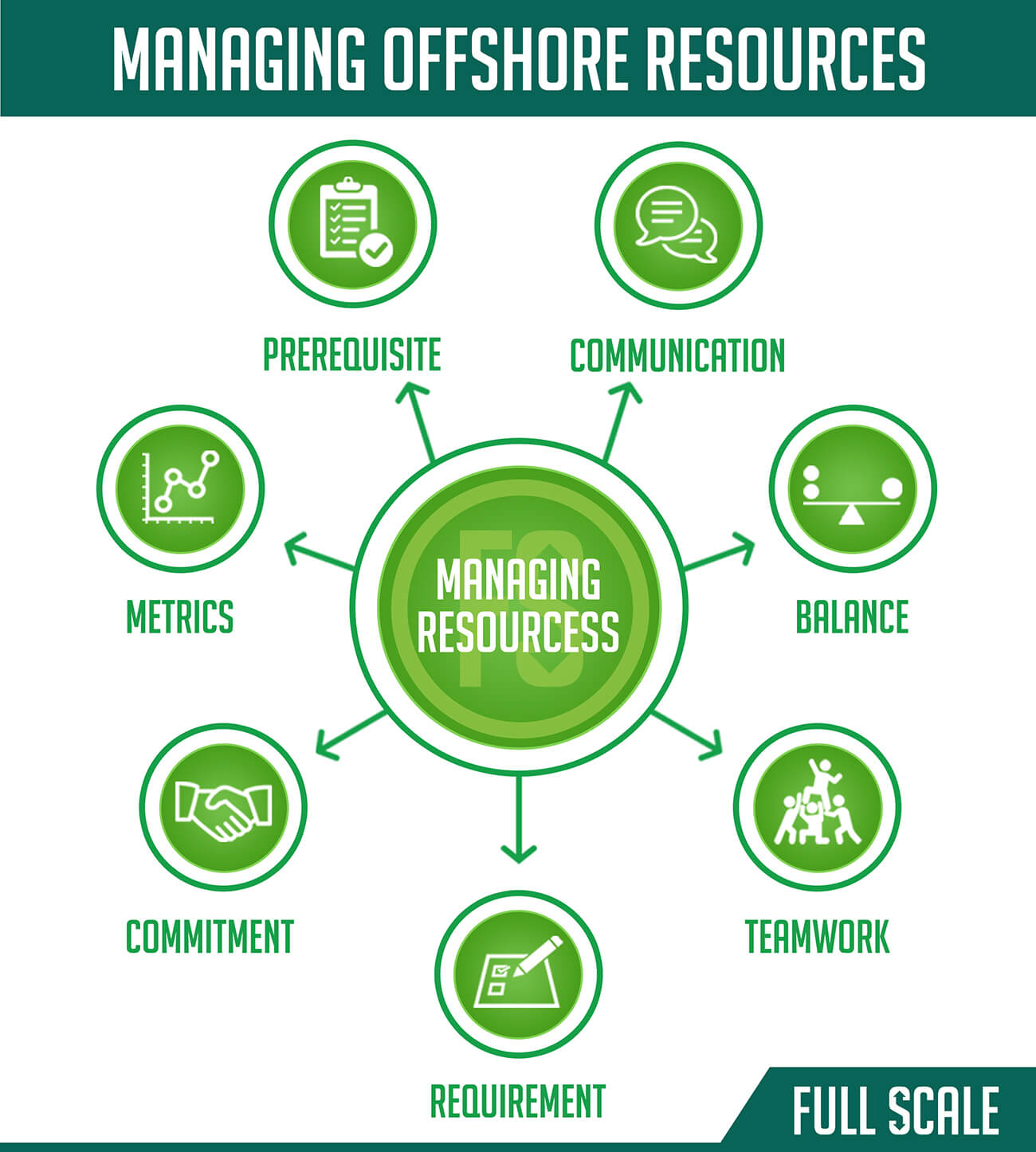 Summary
Offshoring is already a reality. Resources need to be managed with great detail and attention. There are a lot of things to be done. There is a higher level of commitment, effort, and time needed.
At Full Scale, we believe in providing businesses with software developers affordably and quickly. Through our company, our clients will have a helping hand in managing offshore resources from us. We take care of the recruitment and hiring of the finest and most experienced software developers, designers, and managers in Cebu City, Philippines. Our Guided Development process makes you in control of your product while our developers build it for you!
To get more tips on how to be successful in building a successful offshore team, tune in to this episode, 10 Tips For Building A Successful Team in Startup Hustle.