How do you choose the right outstaffing partner? Here are some helpful tips on finding the most reliable outstaffing service provider in the industry.
Outstaffing is an excellent way for your business to lower operations costs, increase productivity, and get access to a wider pool of talent. There are a lot of benefits to having a diverse team. However, this setup does pose some challenges when you're not familiar with how it works. This is why having a reliable outstaffing partner is crucial.
Choosing the ideal outstaffing partner can be challenging. You have to consider several factors, such as dependability, compatibility, security, and communication. We'll provide some tips on how to choose the ideal vendor for your projects. Let's start this discussion by understanding the services an outstaffing company provides.
What Is An Outstaffing Partner?
Outstaffing is a remote hiring strategy that's commonly employed in the field of information technology. Software developers, in particular, are the most in-demand experts in the field. This is why businesses are having a difficult time finding and hiring them. As a result, companies turn to the outstaffing business arrangement.
The primary idea behind outstaffing is you can access more experts from other places and add them to your existing team. This team will exclusively work on your project, taking the role of extended personnel. However, all the legal and work arrangements of these "outstaffed" experts will be handled by an outstaffing partner.
An outstaffing company handles all the legal paperwork, the employee's work setup and equipment, and other employee management tasks. Depending on your contract, they can provide assistance at all levels. They can help in recruitment, onboarding, to project management. In short, they provide the resources that you look for to augment your team.
An outstaffing firm offers you skilled personnel and provides the necessary comfort and conducive working conditions for them. As a result, you maintain greater attention on your task and requirements and manage your distant department more effectively. Keep in mind that the team works under your supervision; all communications will be directly channeled to you.
Finding the Right Outstaffing Partner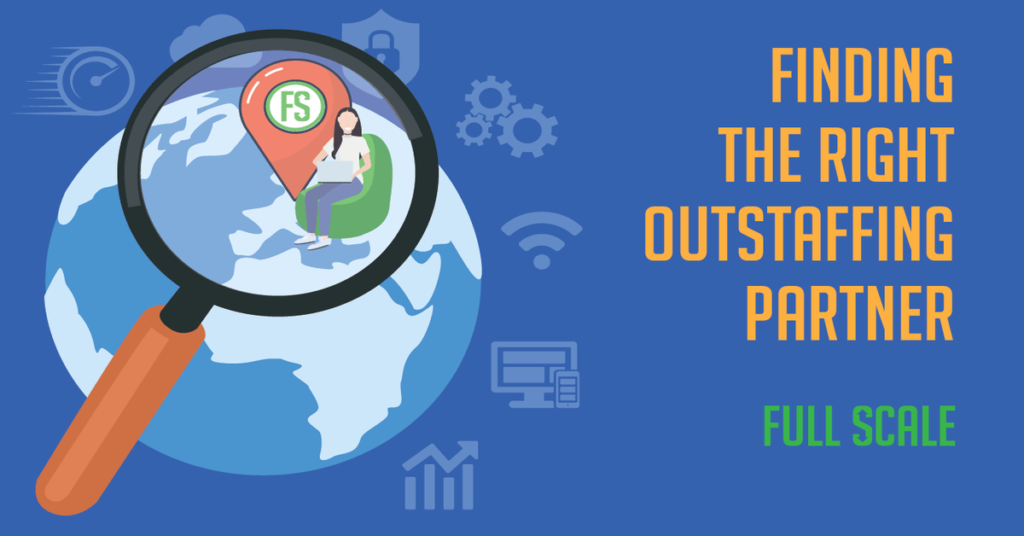 Now that we've established how the outstaffing arrangement works, it's time to discuss how to find a good outstaffing service provider. Here are some tips for finding the right outstaffing service provider:
1. Set specific goals and expectations
Before starting your search for a potential outstaffing company, you must have a clear idea of your goals and the type of experts you need. Having specific scope and criteria will make it easier to find the right service provider.
Set the main objectives, KPIs, as well as the service level agreement (SLA) you plan to make with the vendor. Additionally, it's important to determine how involved the vendor will be in the project. Plan out how much information you're willing to share with them.
Lastly, ensure you have the right resources to make a remote arrangement work. Can you manage a remote team? Have all the data security practices and legal protection in place. Along with that, prepare the complete software for new hires and communication tools for the remote setup.
2. Do your research and due diligence
After compiling a list of potential outstaffing partners, you can start checking their credentials and verifying their qualifications. You can start with their web reviews, awards, certificates, references, and portfolio.
Additionally, you can request samples, case studies, or presentations of their previous projects. You have to confirm that they have the necessary training, knowledge, and reputation in the industry.
3. Assess their fit and compatibility
The outstaffing partner's compatibility with your culture, values, and vision should be taken into account as well. Work with a company that respects your standards, understands your needs, and shares your ambitions.
In order to support your service activities, you also need to make sure that they have the appropriate resources, procedures, and systems.
Ensure the third-party company has the required proper infrastructure, technology, and security measures. Check if they have the right personnel, qualifications, and training. And lastly, see if their languages, culture, and time zones won't become a hurdle in communication.
4. Negotiate the terms and conditions
Negotiate the contract's terms and conditions after you've narrowed your list of outsourcing partners. You want to ensure that you get the most for your money and that your interests and rights are safeguarded.
Make sure to cover the scope, deliverables, deadlines, expenses, payments, quality control, warranties, liabilities, privacy, dispute resolution, and termination terms. Additionally, you should thoroughly read the contract and, if necessary, obtain legal counsel.
5. Establish a strong relationship
The final step is to build a solid rapport with your outstaffing partner. You want to foster cooperation, respect, and trust. Give feedback and direction, communicate frequently and explicitly, and act quickly to resolve problems.
You should congratulate them on their victories and acknowledge their accomplishments. They should be treated more like a member of your team than outside help. You may encourage a long-lasting, mutually beneficial partnership by doing this.
Risks of Outstaffing: Things to Watch Out For
With all its benefits, outstaffing can still be challenging and risky. One of the biggest risks is getting caught up with legal issues, especially from the outstaff team's side. If you're not familiar with the laws of the place you're outstaffing from, you may unintentionally violate local regulations.
Another issue to watch out for is falling into bad deals with the vendors. If you don't know how to negotiate a proper deal in an outstaffing arrangement, the vendor could take advantage of you. You have to ensure your chosen outstaffing company has a good track record of successful projects. This is why it's important to prioritize reputable IT outstaffing companies.
Overall, due diligence is a must when you're venturing into remote hiring. The safest route is to double-check the vendor's background and read reviews about their past projects.
Work with Full Scale
Looking for a reliable outstaffing partner? Full Scale can help you assemble a dedicated remote software development team. We've partnered with several businesses in scaling their team by providing the best IT talents.
Full Scale is an established IT outstaffing company. We help small and large businesses in hiring, training, and managing remote employees. We thoroughly screen candidates beforehand so you can meet highly experienced experts. Our goal is to assist clients in scaling their teams. Let us help you find skilled and seasoned software developers that seamlessly fit into your project.