By default, it's a challenge to run and scale a business. It becomes twice as challenging when you're running a business in an industry you're unfamiliar with. But this doesn't stop non-technical founders from creating their business empires. Learn how you can successfully scale a startup without a technical background.
First off, non- technical founders are not rare unicorns. Albeit, they're unconventional. But it's not unheard of for someone to effectively profit off a different discipline than what they've trained in.
There are countless stories of non- technical entrepreneurs succeeding in a field foreign to them. Sean Rad, founder of the popular dating app Tinder, was a college dropout. He recruited his engineer friends to create the prototype of his application, which later on became the biggest dating app to date.
Pinterest founder Evan Sharp was also not a techie. He studied Architecture and History before coming up with his business. He got together with some friends to create the image-sharing site we all know and love today.
Lastly, you may have heard of celebrities owning their line of products. Or at a personal level, maybe you have a co-worker running a completely different business on the side. These are pretty common scenarios. But of course, whether you're a tech-savvy founder or not, the risk of business failure is the same.
So, if you're up to the challenge of running a business as a non- technical founder, then here are some tips on navigating it. First, you need to set your expectations correctly.
The Role of a Non Technical Founder
Being a non technical founder may put you at a disadvantage on the backend side of the business. However, you still have responsibilities that are crucial to the business' operations.
Here are some of the things you're expected to do as a non technical founder:
Build the Business
As a startup founder, your primary role is to facilitate the growth of your business. You may not be doing the bulk of the technical work, but you still have essential parts. Business development is crucial to a company's survival. Of course, money fuels your operations so you need to make sure it's getting it. Hence, you have to take initiatives in building strategic partnerships to raise funds for the business. This means ensuring that the cash flow is sustaining everything and the books are handled correctly. Also, you're in charge of pre-selling and pitching ideas to potential investors.
Learn the Basics
It's not fun to be out of the loop all the time. You may not be able to learn all the complexities of your operations, but can acquire a general understanding of it. For example, if you're running a software development company, you may want to take short courses on the fundamentals of programming. Try to write a few lines of code yourself or create a simple application. This way, you'll get a better idea of the time, skills, and resources it takes to complete a task.
Keep in mind that the goal isn't to become as good as the professionals. You simply need to learn the process of their work. This way, you can set reasonable project timelines, designate tasks accurately, and discern which projects suit your team's skills best.
Maximize your Skills
It's not about what you lack, but it's about what you can offer. What can you bring to the table? If you're good at marketing or branding, then take charge of those areas in the business. If you happen to be good at recruitment, then be hands-on in that department as well. The point is to add value where you can. Nothing is too small of a contribution when it comes to running a business. A small drop can create a large ripple.
Full Scale's very own founder Matt DeCoursey considers himself the salesperson of the business. He manages the business side of the company such as the partners, investors, and clients. His co-founder, Matt Watson, takes care of the technical side of things.
The bottom line is, as a non technical founder, you need to take initiative on how you can manage the business.
How to Scale a Business
Running a business is generally a challenge, even more when you're trying to improve and upgrade it. If you're in the process of scaling your startup, then here are some areas you can start with.
Build your Team

As a non technical founder, you first have to establish your company's structure. Of course, you can't go about everything alone. You will need to build a startup management team.
These are some of the common positions hired by startup companies:
Chief Executive Officer (CEO)
Chief Product Officer (CPO)
Chief Technical Officer (CTO)
Chief Sales Officer (CSO)
Chief Marketing officer (CMO)
Chief Financial Officer (CFO)
Keep in mind that you do not need to employ all these titles. You may even do well with just a CTO to help you with the actual operations. It will heavily depend on the type of organization you lead and the amount of work you have to designate.
Jump on the Tech Wagon
Having no technical knowledge won't prevent you from hearing about the latest tech trends. For a business to strive, it has to integrate modern tools into its processes. How can you keep up with your competitors who are already automating most of their processes? Simple, you also use what they're using. With the development in AI and machine learning, there are so many parts of your operations you can upgrade and simplify. But before investing in these technologies, make sure to consult your CTO or any tech expert in your company.
Build an MVP
Early-stage startups should ideally build an MVP or a prototype of their product. This way, you can gradually design a product based on customer feedback. It's kind of like giving a teaser to the market before officially launching the real thing. If the initial market response isn't good, then you wouldn't be wasting too many resources. This is a low-cost solution to validating your product ideas.
A lot of non technical founders collaborate directly with their technical experts. Even if you're not the one building the said product, you can give the direction. The key is to communicate your vision properly.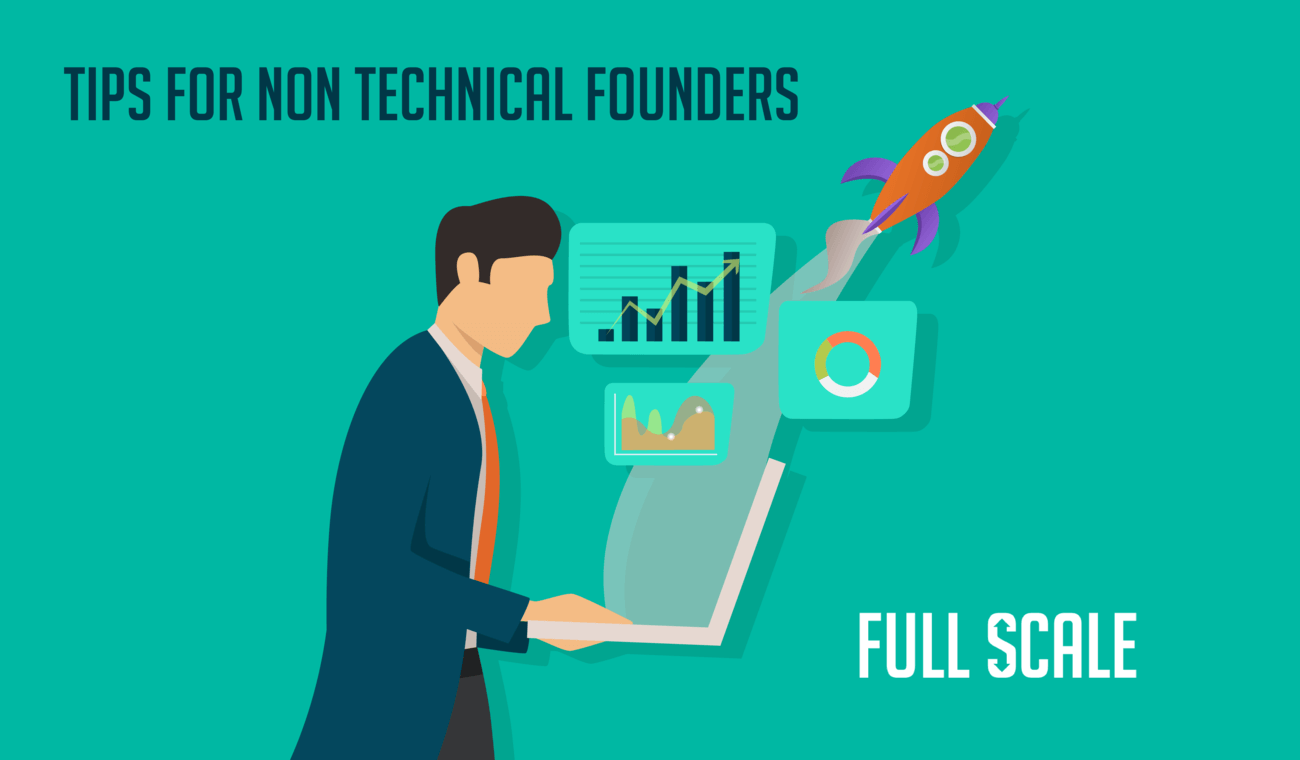 Build your Technical Team
As the demand for your business grows, so should the team that accommodates it. The more projects you take on, the more experts you have to get on board. When you scale a business, everything has to grow proportionally. For example, if you're running a software business; you'll need a bigger team of developers. Subsequently, to manage that bigger team efficiently, you would have to hire project managers.
Now, this doesn't mean you have to immediately expand your team. Rushing into the hiring process can significantly backfire on the business. Plan this out carefully to ensure you hire only the best people for the job.
Get Traction
To scale a business, you will have to get traction and validation. Getting people to believe and invest in your idea is one of the most difficult parts of scaling a startup. Unless you go through startup accelerator programs, it'll be hard to network with investors. So, try to build connections by attending startup seminars and conferences. Investors, cofounders, and partners are key to providing the resources you'll need to scale.
Scale a Business Today!
Ready to scale your startup? Whether you're in the early stages or in the middle of doing your upgrades, Full Scale can help!
Full Scale specializes in helping startups scale their operations. We can help you through all stages from recruitment, project management, product creation, and even sales and marketing! If you need technical expertise, we have seasoned software engineers and analysts with a diverse set of skills. Want to learn more? Contact us today!