Did you know? Android has about 2.1 million mobile applications in the app store as of the third quarter of 2018. All the while, Apple's App Store has 2 million applications available. Quite a number, right? But don't go thinking that launching a mobile application is easy. You need to catch up with these millions of established mobile applications in the industry. You need a working, fail-proof strategy to ease your way to success. So, how to launch an app?
From an idea, mobile apps move from development to the app stores, and finally in mobile phones. Between these endpoints are stages that are crucial to the success of a mobile application.
If you search the web, there is more than one way to launch an app and there are more than ten articles that tell you so. But this is your ultimate guide on how to launch a mobile app. Take a look at our checklist and see if your app is ready for launch.
However, if a team of skilled mobile app developers is what you're looking for, then choose Full Scale. We house skilled developers efficient in building applications that could run in either Android and iOS.
Does your MOBILE app solve a problem?
The default quality of a mobile application is its ability to solve problems. That's why they are created in the first place. For example, Facebook solves the problem of communication and social interaction between people and Amazon makes it easier for people to shop without leaving the comfort of their homes.
You may have the freshest, most unique, and innovative mobile application but it will always come down to one question, "what critical problem can your mobile application solve?" Mobile users nowadays are a ravenous audience—they feed on what your mobile application can give. If your mobile has all the cool features, impressive illustrations, and agile functions, it will still be defeated by apps that make human life easier and faster.
If you are determined to launch your mobile app, make sure that you create an application that will solve a problem. However, don't stick to mainly solving practical problems. Identify if your mobile application solves a need or a want.
Market research
An independent software developer got an idea for a revolutionary mobile application and optimistically creates it, and launches it to all mobile app stores without any market research. Do you think the application becomes successful? Doubt it. Before you go flooding the internet about your mobile app idea, you must understand and determine if your application has the qualities that every mobile application should possess. And comprehensive market research can help you with that.
Market research is an important phase in mobile app launching that some organizations take for granted. It gives accurate reports on current technology trends, target audiences, and industry competition. All these data are valuable to guarantee the success of the mobile application.
However, many organizations pass up this process. Some wouldn't want to risk spending money to research and putting a mighty weight of confidence towards the success of their product. In the end, they find out that their mobile application is not unique after all, has no definite target market, and has a hounding amount of competition.
What a waste of mobile applications. To know how to launch an app successfully, you need the statistics and industry data to compete in the vast market of the mobile application.
Mind your audience
Once you've established the purpose of your application, the next thing you need to keep in mind is your target market.
Is your application for children, young adults, Americans, male, female, or college graduates? To whom is your mobile application made?
Know who you are selling your application to. You need to conduct research on the demographics according to age, location, gender, income, education, and occupation.
Keep your friends close, and your competitors closer
Do you know what your app can do? Have you identified your customers? Do you know your competitors?
One thing you should never overlook when doing market research is competitor analysis. You may think that your idea is the freshest trend-setter for the season but not everyone would think so.
In conducting competitor analysis, make a list of five of your direct competitors. Look into each competitor's strengths, target audience, revenue, product features or services, marketing strategy, customer assistance, and user feedback. These data will help you highlight your strengths and weaknesses to create a strategy to surpass your competitors.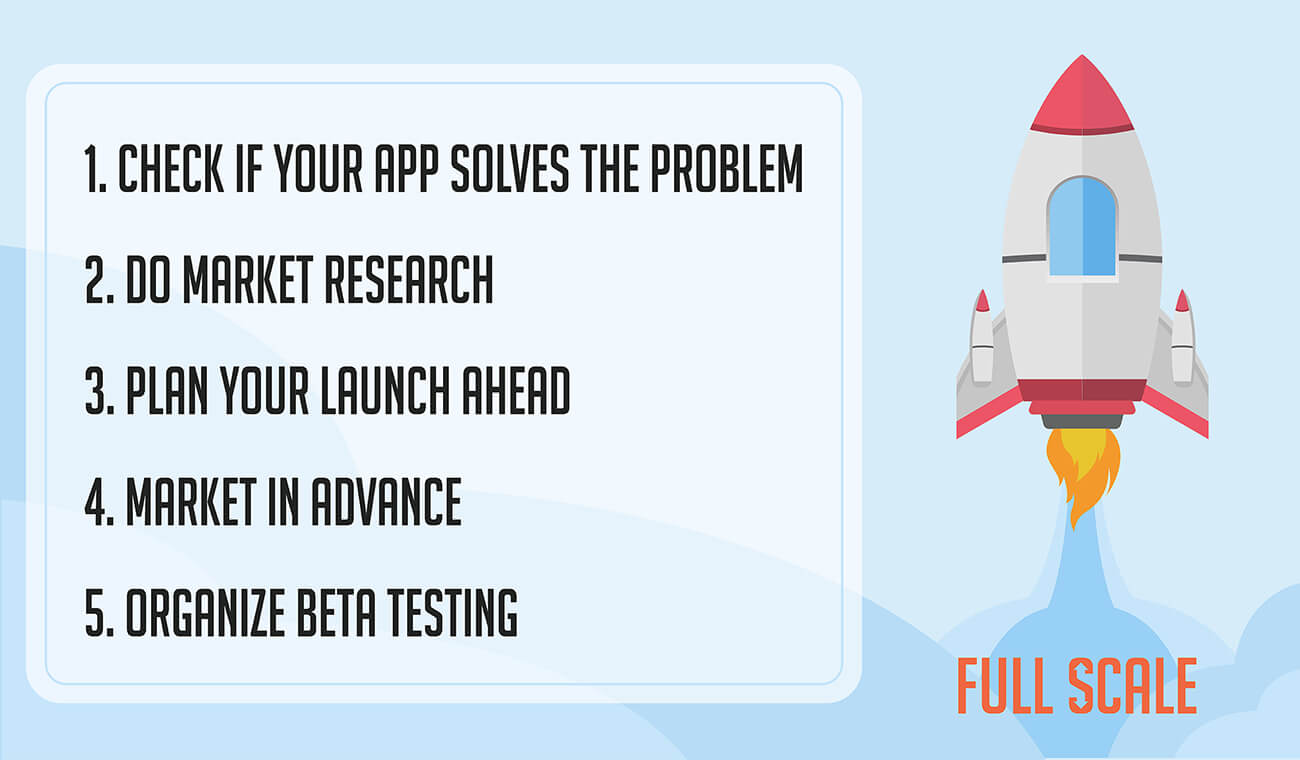 Plan your launch ahead
Being organized is one of the qualities of how to successfully launch an app. Once you see the output of all the hard planning and laborious development, you don't just jump at releasing it to the public. This impulse could lead to your application's downfall. You can either release it without any press coverage or share the spotlight with another application launch, which is a disaster.
The app stores are already too crowded with millions of mobile applications and releasing without adequate community presence is akin to jumping in the Pacific Ocean without any gears. Pure suicide! To avoid such conflicts, plan your release date ahead with a thoroughly crafted timeline.
Market in advance
Nothing keeps the crowd interested but a whole lot of mystery. Introduce your app to the internet community bit by bit. A few previews of the application will make people interested, like a teaser. Each short preview highlights a feature of your application that will hook your audience to your app. How to do this? Go back to your market research. You can identify your greatest strengths by comparing your app to other direct competitors.
Optimization
Your app name, keywords, and app description play an important role to solidify your presence in the app stores. Neil Patel, the leading online marketer, shared some tips on app store optimization. In creating your app name, make sure that you put the right keywords. The app name usually starts with the brand name and followed by words commonly searched by mobile users. Avoid over-stuffing your title with keywords or your app will end up banned. Keep it short, simple, and relevant.
For example, a mobile user is looking for an app that can edit photos taken from your mobile for free. Which of these two would be best? Free Inspiring Photo Editor vs Snap – Photo Editor. The second title will mostly attract users to install the app.
Why? The first word presents the brand name. Shady title names without brand names (like the first title) will likely discourage mobile users. The brand name does the trick, paired with the keywords "photo editor," optimization is a success.
The application's description should also be optimized. App stores usually display about two to three lines of the description then users need to click "More". If your mobile app description goes beyond four lines of text, make sure that all the important details are presented in the first three lines.
Blogging
Blogs also help generate online presence. You will need a website ready to start this strategy. Write an engaging blog on the development process of the mobile application on your website.
Organize Beta Testing
Free trial scheme is a popular marketing strategy that works for almost every product launched. For mobile applications, beta testing is a free trial's counterpart. Beta testing can be both a marketing strategy and quality control process.
Using the data gathered on the possible demographics of your mobile app, you can choose real target customers to use the app first-hand and provide sincere feedback. This will ensure that the app works perfectly and proves that it is useful to your target market.
Ready, Set, Launch!
And that is how to launch a mobile app. The mobile application's journey does not stop with its release. Along the way, the application should be constantly tested and developed for fresh and improved features that will keep users interested.
You can launch your own mobile application even though you aren't a seasoned developer yourself. All you need is a burning passion to succeed, an entrepreneur's courage to face risks, and a team of developers skilled enough to build your mobile application.
You can check out this video on how you can assemble your software development team efficiently through Full Scale. For more details, contact Full Scale and spare a portion of your time for a consultation.