A powerful marketing strategy can turn customer interest into sales and loyalty. And in today's digital age, it's much more important to create a sales funnel that will hook customers in. What is a sales funnel, and how does it boost your sales? Let's find out.
As an entrepreneur, you must strategically market your products and services to yield sales conversions. This means that your marketing efforts should be effective enough to drive leads into your business. Otherwise, your marketing spend would just incur unnecessary damage to your finances. Thus, strategic digital marketing is a must!
One way to do this is by building a powerful sales funnel. You may already have the marketing material, strategies, and budget to broadcast your business. However, you just can't see any tangible results afterward. But don't worry, you didn't do anything wrong. You just have to improve what you already have to ensure real conversions from your marketing efforts.
Today, we'll learn how you will be able to do that.
What is a Sales Funnel?
In essence, a sales funnel is the set of steps or phases a customer takes to buy your product or service. This concept ensures that there are conversions that follow up your marketing efforts.
As we know, not everyone you reach in broadcasting your marketing materials turns into customers. However, you can strategize your marketing activities to keep an audience engaged. By capturing their attention the right way, they are well on their way to become a customer!
The sales funnel concept may vary depending on how granular you want to optimize your efforts. But the sales funnel template tells us that there are four essential stages to convert an audience into a loyal customer.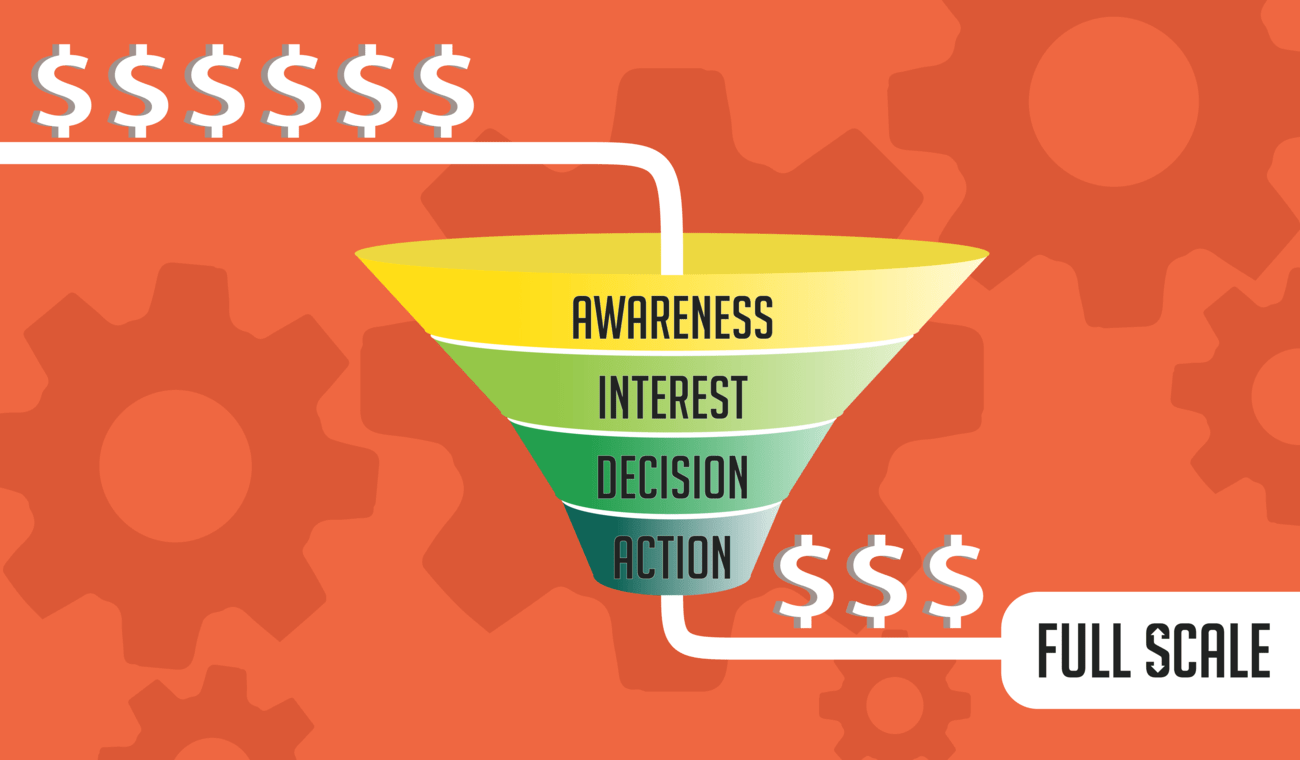 Before creating a sales funnel, here are some things you need to know and prepare for.
Brand. You must already have an established brand and scope of business. You can't sell something that is simply not there. By establishing your brand properly, you will create a message that you can run with.
Problem and Solution. The major reason why people consume commodities is because these things solve a problem. Your message has to find a way to address those problems. Additionally, your message can also include how your product can improve your audience's lives.
Audience. Targeting is key in digital marketing. There are available platforms that help you tailor your campaigns based on your target audience. Once you identify your audience, you're good to go!
Now, let's dive into detail about the sales funnel. Here are the four stages of the sales funnel concept:
Step 1: Awareness
Right on top of the funnel is AWARENESS. This step aims to provide visibility to your business. While you may have already established a niche or demographic, it's okay to expand marketing efforts to related groups.
For example, if you sell high-quality gadgets for professional gamers, you may also opt to reach out to amateurs. Your selling point could be that your products can enhance their gaming experience. The most important thing is you made your brand visible and made clear what problems you want to address.
This is also the stage wherein you aggressively market your brand, not product, just yet. Generate as many leads as possible by selling ideas and solutions through digital marketing. The goal is to bring attention from your target market to your brand. You can do this through SEO, social media marketing, events, and so on.
Step 2: Interest
During this stage, your lead is interested in getting to know you better. They may not want to make a purchase yet, but they may be considering it. Your message should run through their heads in their idle times. Keep them interested and engaged with stories you have to tell.
This is when you act on building narratives that makes your product or services relatable. How can your product solve their problems? Can you fill a gap in their lifestyle? You need to develop these stories and think of how you're going to relay it to them.
So how can you keep your audience interested? Consistency is key. Develop relatable content religiously. There are multiple tools you can use to execute this part of the process. Perform email marketing, engage with them on social media, or redirect them to your website. Your leads would always need a reference to look at and think about before making a decision.
Step 3: Decision
At this point, your leads would have become prospects. They are already aware of your brand and are interested in what you have to offer. The best thing is they're actually willing to make that purchase, and all they need is an extra push!
So why not strike while the iron is hot? Provide your prospects with things that would make them want to say yes. How do you do this? Here are some things you can do depending on the situation.
Offer Pricing Offers. Whether you show your prospects a reasonable price page or discounts, it would surely impact their decisions. So make the best offers that you can provide to hook your prospect and make them say, "I do."
Provide Testimonials. Testimonials from old and existing customers impact your prospects deciding factor. The more genuine testimonials you can show, the more credibility you build.
Free Trials. Before we hop on to something, we want to take it for a test drive. It's no different in marketing and sales. Once your prospect gets the gist of your product, that purchase is not hard to reach.
There are other ways to make your prospects want to buy your product. You can opt for live demonstrations or experiences. Just make sure that the process will impact their decisions positively. When you leave a good mark, the sale is pretty much locked.
Step 4: Action
Now that your prospect has reached the bottom of the sales funnel, it means that they have become customers. This doesn't stop here. You need to ACT to give them the best experience with your product. Additionally, you need to arouse their loyalty to retain them.
Product Tips and Training. Proving your customers with product tutorials and tips will help them warm up to your product. By doing so, they will know how to use your product better and more efficiently.
Pricing Package Bundles. You can continue to give pricing offers more than ever now that your prospects became customers. Provide discounts on their next purchase or offer bundles where they could save more. Things like this make customers stay.
Campaign and Content Delivery. Your customers should be the first to know about your activities. Keep consistency in providing them updates and content through email or product messages. Your promos and other services may be useful for them, too!
Summary: Tips to Build a Powerful Sales Funnel
As discussed, there are multiple ways to approach lead to customer conversion. But following the items mentioned above guides you to implement the sales funnel better. Here is a summary of items in creating an effective sales funnel:
Establish business brand and message.
Engage and relate to your audience.
Make sure you offer solutions to real-world problems.
Improve your digital marketing strategies.
Keep consistency in all things: content delivery, messaging, etc.
Invest in giving profitable offers.
Continuous action is continuous customer retention.
In this fast-paced world of business, building a solid sales funnel must be precise and relevant. Therefore, you need as many techniques put into action as possible.
Full Scale believes that looking for startup help shouldn't be hard. It should be fast and affordable without compromising excellence. That is what we have been doing since the get-go. We help startup businesses achieve the product of their dreams so they could market and sell it.
Moreover, we offer digital marketing services that can help you boost your business' sales funnel strategies. As an insider tip, many businesses have also used their products like apps and websites as sales funnel tools. That said, you don't have to look further for software development help. We do that, too!
Get a FREE CONSULTATION today! Contact us for more information. We'd be happy to be at your service.