Planning to build software? Weigh the pros and cons of hiring freelance vs. offshore development teams.
The success of your software project relies heavily on how well your team works together. Remember that the quality of a great team is not just based on how skilled each member is but on how well they plan, collaborate, and communicate. With that in mind, let's determine whether you should hire freelance developers or an offshore development team.
Freelance versus Offshore Development Team
Freelance and offshore teams are essentially similar in the sense that businesses don't directly hire them. Businesses usually hire them through a contractual agreement. Let's further discuss the similarities and differences of each setup.
Freelancers
Freelance developers work as independent contractors, and they get paid per task or per project. They commonly take on short-term projects, but they can also accommodate long-term work depending on the deal.
Freelancers are not considered employees, which means they are free to work on other projects for other individuals or businesses. The exception could be that you have an exclusive clause in your contract.
Offshore Development Team
An offshore development team is a dedicated group of Tech experts based in another location. The best way to hire them is through software service providers such as Full Scale.
In Full Scale's setup, clients will have a dedicated team of experts for their projects, while Full Scale takes care of the employee management side. This means companies only need to pay for the service used and do not have to worry about providing employee benefits and other HR-related matters.
Hiring Developers: What to Consider
There are several areas to consider when it comes to hiring software developers. One major challenge is that they're not that easy to find and hire with the talent shortage for IT experts.
There's a high demand for developers which means their fees can get pricey. This is why you must be wise in hiring based on your project's requirements. This brings us to the first point to consider–project requirements.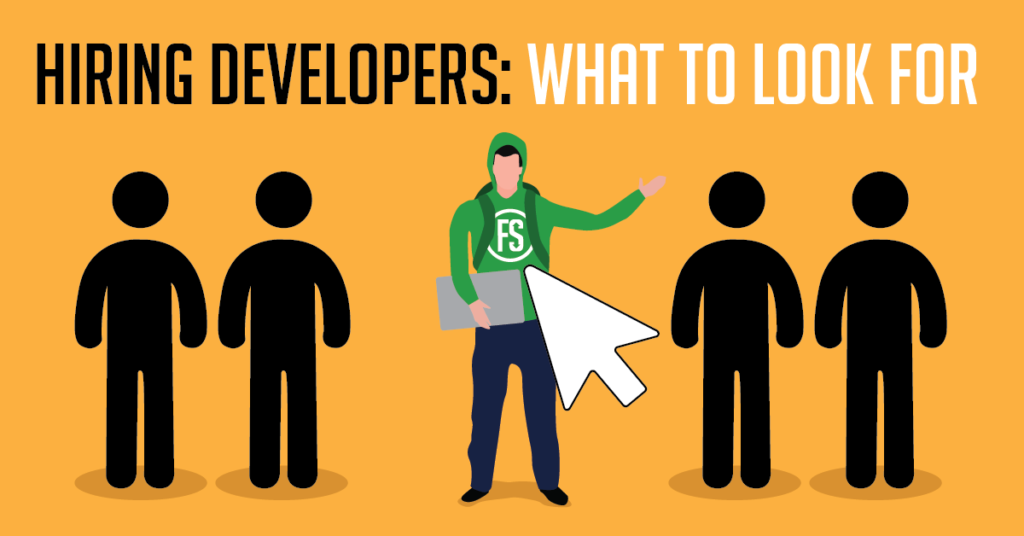 Project Requirements
Are you building an app? A website? A whole new software platform? You must be specific with what kind of expertise you need. There are developers who specialize in certain frameworks, languages, and tools.
Some specialize in web development, while others focus on mobile. It's important that you specify the kind of technologies you need before hiring the experts. Likewise, you can consult tech experts first if you're a non-technical founder.
On top of the technical requirements, you also have to specify what services you will need. Do you need a dedicated team who will build the app from scratch and maintain it after deployment? Or do you only need them short-term? It's crucial that you detail your plans before assembling your team.
Budget
As mentioned, a software developer's fee can be expensive. So, you have to hire according to what you can afford. Planning your budget ahead will determine the size of your team and the scale of the project you'll work on.
A freelancer's rate typically varies on experience and expertise. You can find some freelance junior developers with reasonable rates, while seasoned developers charge higher. If your project is fairly small, you can get a good deal by assembling a small team of freelancers. Be sure to negotiate a good rate and put the deal in writing.
If you're looking at a large-scale project, offshore development teams are a better option since they are scalable. You can negotiate a fixed rate for an offshore team throughout the entire project.
Timeline
Lastly, consider the duration of your project. Will you need your team for a month? Or is the project estimated to last a year? Establishing your timeline will help determine the type of development team to hire. For short-term projects, freelancers may be a better option. On the other hand, for projects that will run longer and require maintenance, having an offshore team is ideal.
The above-mentioned items are just a few points to consider. You have to weigh in other factors such as your data security, your access to the team, the people involved in the project, etc. To help you make the decision on which team setup to choose, here are some final points.
When to Use A Freelance Developer
If you're looking to get a website or application development project done quickly, freelancers are definitely worth considering. Not only are freelancers experienced professional developers, but they also typically offer flexible project schedules to meet deadlines. With freelancers, you don't need to hire full-time employees, so you save money in terms of salary, benefits, and overhead costs.
Plus, freelancers usually have access to a network of experts in their field, so they can quickly put together solutions that solve a variety of complex problems. With freelancers, you can be sure that the project meets the objectives.
When to Use An Offshore Development Team
When you need to scale your team, offshore development teams are a great option. Businesses of all shapes and sizes have found success in incorporating an offshore development team into their operations. It often makes sense to outsource specific aspects of the business to expedite progress and save on costs. You can unlock access to skill sets and expertise that may not exist in-house.
Offshore teams are highly experienced in providing quality and efficient results within a budget. Moreover, offshore teams typically work around the clock so projects can be completed quickly with maximum productivity. Utilizing offshore teams for software projects can be a great solution for businesses that want to minimize costs and maximize outputs.
The Pros and Cons of Each Option
When it comes to the freelance vs. offshore ordeal, it's important to consider the pros and cons between the two options. While freelance allows you to get highly specialized skills in certain areas, it can quickly become expensive.
Offshore, on the other hand, may cost you less upfront but might require more time for communication due to language/ cultural barriers. That said, there are tradeoffs for both freelance and offshore which will depend on the specific needs and budget of each business.
How to Choose the Right Option for Your Project
Every software development project comes with its own set of needs, so it's important to ensure that you are making the right choice for your project's success. Start by looking into solutions that have been well-tested and proven to offer the apps and features necessary for your project. Then, consider the specific software platform that you need.
Make sure it meets your requirements in terms of security, data storage, scalability, and ease of use. You also need to consider customer support and cost when choosing a software development project service provider. Finally, don't forget to assess user feedback before making a final decision–listen to what current users have to say about their experience.
Build Your Software Development Team with Full Scale
Need help in building your offshore development team? Reach out to Full Scale. We're happy to chat with you about your specific needs and make a recommendation.
We can help you find, hire, and manage the best experts for your software development team. We've got the developers you need–already thoroughly tested, vetted, hired, and ready to join your team full-time, long-term, right now.