It's challenging to communicate when you're limited to virtual interactions. Nonetheless, remote teams can still be productive with the right practices. Here are some communication tips for the work-from-home setup!
The COVID-19 pandemic had dramatically changed the nature of work. It shifted the system from a traditional office setup to modern remote work. Today, 71% of the US workforce is working from home. It's quite a leap, given that only 20% of companies allowed remote work before the pandemic. Surprisingly, the increase in productivity has even led businesses to opt for permanent remote work. It's predicted that 36.2 million Americans will work remotely by 2025. IT sectors, in particular, have reported a large boost in their productivity. It's safe to say that remote work may become the new norm.
Nonetheless, even with the increase of productivity and preference for work-from-home setup, there are still challenges. Companies report that the top three challenges of working from home are loneliness, difficulty in unplugging, and problems in team communication. If you want your company to thrive in trying times, you'll have to battle out these common remote work problems.
So, here are some tips on how to overcome work-from-home challenges.
Remote Team Communication Tips
Communication is the trickiest part of the remote setup. It requires the cooperation of each individual member on the team and the team as a whole.
Communication Tips for Members
Here are communication tips for each member of the team:
1. Be proactive in communicating updates
When we're not seeing our colleagues on a regular basis, it's easy to neglect communication. Normally, information is disseminated fast in the office. But in a work-from-home setup, not everyone will be up-to-date with the project. You may end up receiving news or updates first, or you're the last to know. Hence, take the initiative to let members know of changes, announcements, or memos. Even if they're already informed, it's always the safer route.
2. Set work expectations
Your team has to know when they can expect you online and when you're not available. Be consistent in informing them you've clocked in or you're logging out for the day. This also includes telling them what platform, tools, or accounts you'll be using. Make them aware of what you'll be working on for the day and how long you're doing it.
You have to be firm as to when you're available for calls or check-ins. It's difficult to balance work and personal life when you're working from home. Obviously, there isn't a physical boundary from your work anymore. This is why putting boundaries in your work hours is important.
3. Communicate accurately
It's easy to misinterpret the meaning behind your words when they're vague. In a work-from-home setup, you have to construct your messages in a clear and precise manner. As much as possible, avoid determiners like it, that, or this. They will just cause confusion as to what you're referring to. You have to make the context of your message clear from the start.
Furthermore, don't skimp on the details. You don't want to keep sending multiple emails or messages because your instructions were unclear or incomplete. To save time, include all the necessary task information in one message. Put in all details like deadlines, people involved, tools or platforms to use, and necessary documents.
4. Be responsive
Working from home means being more susceptible to distractions. There are a lot of things that can disrupt your workflows such as people, noises, and other home activities. These can easily take your attention or take you away from your desk. Nonetheless, you still have to fulfill your obligations to the team. Ideally, your team should be able to reach you during work hours. Even if you're not stationed at your desk, you must still respond to urgent inquiries.
Here are some extra steps you can take:
Alert the team ahead of time you'll be away so you can cater to issues beforehand
Install a portable version of your work messenger or platform on your mobile devices
Inform the team of your contact details
Communication Tips for the Team

Now that we've established the expectations for the members, here are communication tips for the whole team.
1. Schedule a daily huddle
During uncertain times, consistency is key. In order to sync up the priorities and address urgent matters, the team must schedule a regular daily meeting. It's important to keep everyone on the same page and working at the same pace. This is also essential to uplift team spirit and strengthen bonds between co-workers.
2. Maximize the use of communication tools
One of the most challenging aspects of remote work is collaboration. How can you be productive as a team when you're not directly interacting? Unlike in the office, you can't simply sit by your teammate and point out what needs corrections or changes. You have to find ways to optimize productivity. Fortunately, there are plenty of communication tools designed specifically for remote teams. Explore the existing tools you have in the company. There might be features you never used before in the normal work setting. Also, consider availing a premium plan of your currently used platforms, this will expand features and make things more convenient for the team.
3. Set templates
Create templates for recurring tasks. Simplify routine work by creating forms or documentary references. This way, the team focuses more on doing the actual task than spending too much time asking questions or clarifying instructions.
Take note of redundant issues so they can be addressed faster in the future. For example, if there's a task that's particularly long and complicated, then create a document for its entire process. It will also help to provide a checklist of things that have to be included. This shortens the time needed for quality assurance.
4. Extend lead time
At the end of the day, we're all coping with the stress of the pandemic. Some members of the team may be dealing with personal problems. Not everyone will be on top of their game. With that said, be more gracious with each other regarding deadlines and workload. Although we still have to ensure deliverables, we can be more flexible on how to meet them. All members must take the initiative to help each other out when there are issues.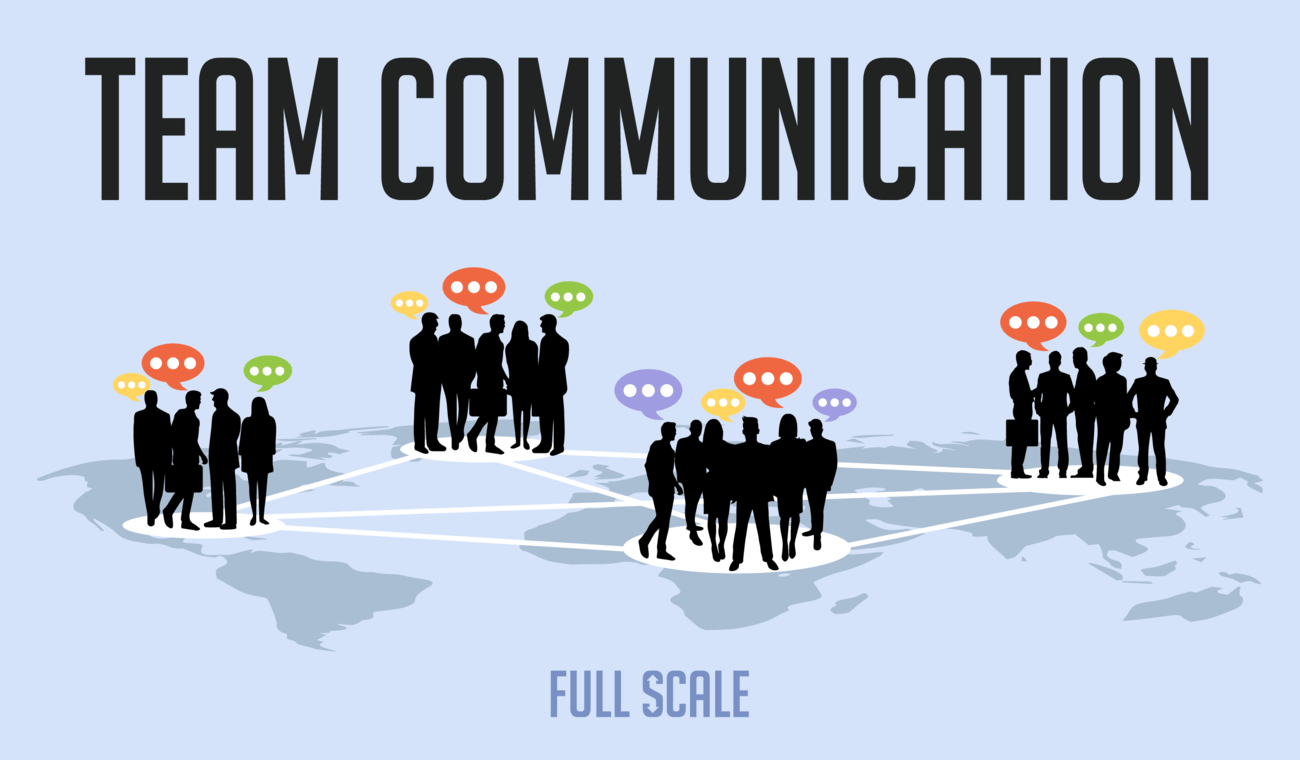 Get more startup tips and advice!
Our team at Full Scale has been following these communication tips ourselves. We're navigating the new way of work and we're helping other startups do the same.
At Full Scale, we're committed to helping entrepreneurs manage and scale their businesses. If you need help transforming your work digitally, we're the right people for the job. We can provide you with the talent and resources to take on software development projects. Our seasoned developers can help you create your website or application. We also offer other startup services like marketing and mentoring. Want to work with us? Get your FREE CONSULTATION today!