What does the software engineering career path look like? Learn all about how one can grow their career successfully in the highly competitive IT industry.
The IT field is one of the fastest-growing markets today. It remained resilient despite the uncertainties brought about by recent public health and economic crises. And with several businesses going through digital transformation, the demand for tech experts is higher than ever. 
IT graduates can make successful careers out of the most in-demand tech roles, especially in software engineering. Nonetheless, building one's career still entails a lot of hard work and planning.
The software engineering career path is one of the most difficult yet most rewarding professions. With relevant purpose, a software engineer can grow and make a big impact in the world of tech. But before that, they have to climb the ladder of their career progression, aiming for higher roles.  
Let's learn how a software engineer can achieve the most sought-after roles in software development.
The Role of Software Engineers
Software engineers are essential in molding the digital environment and reshaping industries all over the world. They are elemental in creating user-friendly user interfaces to reliable software solutions. These experts have the ability to bring concepts to life and turn them into useful concrete software applications. They combine and maximize the use of the best programming languages, software development techniques, and system architectures.
Software engineers are essential for advancing technological innovation and influencing the direction of the digital age. This is because of their capacity to assess complicated issues, come up with effective solutions, and write clear and maintainable code.
Let's evaluate how their roles evolve along the exciting and limitless possibilities for this career path.
The Software Engineering Career Path
The software engineering career path presents many opportunities for creativity and problem-solving. Software developers are at the forefront of technology, creating complex code and algorithms to better our quality of life. 
The software engineering profession requires a high degree of creative thinking, logical reasoning, and a love of continuous learning. Software engineers need to have a strong understanding of the concepts underlying algorithms and data structures.
On top of their technical prowess, they should also have fundamental soft skills, such as communication and planning skills. They have to be able to work with cross-functional teams to provide high-quality software solutions that satisfy both user and business requirements.
All in all, to be successful in a software engineering career, one has to be well-rounded in honing both technical and non-technical skills. They can only move up when they take the extra initiative to pursue bigger challenges.
What Are the Software Engineering Career Levels?
Now that we've discussed the importance of the software engineering role, let's talk about software engineering career progression. We can categorize a software engineer's career path into three levels: junior, senior, and leadership roles. This will depend on how a company ranks its software engineers. 
Level 1 – Junior Engineer
A junior software engineer focuses on creating effective software, generally in smaller teams. They are typically newcomers to the software engineering field. Usually, they would spend around 5 years at this level before getting promoted.
At this stage, there is only a little project ownership or authority. It's more probable that they will be given coding challenges to solve before moving on to the wider picture.
Level 2 – Senior Software Engineer
A senior software engineer will be in charge of developing, coding, and rewriting huge applications as they advance their seniority. At this level, they will start mentoring and supervising junior engineers.
To get to this level, one would typically need at least three years of experience. Depending on their skills, they could stay at the junior level unless deemed ready by the company. A senior software engineer is typically more independent and able to accomplish jobs without much direction and supervision.
Level 3 – Staff Engineer / Senior Staff Engineer
Software engineers must demonstrate their capacity for team leadership at Level 3. They could take the title Staff Engineer, Senior Staff Engineer, or Lead Engineer. This role is handed over in addition to delivering results in software architecture reviews. This rank in the software engineering career usually requires six to eight years of experience in the field. At this point, they enter the managerial sphere. 
A Level 3, a software engineer begins directing others' actions and setting the course of their project. In contrast to the previous rankings, senior software engineers are given instructions on what to do and what to work on.
They may not necessarily be the head yet, but they will serve as a liaison between levels one and two and senior management. A senior staff software engineer will work as a manager, handling the administrative side of the job. All the while, they also take an active role in projects, addressing complex programming problems.
How to Progress from One Level to the Next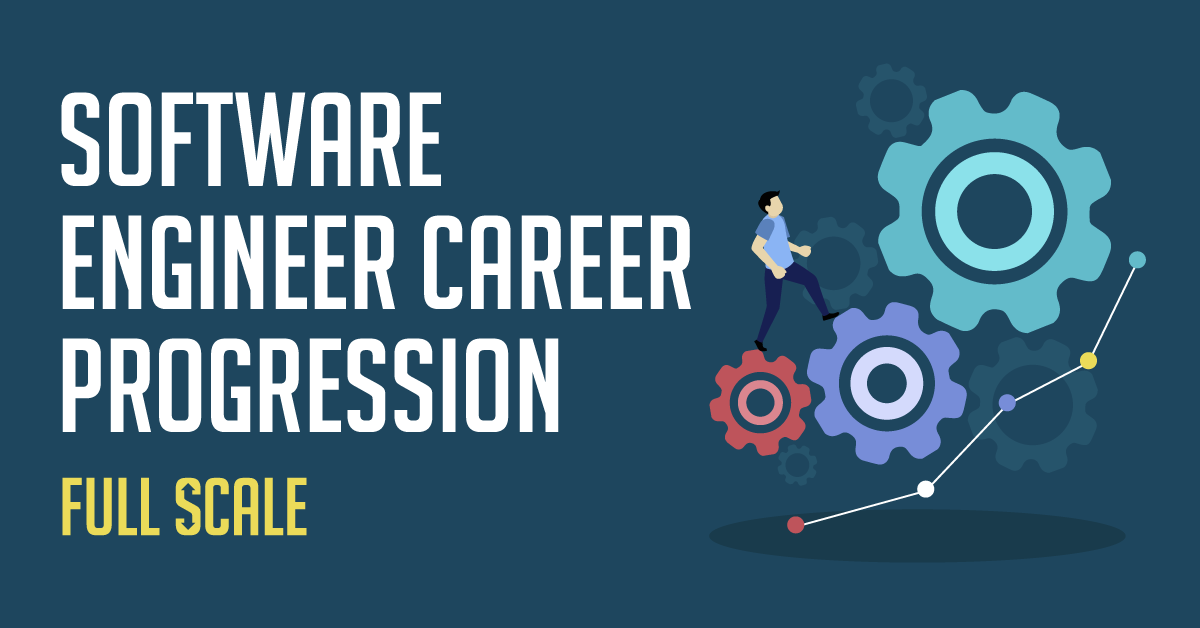 Aiming for growth is always a smart idea for software engineers. It helps them discover their weaknesses and talents and how they can advance both personally and professionally. They can achieve financial security and access greater benefits and career possibilities.
Software engineers go up the ranks by enrolling in more training programs to broaden their expertise in the profession and get an edge over the competition. They can engage a seasoned mentor to help them navigate the business with tailored advice. Keeping abreast of new developments in the field and networking with influential people are also effective strategies.
The bottom line is to make the extra effort and put in the hard work. The software engineering career path is filled with lots of exciting opportunities. However, it will require a lot of patience and effort. 
Grow Your Business with Full Scale
Looking to expand your software development team? Full Scale can provide the best junior and senior software engineers for your project. We help businesses fill the talent gaps in their development teams. 
We find, screen, hire, and manage the most promising talent in the tech field. We open up a larger pool of professionals for businesses to find better matches for their projects.
At Full Scale, we handle all the labor-intensive tasks related to hiring, onboarding, and managing remote employees. We'll assist you in finding qualified software specialists who are the ideal fit for your project. Our goal is to help you set up all the required management and communication solutions. We are ready to work with you for the long run. Build your software development team now!